LifeSpan TR1200i Folding Treadmill

Although the LifeSpan TR1200i treadmill was released in 2010, to this day, this treadmill model is one of the best, and most inclusive, for the price. Over the past years, slight improvements have been brought to it. Also, initially its cost was over $1,400 but nowadays, it's available at prices lower than $1,000.
The LifeSpan TR 1200i is most definitely a heavy-duty treadmill, an extremely sturdy machine. It offers a wide array of training possibilities, from light and beginner level, and up the level of professional runners. There's a lot of positivity gravitating around this particular treadmill. Almost every user would rate it 5 stars out of 5, or at least 4.5.
Product Details and Specifications
Assembled dimensions: 70.25L x 33W x 55H inches (178L x 84W x 140H cm)
Tread belt dimensions: 56L x 20W inches (142L x 51W cm)
Product weight: 204 lbs (92.5 kg)
Supported weight: 300 lbs (136 kg)
Motor: 2.5 HP, continuous Duty DC
Incline: Automatic, 15 levels
Deck cushioning: 6 variable density elastomers
Speed levels: 0.5-11 MPH
Multifunctional console: Yes
Training programs: 21
Amenities: Pulse sensors, sound system, USB port for data transfer, bottle holders, tablet holder
Warranty: Frame lifetime / Motor lifetime / Marts 3 years / Labor 1 year
Deck and Running Surface
Since the deck is the most important part of a treadmill, along with the technical details given above, there are many other specifications to be made, regarding its deck. First of all, it has a 20″ x 56″ (51 x 142 cm) running surface, long and wide enough to be adequate even to taller users up to 6'2″ – 6'3″ (187 – 190 cm). Of course, you can exercise on this treadmill even if you're taller, but in this case you may find the running surface a bit short. 
Overall, the deck has a very sturdy build, being able to hold users up to 300 lbs (136 kg). It's a phenolic-type deck, meaning that it has phenolic coating, a plastic resin with low moisture absorption and heat resistant. It is equipped with an excellent suspension system, featuring 6 independent compression shock absorbers, which can alleviate up to 30% of the impact on your joints and back.
The deck features 2.5″ (64 mm) steel rollers to the front, and 2.0″ (50 mm) to the rear, supplying an enhanced grip to the belt. The rollers are tapered for a smooth and balanced ride.
The running surface features an anti-stretch, 2-ply belt, resistant to wear and tear. The deck incorporates sensors which "feel" the cadence of the user, and if there isn't any foot strike detected over a span of 20 seconds, the treadmill will pause automatically, and remain in stand by until you resume your exercising routine. The sensors also play a progress tracking role, enabling the console to count each step as you walk or run.
This LifeSpan treadmill features an incline system which considerably expands the workout routine possibilities. The incline system is automatic, adjustable from the console while you are actively running or walking on the treadmill. It offers 15 levels of incline, with a maximum incline of 8.5%. The elevation or the deck is 7″ (18 cm) from the ground, when the deck is level, and will get a front elevation of 11.5″ (29 cm). Although the incline motor can lift weights of 650 lbs (295 kg), the deck is listed only for 300 lbs (136 kg) maximum user weight.
Finally, the deck of this treadmill is foldable vertically. It features a hydraulic folding system, which will ease the lowering of the deck, preventing it from abruptly dropping. The folded dimensions of the treadmill are 33 x 66 x 39 inches (84 x 167.6 x 99 cm) (W x H x L). When folded, the treadmill is meant to be stored vertically, not horizontally. Therefore, if your question is "Would if fit under the bed?", the answer is "No".
Motor
The LifeSpan TR 1200i features a mid-range power motor, strong enough to set the belt in motion even if the machine is used by persons over 300 lbs (136 kg. But even though its peak power is only 2.5 HP, this particular motor excels in the long run. It's a continuous duty motor, designed to perform well for hours without overheating, or losing performance. The motor is pretty quiet. You won't have to worry about its sound covering the sound of your TV, or making loud noises. On the other hand though, the thumping sound generated by your foot strikes isn't to be neglected. However, this stands for pretty much every other treadmill.
The motor supports speeds up to 11 MPH. It features excellent responsiveness to the commands. The passing from a speed to another is done gradually, to prevent accidents.
The machine requires a 110-120v circuit, and a standard U.S. outlet. The power cord is connected to the motor at the front base of the machine. Its standard length is 6′ (183 cm), and if this isn't enough you can opt for an extension cable. There is also an On/Off switch near the point where the power cord is connected to the motor's case.
The power consumption of the treadmill is also pretty low. You shouldn't worry about electricity bill going up. Even if you put 15-20 miles on it per week, your monthly bill won't increase by more than a couple of bucks.
Frame
The overall frame of the TR 1200i treadmill from LifeSpan is steel-made, extremely sturdy, and durable. Even if your weight is close to the treadmill's specified limit, you can be sure it won't wobble or move around even if you're running at top speeds.
The machine is pretty heavy. It weighs 204 lbs (92.5 kg), and it's not exactly easy to move around. The front base of the treadmill is equipped with transport wheels, so you can move it by tilting it slightly onto the wheels, while it's folded. The rear base of the deck also has wheels, thus you can drag while the deck is down, by slightly lifting the front base.
The posts of the arm rests are pretty solid. The lateral arm rests incorporate pulse sensors, and also quick keys for gradual incline and speed. There is also a front rail handlebar, which offers a frontal grip, if you need to hold or lean onto something while you exercise. This is actually a good idea for users who require rehab exercising.
Console
The console of this treadmill can do quite a lot. To begin with, it indicates the standard values that just about any treadmill should. These are: time (elapsed or remaining), distance (since the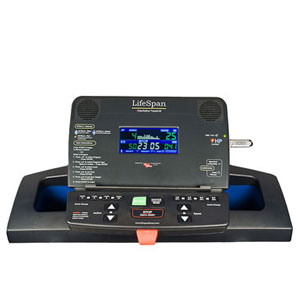 beginning of the workout and total distance the treadmill has been run), calories burned, speed, incline, pulse, step count. The console includes 17 preset programs (5 for weight loss, 5 for healthy living, and 7 for superior athletic training), 2 programs for heart rate, and 2 customizable programs. Once you decide upon a program and launch it, the treadmill will automatically adjust speed and incline as your workout, according to that specific program.
The console of the TR 1200i LifeSpan treadmill features several very useful keys for direct speed and incline adjustment. There are actually 4 keys for direct incline, to level 4,6,8 and 10, and 4 keys for direct speed adjustment, for 3,4,5,6 MPH. The gradual adjustment of the speed is done by 0.1 MPH. There's a PAUSE button, which is a great function to have if you must interrupt your workout without altering your progress and values.
One of the specific functions present in most LifeSpan treadmills, is the USB port, designed to import / export your workout data between the machine and your LifeSpan Club account. Each treadmill comes with free membership to their website, so that you can update your profile with every workout, keep a better track on your progress and analyze your progress on a superior level.
In terms of other amenities, the console features two bottle (or accessory) holders, one on each side. The mid part of the console features a tablet tray, great to have if you want to use your tablet to browse the web, or watch your favorite streams while you run. There is an incorporated audio system featuring 2 speakers, quite useful if you don't want to use earplugs or headphones to listen to your music, for example. Also, the console of the TR 1200i treadmill features a chest strap receiver, for heart rate monitoring. The chest strap is available separately, from LifeSpan.
Lastly, like most treadmills, the TR 1200i features a safety key, meant to be connected to your clothing, to automatically stop the treadmill if you fall. It's also a great safety feature in case you have children, who might want to push the buttons, or start the treadmill unsupervised.
Assembly and Maintenance
The assembly of the treadmill is not difficult at all. The box comes with the tools for this task, and the user's manual which will guide you step by step throughout the whole process. The deck is fully assembled and attached to the main part of the frame, along with the motors. All you have to add are the arm rest posts, the console and the joins protection parts. The whole process shouldn't take more than 45 minutes.
In terms of maintenance, you must keep the deck and belt free from any dust, dirt and other debris. It's a good idea to vacuum underneath the treadmill weekly as well. The belt requires lubrication every 3 months (regardless of use), or every 50 hours of use. It comes prelubricated from the manufacturer, and shouldn't require lubrication for the first uses. The belt should be lubricated with silicone-based lubes only, no sprays, no petroleum-based lubricants. The box does not include lubricant, but silicone-based lubricants for this purpose are pretty cheap and widely available.
Placing a mat under the treadmill is a great idea. Even though it doesn't need the extra stability which a mat grants anyway, it's a pretty heavy machine and might damage your carpet. Also, after a consistent lubrication, or with the first uses, droplets of lubricant may fall underneath and stain your carpet.
Pluses
When it comes to pluses, just about everything about this treadmill is a plus. First of all, it comes with a great price/quality ratio. The deck and the whole frame have a very sturdy design, which won't wobble while you run.
It's a treadmill built to last, featuring a continuous duty motor and a 2-ply, heavy-duty belt. Motor is also pretty quiet and does not emit any buzzing, annoying sounds.
The deck features excellent cushioning providing a healthier running setting than asphalt or concrete.
It has automatic step counting and automatic pause, if it doesn't detect any foot strike for 20 seconds.
It has an automatic incline mechanism, which expands the spectrum of workout possibilities by a lot, and make the adjustment of the incline much more convenient.
Advanced console, featuring 21 workout programs, among which 17 are preset, 2 designed for heart rate, and 2 customizable.
Features several amenities, such as sound system compatible with most MP3 players, water bottle / accessory holders, tablet tray, pulse sensors, and telemetry enabled console that can track pulse via a chest strap.
USB import / export for workout data, and free membership with the LifeSpan Club, for superior analysis of your workouts.
Excellent warranty package and the possibility to purchase extended warranty.
Drawbacks
USB drive for data export is not included, you have to pay extra for it.
Console doesn't have a laps / track function. Although it's not entirely necessary, it's a great
function to have if you want to train at a professional level.
Lastly, it's a heavy machine, that may require two people to move around. On the other hand, its weight is also a plus, since it adds a lot of stability to the machine.
Final Conclusion
To put it simply, this treadmill is a beast! It covers all the training spectrum, from beginner to professional. It comes for a great price for its quality and amount of features offered. It's a machine designed for anyone who wants to lose weight, keep a healthy cardiovascular system, or train even for marathon. In other words, if you're looking for a gym-quality treadmill for home use, the LifeSpan TR 1200i is one that you should definitely consider.