Indoor Cycling Bikes: Buying Guide

There are actually three main categories of stationary bikes: indoor cycling, recumbent and
upright. Each type has its own specifics and targets different types of workouts. Out of all three, the bikes in the first category are built to provide heavy-duty and high-intensity training, similar to outdoor, speed bikes.
Now, there's a particular aspect regarding indoor cycling bikes. They're also commonly referred to as "spinning bikes" or "spin bikes", mainly because one of their key features is a big, weighted flywheel used in their drive system, typically not hidden by any casing completely, which is visibly spinning as the user pedals. These bikes are made for endurance, strength and interval workouts, are often used in a classroom setting, which is called "spinning class".
Spinning Bike vs. Indoor Cycling Bike Debate
The thing is, the term "Spinning®" or "Spin®" referring to stationary bikes was trademarked in 1994 by Mad Dogg Athletics. They were the first to call their indoor cycling bikes "spinning bikes", a term which became very popular. By now the term was pretty much generalized and used on a large scale, many users not having any idea that it has anything to do with this company. However, the Mad Dogg Athletics bikes, do have the word "Spinning®" written on them, being specified as spinning bikes. Therefore to avoid any confusion, we will refer to this type of stationary bike, designed for strength and endurance workouts, as "indoor cycle", or "indoor cycling bike".
Anyway, enough about this, you are here to learn as much as possible about indoor cycling bikes, in order to get the one that suits you best. So, to begin with, let's see which are the main advantages of an indoor cycling bike, and whether or not this type of bike is the right one for you.
Advantages of Indoor Cycling Bikes
First of all, an indoor cycling bike offers you just about the same cycling setting as a regular speed bike, only it's stationary. This being said, you can undergo your daily ride in the comfort of your home, while watching TV, your favorite internet streams, or browsing the web. You won't be bothered by bad weather, you won't be hit by bugs as you pedal at 40-50MPH, and there's no risk of being hit by a car. In fact, the overall risks of injury are severely diminished while undergoing intensive training on this type of stationary exercise bicycle.
Along with the comfort-oriented and low-risk advantages, this type of exercise bike does indeed offer several fitness and health benefits. Just as treadmills, indoor cycling bikes are great exercising machines for burning calories. But as opposed to treadmills, they put less impact on your joints, as your legs do not have to support your whole weight as you pedal. Depending on the bike, and exercising routine used, one can lose between 500-1000 calories per hour, while exercising on an indoor cycle.
But weight loss is far from being the only health benefit that these bikes can offer. They're also great for aerobic exercising, consistently improving pulmonary and cardio capacity, and rendering a superior blood oxygenation. This prevents the occurrence of various diseases and conditions, such as stroke, heart disease, arthritis, diabetes, reduces blood cholesterol levels, and keeps the electrical potential generated by leg muscle cells at optimal parameters, which is extremely important for overall health.
Evidently, a stationary bike of this type is great for keeping your cyclist shape during winter, when you can't undergo your daily cycling sessions outside due to cold weather. They're great machines for building stamina and endurance, and exercising on them is actually required by various sports, due to this particular matter. High-intensity cycling can be included in various exercising routines for muscle building or cutting. And finally, most stationary bikes of this sort offer a console more or less advanced, which gives you the possibility to track and record your progress, analyze your progress better, set goals and continuously improve.
Key Features of Indoor Cycling Bikes
All indoor cycling bikes share a similar and distinctive set of features. They all feature a heavy flywheel, a braking system, handlebars with multiple grips, frontally oriented to promote the cycling posture, and a heavy frame reminding of mountain bikes. However, each and every feature has its own specifics, and before purchasing a stationary bike of this sort, it's best to know as much as possible about these features.
Resistance systems
When it comes to resistance, there are actually two largely used braking systems used in indoor cycling bikes: friction (or contact), and magnetic.
Friction brakes usually feature one or multiple brake pads, made of kevlar or with a wool-felt surface, pads that come in contact with the flywheel. As you adjust the tension or resistance, the brake pad puts more or less pressure on the flywheel, thus making it more difficult to pedal. There are two main advantages regarding direct-contact brakes: they're cost-effective and the resistance typically can be tightened to the point where the user cannot pedal anymore. However, there are a few drawbacks as well. For example, the brake pads may generate squeaking noises, and in this case, they require lubrication. The pads also wear out after a while and require replacement. Also, a direct-contact braking system doesn't come with specified resistance levels, which may help you measure your process better. To adjust resistance, in this case, you simply tighten a dial until the bike delivers the resistance level that feels adequate for your training.
Magnetic brake systems feature brake pads with magnets. By adjusting the resistance level, the brake pads come closer to the flywheel, and the magnetic field created applies pressure onto the flywheel, thus increasing resistance. In case the magnetic brake pad is electrically assisted, the pad is fixed, and by adjusting resistance you only adjust its pull. Regardless if the brake is electrically assisted or not, the brake pads do not come in contact with the flywheel, they don't wear out, do not emit noises, and the adjustable resistance device or knob usually has levels specified on it. However, since magnetic brakes are a bit more sophisticated, the bikes with this type of resistance system tend to be a bit more costly.
Drive mechanisms
When it comes to their drive mechanism, there are also two types of indoor cycling bikes: chain-driven and belt-driven. Both chain and belt bikes function by the same principle.
But chain-driven bikes tend to be noisier than the belt-driven ones, as the chain may click or emit a more prominent noise as you pedal. The sound shouldn't be loud enough to become an issue though, and typically can be solved by lubricating the chain periodically. On the other hand, as opposed to a belt, a chain is more durable and stretch-free.
Belt-driven exercise bikes feature a belt making the connection between the pulley of the bike and the flywheel. A belt-driven mechanism requires less maintenance and it's quieter. However, if the bike that you choose doesn't have a heavy-duty belt, it may heat up and/or stretch, requiring replacement.
One of the main components in an indoor cycle's drive mechanism is the flywheel. These exercise bikes tend to have bigger flywheels in diameter than recumbent and upright bikes. They're also much heavier, sometimes up to 50 lbs (22.6 kg). Heavier and stronger users usually require heavier flywheels, for more resistance during acceleration. On the other hand, lighter and shorter users may require a lighter flywheel, as a heavier one may result in too much strain per workout, especially when engaging in sprint sessions. Some flywheels are perimeter weighted, which enables them to generate a superior inertia, which diminishes the stairmaster effect during the pedal stroke, making the overall ride much smoother. Also, the weight of the flywheels adds to the overall weight of the bike, enhancing its stability.
Frames
Most indoor cycles feature solid, heavy frames, meant to support intense pedaling, without wobbling or moving. Designs differ from a model to another, and from a manufacturer to another. However, there are a few aspects that you should look for. It's best that they feature a one-piece frame, as these are more solid. The bases should have levelers, to make sure they provide maximum stability even if the bike isn't placed on a level surface. Also, since most indoor cycling bikes are heavy, make sure they have transport wheels.
Comfort Factors
First of all, indoor cycling bikes are not made for comfort. If you're looking for superior comfort on a stationary bike, it's best to have a look at upright or recumbent bikes. Indoor cycling bikes are made for sweating and for heavy training. But nonetheless, they must provide an adequate posture for your training, and enough comfort so that your training sessions don't turn into a nightmare. So, the main comfort factors are the seat, handlebars, and various amenities.
Seat
Most indoor cycling bikes offer a simple seat, similar to the ones of speed bikes or mountain bikes. This is actually the appropriate seat layout for these bikes. These seats are not very large, and for heavier users or users that are new to bikes, they may be uncomfortable, at least for the first 5-6 sessions.
An important aspect of a bike's seat is adjustability. The seat should be adjustable horizontally and vertically, in order to provide you with the best posture.
Handlebars
In terms of handlebars, when you're looking for an indoor cycling bike, it's best to choose one with a multi-grip handlebar. Needless to say, a handlebar with such design promotes a wide array of holding positions.
Not only it will most definitely offer the perfect grip for you, it also diversifies training postures.
But just as for the seats, vertical and horizontal adjustability is quite important for the handlebars. Horizontal adjustability, for example, can enable a bike to accommodate the tallest users.
Various companies offer at least one or two indoor cycling bike models featuring pulse sensors incorporated within the handlebars. A feature such as this may or may not increase the price significantly. It's not a completely necessary feature unless you really need to keep track of your heart rate. But even so, you can always use a chest strap and a specific device for it.
Accessories
Indoor cycling bikes usually don't offer a wide range of comfort-oriented features. There are very few models equipped with advanced multifunctional consoles, speakers, fans and media connections. Typically, bottle holders, toe straps, and a pretty basic console sum just about all the comfort factors that you can find in a bike of this type.
Consoles are usually pretty basic when it comes to indoor cycling bikes, even for the most expensive bike models. They offer information regarding RPM, speed, total distance traveled and distance per session, time, calories, and a basic goal tracking system.
Other Aspects To Consider Before Buying
Space
Although this type of exercise bikes usually have a rather small footprint and don't take too much space, it's best to consider this aspect before getting one. Also, keep in mind that most exercise bikes are made for storage and use indoors. Keeping them outside, in a place with a lot of moisture or excessive cold may lead to damage to their components.
Bike's Weight
Most indoor cycling bikes are pretty heavy. Some of them can weigh up to 250 lbs. Therefore moving them may be an issue even if they have transport wheels. For example, if you have to transport your bike up a set of stairs, you might need someone to help you. Plus, due to this fact, they may cause damage to your flooring or carpet, even if they have stabilizers. That's why it's best to place your bike on a mat. This actually stands for just about any exercising machine.
Your Weight
Each exercise bike comes with a specified supported weight. Therefore, it's wise to choose one with a limit that exceeds your own weight. Even if the frame, seat, crank, and pedals are solid enough to support higher weights than the one specified, the bike may not be stable enough to be ridden by a user heavier than specified. Also, in case you weigh over 400 lbs, an exercise bike may not even be the best choice for losing weight. A treadmill or an elliptical may be a more appropriate choice.
Warranty
Extensive warranty, for over a few years for frame and parts, is usually an indicator that the bike you're looking at is actually a high-quality one. It's important to know that for wear parts, such as the brake pads, or pedals, most manufacturers offer only a 90-day warranty. But even with daily use, these parts can still last for more than a year, until they become completely worn out.
Pricing
You can find quality indoor cycling bikes for a price under $250. An increase in price is given by design and brand, magnetic resistance vs. contact resistance system, the weight of the bike, console, lifetime warranty, and that's about it. On the other hand, there are bikes of this type which can cost up to $4,000, due to their advanced consoles, with web connectivity and other advanced functions. The thing is, no matter what your budget is, you can still find an excellent indoor bike to fit your needs.
A Few Of The Top Brands
Spinning
The Spinning® brand of exercise bikes was created by John Baudhuin and South African
ultra-distance cyclist Johnny "Johnny G" Goldberg. It's currently a branch of Mad Dogg Athletics. There are currently several indoor cycling trainers sold under the brand name of Spinning®. Among them, we can count the Spinner S1, for home use, the Spinner Edge, which is a light-commercial model, and bikes such as Star Trac ION, which are heavy-duty exercise bikes, designed to be used 24/7 in the premises of a gym.
One of the highest rated, but also the oldest Spinning bikes, is the Star Trac Spinner Blade. This is an extremely sturdy commercial cycling trainer, featuring a heavy-duty frame, a high user capacity of 350 lbs, and an aggressive inertia flywheel of 38 lbs. It's a highly adjustable bike, equipped with horizontal sliders for both its seat and handlebars; it can accommodate users of all sizes from 5'0″ and up. It can support any spin workout, being perfect for interval training, stamina development… Read Full Review
Sunny Health & Fitness
Sunny Health & Fitness offers quite a selection of indoor cycling bikes of various sizes. All
their models are available at acceptable prices and deliver excellent quality. Some of the models released in 2017 are the ASUNA Lancer, ASUNA Minotaur, and ASUNA Sabre. The Lancer model has actually received a decent amount of 5-star reviews, being a more affordable alternative to the Keiser model.
Most Sunny bikes feature a friction resistance system and chain-drive system. However, there are several models with a belt drive and magnetic resistance. The Lancer model that we've mentioned, is a magnetic brake bike.
On the other hand, if you're on a budget, bikes such as the Sunny Pro SF-B901 may be just about the right choice for you. This is one of the most affordable and most rated products from this brand at the moment. It's chain driven, with a perimeter weighted, 40 lbs flywheel, contact brake system, adjustable seat, and solid frame. It's rated for users up to 275 lbs and has a smaller footprint than other… Read Full Review
Schwinn
Schwinn has actually started as a road bike designer and manufacturer, and they still provide some of the best speed, road and mountain bikes. But nowadays they have a fitness department,
and also provide several exercise bikes, among other fitness equipment.
Schwinn IC2 is at the moment the only indoor cycling bike designed for home use available in their stock. Most other bikes made for spinning, are gym-grade, and typically highly priced. This model though is pretty close to a gym-quality indoor cycle, that's why it's our first recommendation here when it comes to Schwinn. Price and quality ratio is quite excellent for this bike. Although it comes with a lighter flywheel of only 31 lbs, it's still a perimeter weighted type, which offers superior inertia, and reduces the stair climbing effect when pedaling. It's a chain-driven bike, featuring one brake pad, felt-type, and a multi-grip handlebar… Read Full Review
Keiser
More than 80% of the top professional sports teams in the world now train on Keiser machines, not just bikes, including several baseball teams in the majors, the soccer
champions of nine countries, several American football champions and countless Olympians. They're joined by everyone from NASA to Navy Seals, medical experts, and rehabilitation specialists, and major gyms like LA Fitness.
When it comes to indoor cycling bikes, the Keiser M3 is the most popular model. This bike has received several re-designs over the years. It's currently sold under the name of Keiser M3i and as opposed to the older models, it comes with a Bluetooth console.
The Keiser M3i is a rear-drive, magnetic exercise bike. It offers high micro-adjustability, featuring horizontal sliders for both its seat and handlebars. As opposed to many other commercial-grade trainers, the Keiser M3i doesn't have an extra-heavy flywheel. However, its magnetic brake does compensate on the resistance generated, and overall pedaling feel… Read Full Review
SOLE Fitness
Sole provides a complete line of award-winning fitness gear. Needless to say among their offered products there are several indoor cycles. The SB900 and SB700 are two of their best-rated bikes. Both are equipped with a fairly decent progress tracking console and cover the full range of
workouts possible on this type of exercise bikes.
The SOLE SB700 is currently the most rated intensity indoor bike from this company. It's a bike with a very neat design and a sturdy build. It features contact brakes but the brake pad is kevlar-made, not wool-felt, for superior durability. It's a bike with adjustable handlebar vertically and horizontally, and a 48 lbs flywheel, to supply the resistance required by pro cyclists. The bike includes a nice warranty pack… Read Full Review
Our Best Recommendations by Price
Before proceeding with the following recommendations, there's another aspect to be specified though. There are four distinctive price intervals for these bikes:
under $300 – which are pretty OK trainers for home use, but without too many bells and whistles, and with a simple design. Most of the models in this category have a weight capacity between 220-275 lbs;
between $300 and $500 – models close to the quality of light commercial bikes, but with a couple of features or functions less, and a weight capacity of around 275-300 lbs. This price category includes quite many models as well;
between $500 and $,1000, a category interval that typically includes light commercial bikes. These are high-performance exercise bikes, which can also be used in the premises of a gym facility;
over $1,000, a category that refers mostly to commercial grade bikes, featuring a heavy-duty construction, being designed to withstand 24/7 usage in the premises of a gym club;
Price: Under $300
Merax Indoor Cycling Bike Red1
Although the Merax bike Red1 is one of the most affordable indoor cycling bikes, it also includes an exercise meter, an accessory that many other models do not have. It's a smaller model, though, not for users over 6'1″ – 6'2″, but on the other hand, it features quite a durable construction, being rated for a user weight capacity of 330 lbs.
The Merax indoor cycling trainer features a quiet belt drive system, a friction resistance system, and also comes with a much more comfortable seat than most spin bikes. Its seat has an extra-thick layer of cushioning and two springs which also absorb shock. It's a 4-way adjustable seat, its horizontal slider offering a few inches of front-back adjustment… Read Full Review
Sunny Health & Fitness Pro SF-B901
The Sunny Pro SF-B901 is one of the oldest Sunny Health & Fitness indoor cycling bikes. However, it still is one of the best and highest rated in 2018. So far it has been praised by a large number of users of all levels. And that's because it offers simplicity, durability, and effectiveness, at quite an affordable price.
In terms of specs, it's a durable bike, offering a user capacity of 275 lbs. It features a standard chain drive and a friction resistance system which consists of a brake with two lateral pads, similar to a standard road bike brake. It uses rubber/felt pads which are easily replaceable. Its seat is 4-way adjustable and can accommodate users up to 6'5″. As an alternative model to this Sunny exercise bike, you can also consider the Sunny SF-B1110 model. This used to cost a bit over $300, but its price has been reduced by approx. $50 at the beginning of 2018, so at least for now, it costs less than $300… Read Full Review
ActionLine A84016 Pro
The ActionLine A84016 Pro indoor cycling trainer is pretty close to the $300 mark (its price may vary depending on site or seller). It was released in 2017 and so far it doesn't have too many reviews from users, but all the ones written so far are 4-5 stars.
This ActionLine exercise bike features a frame similar to the Sunny SF-B1110 but offers a slightly lighter weight capacity. It's rated for users only up to 275 lbs. Needless to say, it has a friction resistance system. But the best aspect about it is that it comes with two interchangeable seats. It's also equipped with a basic fitness meter which can track time, distance, speed, calories… Read Full Review
Price:$300 – $500
Efitment IC031
The Efitment IC031 is quite a complete indoor cycling trainer for home use. It's one of the best (if not the best) exercise bikes in this price range for 2018. So far, it has an almost clean 5-star rating on most fitness and retailer websites.
The Efitment IC031 features a durable steel construction with a weight capacity of 275 lbs. As opposed to many other bike models in this price range, it has a magnetic resistance system, not a friction resistance system. This makes its operation very smooth and quiet. Its seat is 4-way adjustable, but it's much thicker than the average spin bike seat, delivering an excellent comfort. Plus, the bike comes with a fitness meter that also incorporates a tablet holder… Read Full Review
Exerpeutic LX905
You can't speak about exercise bikes without mentioning Exerpeutic at least once. There are several excellent indoor cycling bikes sold under this brand name, and one of them is the LX905. This cycle trainer features a solid construction and a fairly heavy frame, pretty close to the light commercial models.
As opposed to other models, the Exerpeutic LX905 has adjustable stabilizers on both its bases, offering better support. It's a bike with a durable chain drive system and friction resistance.
One of the elements that various other bike models in this price range don't have, is the fitness meter. The LX905 from Exerpeutic does include one. The meter unit is actually a bit superior to the average meter unit. It features a 6-panel display and can show 6 fitness parameters at once. It can indicate speed, distance, time, calories burned, RPMs and pulse. It offers goal setting functions for time, distance and calories, and also has a Recovery Test program which can evaluate your level of fitness… Read Full Review
Bladez Fitness Echelon GS
Like quite a few other spin bikes that we have reviewed on this website, the Bladez Fitness Echelon GS is a rather old model; it was released in 2014, but it still available in 2018, and still continues to benefit from 4-5 star reviews from most users.
The Echelon GS is a mid-range indoor cycling bike. It's not a commercial model but is pretty close to one. To begin with, it excels in micro-adjustability. Both its seat and handlebars are 4-way adjustable. It's equipped with heavy, 40 lbs flywheel, which generates a high-inertia and a consistent momentum. It doesn't have pulse sensors but does come with a fitness meter which can track your average calories burned, current speed, time, and distance traveled… Read Full Review
Price: $500 – $1,000
ASUNA Lancer 7130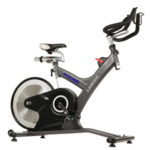 In 2017, Sunny Health & Fitness has released several ASUNA commercial bike models. The ASUNA Lancer 7130 is the model that stands out as it currently benefits mostly from 5-star reviews. It's a light commercial exercise bike, with a construction similar to the Keiser M3 model, but costs approx. $700 less.
This ASUNA exercise bike excels in micro-adjustability. It has 4-way adjustable seat and handlebars and can accommodate users up to 6'5″. It's a rear-drive bike featuring a belt transmission and a mid-range flywheel of 33 lbs. The only downside with regards to this exercise bike is that it doesn't come with a fitness meter… Read Full Review
BodyCraft SPX
Just as the Bladez Echelon GS exercise bike, the BodyCraft SPX is an older model; it's actually over 5 years old. However, since it's still available and still continues to benefit from 5-star reviews, it simply has to be one of our top recommendations for 2018.
The BodyCraft SPX is a classic friction indoor cycling bike. Its seat and handlebars are both 4-way adjustable and have hexagonal sliders for superior sturdiness and aesthetics. It's equipped with a heavy flywheel (46 lbs), an extremely sturdy crankset which can withstand users up to 300 lbs in a full standing up position. Its transmission is powered by a heavy-duty belt… Read Full Review
Inspire Fitness IC1
Although it's not sold as a light commercial exercise bike, the Inspire Fitness IC1 does have all the "ingredients" of one. To begin with, it's a trainer with a heavy-duty construction, designed to support users up to 300 lbs. It's equipped with an extra heavy flywheel which weighs 45 lbs, being made to deliver a consistent momentum and a smooth pedaling motion. Despite the fact that the construction of the bike and flywheel may suggest it's a magnetic model, its resistance system is friction-based, using a classic felt pad, attached to the tension dial on the main tube of the frame.
The Inspire Fitness IC1 has excellent micro-adjustability. Its handlebar features a multi-grip design and also integrates pulse sensors. It also includes an exercise meter which offers a bit more than the standard basic models, as it can count RPMs and can track your heart rate… Read Full Review
Price: Over $1,000
SOLE SB700
Appealing design, plenty of micro adjustabilities, performance monitor, and a heavy, 48 lbs flywheel, are some of the features that you will get with the SOLE SB700. A solid construction and quite a heavy frame promote durability and stability.
Even though it's listed for users up to 300 lbs, this bike can probably support even heavier users. One of the aspects different about this bike than other similar models is its brake pad. Although it's a friction resistance bike, the brake pad is kevlar-made, supplying superior durability and effectiveness… Read Full Review
BodyCraft SPT-Mag
Although this is not exactly an affordable exercise bike, so far it has an almost completely clean 5-star rating on various fitness and retailer websites. It's heavy-duty club exercise bike, offering an impressive 350 lbs weight capacity, excellent micro-adjustability, and a multi-grip handlebar which also includes drop-down grips.
As its name suggests, the BodyCraft SPT-Mag trainer is equipped with a magnetic resistance system. It consists of a dual-sided magnetic brake which hugs the flywheel. Like most magnetic exercise bikes, it has a belt-drive, using a heavy-duty poly-v belt for a smooth and quiet pedaling motion. The bike doesn't include a fitness meter, but there are several models available, including a telemetric model from BodyCraft… Read Full Review
Star Trac Spinner Blade
The Star Trac Spinner Blade is not exactly an affordable exercise bike, but it definitely is a commercial spin bike, featuring a superior weight capacity and a frame built to endure 24/7 usage within the premises of a gym. It has an extremely heavy and sturdy frame, a flywheel of 38 lbs, chain transmission, and friction resistance. Its listed weight capacity is 350 lbs, but its crankset and seat assembly can definitely support more.
Like any commercial indoor cycle trainer, this Star Trac model features superior micro-adjustability, with 4-way adjustable seat and handlebars. It comes equipped with SPD pedals which also have toe cages in case you use it with normal shoes… Read Full Review
Final Pick: Best Indoor Cycling Bike For Home Use
Our best pick for 2018 was the Bladez Fitness Fusion GS II, since it was (and still is) an exercise bike with a decent construction, 4-way adjustability for the seat and handlebars, and also comes with a fitness meter. However, up to the beginning of 2018, the customer reviews
for this model have decreased in quality, leaving it to an average of 3.5-4 stars. So, for 2019, our best pick is the Efitment IC031.
The Efitment IC031 is an indoor cycling trainer featuring quite a durable construction, being able to withstand riders up to 275 lbs. It's a fairly heavy trainer, weighing over 100 lbs, and this weight considerably improves its overall stability. Plus, both its bases feature adjustable, rubberized stabilizers.
The bike features a 40 lbs flywheel, perimeter-weighted and bi-directional. It's equipped with a belt drive system and a magnetic brake. However, it's magnetic resistance system is not motorized, so the bike doesn't require being connected to a power source. It's brake consists of a magnetic pad attached to the resistance dial on top of the main tube of the frame.
One of the main factors leading to this impressive amount of positive reviews is the bike's seat. As opposed to many spin bikes, the Efitment IC031 doesn't have a slim spin seat; its seat is consistently cushioned delivering excellent comfort. Both the seat and the handlebars are 4-way adjustable. Even though their horizontal sliders don't have a huge adjustment span, they still allow enough adjustment for the bike to accommodate users up to 6'5″.
Last but not least, the Efitment IC031 comes with a basic fitness meter, an accessory that many light or full commercial bikes don't have. And this meter unit not only that tracks your speed, distance, time, and calories burned, it also integrates a tablet holder… Read Full Review
Final Thoughts
Although there's a wide array of indoor cycling bikes at the moment, most of them share the same features and ultimately serve the same purpose. However, prices differ from a model to another, and not just every bike does offer a great price/quality ratio. This page aims to help you make the right choice, regarding your indoor cycling trainer. All the models that we have presented here have an excellent price/quality ratio and range from $200 to over $1,500. Therefore, we hope that our page was helpful and you've ended up with the best exercise bike for your budget.