If you've ever been to a gym or fitness center, you probably know how a recumbent bike looks like. These are exercise bikes that focus on providing the user with as much comfort as possible during their workout. Their most obvious characteristics are a welcoming, comfortable seat, with
a back support, typically cushioned or padded, a set of handlebars near the seat, and a more or less advanced performance monitor.
Recumbent exercise bikes are known to be easy on the knees and on the joints, and since all recumbent exercise bikes have a seat with a back support, they eliminate any type of stress on the user's back. They're made for a light, and up to medium intensity exercising, but nonetheless, you can also lose weight by working out on a recumbent bike. However, this requires longer workout sessions, and most likely a well-balanced diet.
Do You Really Need a Recumbent Exercise Bike?
Since recumbent bikes are made to support the weight of your upper body, they eliminate an important amount of stress that would normally be put on your knees and ankles during a treadmill workout, or even on a spinning bike workout. This being said, recumbent bikes make a great choice for users who require rehabilitation exercising, users who have to deal with various movement impairing conditions, or back problems, or elderly users.
Indoor recumbent bikes are not designed to put a lot of stress on your body. Therefore, they're not made to help you burn important amounts of calories. But on the other hand, they can serve well as entry-level exercising machines for overweight users. In this case, a recumbent bike will help you get the sufficient amount of strength and endurance in order to be able to put up a better workout on a treadmill, spin bike or any other machine designed for a higher intensity training. Also, you will lose some weight in the process, but most definitely not the consistent amount of weight that a treadmill, elliptical trainer or indoor cycling bike can help you lose.
The Key Features of Recumbent Bikes
All recumbent bikes share a common amount of features. These features are more or less similar to other types of bikes. But each and every feature present in a recumbent bike has its own specifics. Therefore, prior to deciding whether or not you need a bike of this type, it's best to know a thing or two regarding the general aspects of this type of indoor cycles.
Resistance
In recumbent exercise bikes, the resistance (or tension) mechanism is typically magnetic or eddy brake.
Magnetic brakes have a rather simple mechanism. Generally, they consist of a simple brake pad with a set of magnets, which moves closer or farther from the flywheel of the bike, in order to create tension. In this case, the brake pad is attached to a cable, connected to a tension knob, which you have to turn to adjust resistance. The brake pad never comes in contact with the flywheel. Also, bikes with magnetic brake don't require any power source for the resistance levels to be manipulated.
Eddy brake systems assisted by electric current function by the same principle, but in this case, an electromagnet, a servomotor, and a more advanced bike console are involved. The brake pad is normally fixed, and the tension is caused by changing the magnet's pull. This is done by indicating the resistance on the bike's computer, which sends the data to the servomotor, which changes the magnet's pull onto the bike's flywheel, for a higher or lower resistance. As the terminology suggests, an electromagnetic brake requires an electric current. Therefore, a bike with an eddy brake system typically comes with an adapter and needs to be plugged into an electrical outlet for the brake system to become operational.
Drive mechanism
It's a common misconception for many that recumbent bikes or upright bikes don't have a flywheel. They all do. But because in most bikes, the drive mechanism including pulley, belt, servomotor, and brake, comes already assembled and attached, many people think the brake locks onto the pulley somehow. It's not how it works.
All recumbent bikes have a flywheel, which is commonly smaller in diameter than the pulley, but heavier. Normally, the flywheel is connected to the pulley through a transmission belt.
Since most recumbent bikes are belt-driven, the pedaling is smooth and quiet. They don't require much maintenance, at least not for the "guts" of the bike.
In most recumbent bikes, and in general, for most exercise bikes that have an eddy brake or magnetic brake, it's possible to pedal backwards. Resistance is the same for pedaling normally or in reverse, and the crank does not continue spinning when you stop pedaling.
Comfort
"Comfort" is the word that defines recumbent bikes. There are several elements that bolster the comfort on this type of exercise bikes. First of all, it's the shape of the frame. The bike's
drive system is located at the front of the bike. The seat is not very far from the ground, usually 18-22 inches, facilitating the mounting and dismounting, and very comfortable workout posture.
The seats of recumbent bikes can consist of hard plastic, or cushioned with different materials. Hard plastic seats, even if they may seem less comfortable, they aren't. This type of seat often features a very ergonomic design, and a vented texture, meant to provide a healthy back support and to prevent the overheating of the seat during a lengthy workout session. Cushioned seats on the other hand, are great for users who have problems with their lower back. But nonetheless, both types are just about equally comfortable.
The recumbent handlebars also add to the comfort of this type of bikes. These handlebars usually come with incorporated pulse sensors, which are great to have in case you must monitor your heart rate during workouts.
There are several other elements that come to complete the comfort of recumbent bikes. For example, there are bikes which include a cooling fan, sound system, bluetooth connectivity for workout data transfer online, bottle holders, media tray to attach your tablet and surf the web while you pedal. These however, are reflected in the final price of the bike.
Adjustability
All recumbent bikes feature adjustable resistance. The number of resistance levels differs though, from a model to another. Some models may offer up to 5 resistance levels, while the more advanced bikes can have up to 40 levels of resistance.
The seat can be adjusted in a front to aft. manner in most recumbent bikes. By adjusting the seat, you basically obtain more leg room. The most advanced models also offer adjustability on the seat angle, however not many models have this.
The front handlebars on recumbent bikes are typically fixed. The ones for the seat on the other hand, are in most cases adjustable, moving fore / aft. along with the seat. Also, there are bike models which allow the tilting of these handlebars, upward or downward, depending on the position that suits you best.
Of course, most recumbent bikes have a one, or two-piece frame, which is non-adjustable. But nontheless, there also are foldable recumbent bikes, such as the Sunny SF-RB1117, for example.
Maintenance
In general, most recumbent bikes are pretty much maintenance free. The internal components come already assembled and lubricated. All you have to do in terms of maintenance is keep the bike clean, and if it has a computer, or progress tracking device, make sure you keep it dry.
Other Aspects To Consider Regarding Recumbent Bikes
Storage Space
It's important for anyone to know, that most recumbent bikes are rather bulky. Even the ones with a rather small footprint, such as the Exerpeutic 900XL, still occupy a lot of space. Therefore, before purchasing one, make you sure you have a place to keep it. Also, most exercise bikes are made for indoor storage and use. If you're going to buy one, you should keep it in a dry room, without severe temperature variations.
Transportation / Weight
In general, when it comes to an exercise bike, the heavier the better. Weight enhances its stability, the flywheel of the bike is probably pretty heavy as well, which improves the smoothness of the pedaling. On the other hand, the moving of a heavy exercising machine may be problematic, especially for someone who is not supposed to lift heavy stuff. That's why, before purchasing a bike, have everything planned, on where to put it, whether you have to relocate it after use or not etc.
Budget
An exercise bike is actually an investment. And whenever you want to make an investment, it's ideal to consider a certain budget. Now, you can find recumbent bikes as cheap as $130, or models that go up to $5,000. Of course, an expensive bike may provide a series of accessories that you don't really need. However, some of the most expensive models are simply overpriced, as you can find much more affordable bikes which offer just the same features. The final part of this post brings forth several bikes with an excellent price-quality ratio, which just might fit perfectly to your budget.
A Few Recommendations…
There are many companies who offer exercise bikes, and gym equipment of all types. But only a few make the best recumbent bikes. Therefore, in the last section of this post, I'm going to point out some of the best brands that you should look for, if you're on the lookout for a recumbent bike, and one of their best models for this category.
Sunny Health & Fitness
Sunny Health & Fitness is a premier distributor and importer of high-quality health and fitness products. The company is relatively new, having been in business for only 15 years. Most products sold under this brand name are sourced directly through their wide network of manufacturers, and their pricing is much more competitive than the average distributors in
the industry.
When it comes to recumbent bikes, there are several Sunny models. Most of them are quite affordable, and one of the models the benefits from excellent ratings is the Sunny SF-RB4602. Although it's an entry-level model, this bike offers an impressive weight capacity of 350 lbs. It features a padded seat and backrest, and a manual magnetic resistance system. It's equipped with a basic console which also integrates a tablet holder… Read Full Review.
Marcy Pro
The Marcy Fitness brand also has some history behind it. It was initiated approx. 50 years ago, and to this day, it's still alive and well, but under IMPEX Fitness. Marcy offers fitness equipment of all sorts, from dumbbells, barbells and home gyms, to cardio equipment such as exercise bikes and treadmills.
All recumbent bikes available under the MarcyPro brand are pretty much entry-level models. However, most of them offer an excellent price/quality ratio. For example, the Marcy ME-709 although it's a pretty old recumbent bike model, it's still available in 2018 and to this day it continues to gather many clean 5-star reviews from users.
The Marcy ME-709 features a 2-piece frame adjustable in the middle. It features a simple seat and backrest with a layer of padding for optimal comfort. It's equipped with a basic console which can track time, distance, and calories… Read Full Review.
Nautilus
Marketer, developer and manufacturer for different fitness equipment brands, such as Schwinn Fitness, Bowflex or Universal, Nautilus nonetheless have their own brand of fitness gear. The company has been an American Heart Association Fit-Friendly company beginning with 2010. They won for the Platinum Fit-Friendly Workplace award for three years in a row. The company is recognized for its Road to Wellness Program which rewards its employees to continuously get healthier and has also been recognized in 2013 and 2014 as one of the companies in the US with the healthiest employees. They do provide a series of gym-quality exercise bikes, and one of their best recumbent bike is Nautilus 614.
Even though Nautilus owns various brands which provide different types of exercise bikes, there are several developed and manufactured under the name of Nautilus.
The Nautilus R614 model, is a recumbent bike which comes for a great price, a model which has a ton of features to offer. With this bike you will get 20 eddy brake resistance levels, quite a multifunctional console, including sound system and fan, along with 22 exercising programs… Read Full Review.
Schwinn
As the name suggests, the company has German roots, and was founded by a German mechanical engineer, Ignaz Schwinn, in 1895. They do have quite a history in bicycle design, even though Schwinn Fitness is currently owned by Nautilus. Schwinn specializes in outdoor bikes and indoor exercise bikes. Currently they make some of the finest recumbent bikes that you can find,
Schwinn 270 being one of the most popular.
The Schwinn 270 is actually an exercise bike with an excellent price/quality ratio. This bike has a lot to offer in terms of comfort and effectiveness. It offers 25 levels of eddy brake resistance, an advanced console for progress tracking, which makes available 29 training programs, and even gives you the possibility to import your progress and upload it on various sites for a better analysis… Read Full Review.
Diamondback
Diamondback is a major bicycle brand, known mostly for their low and mid-priced outdoor bikes. They actually started as a BMX brand, in 1977, but currently offer all kinds of outdoor bikes, including BMX, road, cruiser, dual sport, roar, mountain bikes etc.
ie..In terms of recumbent bikes, Diamondback offers two models: the 510SR and the 910SR.
Diamondback 510SR is one of their most rated exercise bikes. Even though it's not the most inclusive, and not the cheapest either, it offers a wide array of comfort and fitness-oriented features. It's an eddy current brake bike, with an advanced console, providing 20 preset training programs and 16 levels of resistance… Read Full Review.
Our Best Recommendations by Price
Recumbent bikes can actually be classified into four distinctive categories when it comes to price:
under $200 – a category which includes budget bikes, with a minimum range of features;
between $200 – $500 – also a category of bikes for home use, but including models that offer many more features than the basic models;
over $500 – $1,000 – the recumbent bikes in this category are typically light-commercial, featuring more sturdiness, and extra features;
over $1,000 – this category includes models for commercial use.
Therefore, here are three recommendations for each price interval, bikes that come with one of the best quality for their price, and rated on almost every fitness forum and website, at 4+ stars.
Price: Under $200
Although the Marcy ME-709 has been around for at least 6 years, it continues to be one of the highest rated recumbent bikes for home use that you can find. On most fitness websites and forums, this particular model has a rating of at least 4.5-stars. Even though it's only a basic model, it does offer the comfortable training setting for light cardio that almost any other model in this price range can offer. It also features manual magnetic resistance, with 8 resistance settings.
One of the particular aspects regarding this Marcy model is that the seat is not itself adjustable. However, the frame is made of two pieces, and the rear part of the frame including the seat can be adjusted and moved closer to the front part. Needless to say, one of the main aspects this cycle is highly rated is the comfort its seat provides. It's a consistently cushioned seat… Read Full Review.
Exerpeutic offers quite a few excellent recumbent cycle models. The 900XL is one of their most durable and compact models under $200. It's a bike with a simple design, and manual magnetic resistance, featuring 8 resistance levels. One of the best parts regarding this model is well-cushioned, comfortable seat, with a back support that's also cushioned.
The frame is non-foldable, but its overall footprint is a bit smaller than other recumbent bikes, especially when compared with the more expensive models. It takes only 54″L x 22″W of floor space, being suited even for smaller rooms. The console that comes with this model is also a basic one, however it allows you to set up goals for certain values. It can track speed, RPM, distance, time, calories, and pulse… Read Full Review.
The Sunny Health & Fitness SF-RB4602 is also a budget recumbent exercise bike; although this model was released in 2016, up to 2018 it has packed an impressive amount of positive reviews from most users.
As opposed to many other recumbent bikes in this price range, the Sunny SF-RB4602 offers an impressive user weight capacity; it can support riders up to 350 lbs, and not only that, due to its oblique seat adjustment system and long base frame, it can accommodate tall users up to 6'5″ while providing a healthy leg extension. The bike is equipped with manual magnetic resistance system… Read Full Review.
Price: $200 – $500
Maybe the best aspect with regards to the Exerpeutic 4000 recumbent bike is its Air Soft seat, similar to several other more expensive exercise bikes. This seat is also equipped with a set of cushioned armrests which also have vertical ball grips. It has a mesh-type backrest which adapts well to the shape of your body and allows a healthy airflow. Also, the bike has quite a sturdy construction being able to support riders up to 325 lbs.
The Exerpeutic 4000 recumbent bike features a motorized magnetic resistance system, which means that its resistance can only be controlled from its console. And speaking of the console, it offers 12 preset programs, 1 fitness test, 1 Watt program, 4 heart rate target programs, 1 random program, and of course, the manual mode… Read Full Review.
So far, Nautilus hasn't come with a re-designed R614 recumbent bike, and therefore, the old part number model 100387 still is one of the best and most affordable Nautilus recumbent trainers in 2018.
Although it's an exercise bike designed for home use, the Nautilus R614 offers a frame construction and a range of features that are very close to the commercial models. To begin with, it has a weight capacity of 300 lbs. Its seat, although is not cushioned, it has a contoured and vented design promoting a healthy airflow and a superior comfort. The machine features quite an impressive console for a less than $300 bike, integrating a sound system, a USB port for workout data transfer, as well as 22 workout programs… Read Full Review.
The Schwinn 230 MY16 was and still is a recumbent bike which offers an exceptional price/value ratio. It's also a model which so far has gathered an impressive amount of 5-star reviews, being one of the best (if not the best) bikes in 2017. This model was released in 2016, however, its older version, the Schwinn 230 is still available to this day, and also is an excellent trainer.
This Schwinn exercise bike offers a similar construction and range of features as the Nautilus R614. It's a bike featuring an eddy current resistance system with 20 distinctive levels, equipped with a programmable console which has 22 built-in workout programs and several amenities such as sound system, tablet holder, etc… Read Full Review.
Price: $500 – $1,000
On the list of high-quality recumbent bikes, one of the models under $1,000 that we should definitely mention, is the 510SR Diamondback. Now this bike has just about all the features a commercial grade bike should have. First of all, it offers excellent ergonomics factors, with a cushioned and contoured saddle, and also a contoured, comfortable backrest. The backrest's position is also adjustable vertically, a feature that not all models have.
The front handlebars on this model are sizeable, with a multi-grip design, and oriented towards the users. This actually makes it much less awkward to workout while holding onto the front handlebars. On other cycles in this category, for example, it's almost impossible to exercise while using the front handlebars. The 510 SR features a multifunction console, with 20 workout programs, and 3 user profiles, also giving you the possibility to set up goals for certain values, such as distance or calories… Read Full Review.
The Stamina Elite Total Body stands out from other recumbent bikes in this price range due to the front mobile handlebar feature. These rotating handlebars can provide workouts which focus on your forearms, triceps and deltoid muscles. They're aimed at helping you tone your arm muscles and bolster your overall aerobic training.
This Stamina recumbent bike features a cushioned and contoured seat and backrest. However, it has a manual magnetic resistance system with only 8 levels of resistance and a rather basic console. The console unit doesn't have preset workout programs but does allow you to set up a countdown target for time, distance, and calories… Read Full Review.
The Nautilus R618 is one of the newest recumbent exercise bikes released in early 2017. Although it is not specified to be a commercial trainer, it definitely does have all the "ingredients" to be one.
To begin with, it has an extremely sturdy frame with a weight capacity of 325 lbs. It's equipped with a multi-function console which offers 29 workout applications and 4 user profiles. It's also a Bluetooth enabled bike, similar to the Schwinn M17 270, offering the possibility to sync it with your laptop or tablet in order to use the "Nautilus Trainer" app, or directly transfer your workout data to Nautilus Connect, or MyFitnessPal.
One of the features over the older Nautilus R616 is the reclining backrest. It offers several adjustment positions. Its position is controlled by the lever on the right side under the seat. However, it features the same vented structure without cushioning just like the older model.
Evidently, this recumbent cycle trainer is equipped with an eddy current resistance system with 25 distinctive levels… Read Full Review.
Price: Over $1,000
Although the 3G Cardio Elite RB is only a light-commercial recumbent bike, it has quite a sturdy construction and an impressive weight capacity of 350 lbs. This being said, is a solid bike, designed to withstand 24/7 wear and tear within the premises of a gym with no problem.
The bike excels in comfort factors. To begin with, it has a wide, generously cushioned seat, with a durable and flexible mesh backrest. The seat assembly is 4-way adjustable, a feature which many other bike models in this price range do not offer. Not only it can slide forward and backward on its oblique rail, it also has 5 tilt positions.
Needless to say, the 3G Cardio Elite RB is equipped with a motor-assisted resistance system. Its console offers 16 tension adjustment settings, as well as 16 pre-set workout programs to keep you motivated… Read Full Review.
The Body-Solid B5R trainer doesn't offer a wide array of amenities such as sound system, cooling fan or Bluetooth connectivity. However, it does have the "ingredients" of a commercial exercise bike. To begin with, it has an extremely solid construction, built to support users up to 400 lbs. Its seat offers excellent comfort featuring a reclining backrest. It's also designed to accommodate users of all sizes.
In terms of resistance, the bike is equipped with a motorized eddy current system. It also integrates a Tri-phase generator, so the pedaling motion generates all the energy needed to power the console and make available the resistance settings. Its console features a large LCD touchscreen display and offers 11 workout programs… Read Full Review.
Just as the Body-Solid B5R, the SOLE LCR trainer is a heavy-duty exercise bike. It's equipped with a motorized magnetic resistance system and offers an outstanding resistance range of 1-40 levels. It also has a fairly heavy flywheel for a recumbent bike; it weighs 31 lbs, and provides a more consistent inertia than other models. Evidently, it has a sturdy construction, being able to support users up to 350 lbs.
The SOLE Fitness LCR exercise bike features an ergonomic seat and backrest, both integrating a generous layer of cushioning. Its console has a large, backlit LCD display, with 10 workout programs… Read Full Review.
Final Pick: Best Recumbent Bike For Home Use
For 2017, our pick was Schwinn 270 M17. This model still is one of the best and most popular recumbent bikes available. However, in terms of ratings, customer reviews, and overall popularity it has remained a bit behind the lighter version, the 230 MY16. So, our best pick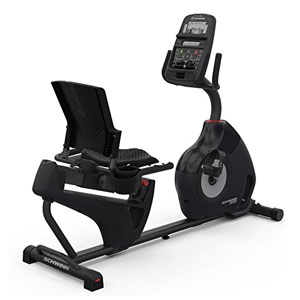 for 2018 is the Schwinn MY16 230.
This Schwinn exercise bike features an almost clean 5-star rating on many retailer and fitness websites, being an excellent model in terms of price/value ratio. It features a sturdy steel frame rated for a user capacity of 300 lbs. Its seat offers long adjustment span designed to accommodate users up to 6'5″.
The seat and backrest feature a vented design, promoting a healthy airflow and preventing the user to overheat. The seat doesn't have any cushioning, but its contour, along with the contoured backrest delivers superior comfort.
The Schwinn MY16 230 is equipped with a motorized, magnetic resistance system, offering 20 distinctive levels of resistance. Its console offers 22 workout programs, including, 9 profile programs, 8 heart rate programs, 2 fitness tests, 1 quick start and 2 custom. It features a USB port so you can transfer and manage your workout data on various apps such as GoogleFit, Apple Health, Endomondo, MapMyRun/Ride, UA, or Schwinn Connect and MyFitnessPal… Read Full Review.