Schwinn MY16 230 Recumbent Bike

Unit
Size
Supported
weight
Resistance
Programs
Warranty
Schwinn MY16 230



Check Discounted Price

L:64"
W:27.7"
H:50"

300 lbs
Eddy
current,
20 lvls
22
Frame: 10 years
Mechanical: 2 years
Electrical: 1 year
Labor: 90 days
The Schwinn MY16 230 is the new, 2016 version of the Schwinn 230. It's a lot similar to the older model but features a slightly different overall design and console. It's a heavy duty recumbent exercise bike, with automatic resistance control, featuring a construction pretty close to the commercial grade models.
Technical Details and Specifications
Assembled dimensions: 64L x 27.7W x 50H inches (162L x 70W x 127H cm)
Assembled weight: 81.6 lbs (37 kg)
Supported weight: 300 lbs (136 kg)
Handlebars: Recumbent (with pulse sensors) and front
Seat: Adjustable
Pedals: With straps
Resistance: Eddy current, 20 levels
Console: Dual track monitor, 22 workout programs, 2 user profiles, goal tracking, USB port for data transfer
Amenities: Sound system, cooling fan, tablet holder, bottle holder
Warranty: Frame 10 years / Mechanical 2 years / Electrical 1 year / Labor 90 days
Frame construction
This Schwinn recumbent bike has a frame made of steel tubing with a one-piece chassis, an aspect that matters a lot for the overall sturdiness. Of course, the bike's body also integrates several PVC parts, such as the covers of the drive system, the seat base cover and the caps of the base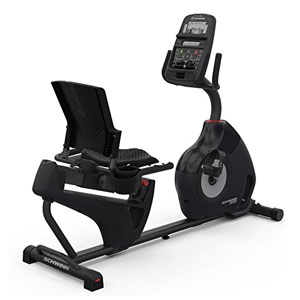 tubes. But these fulfill a cosmetic and protective role, without influencing the overall stability and sturdiness of the machine. On top of that, the fully assembled bike weighs double than the average road recumbent bike, having a total assembled weight of 81.6 lbs (37 kg), an aspect that is nonetheless reflected in its stability.
The front base integrates small wheels though, which facilitate the transport of the assembled machine, while the rear base has a lifting handle. By lifting the frame from its rear handle, you will be handling only half of its weight.
The frame has three rubberized stabilizers, two adjustable on the rear base tube, and one at the middle of the main frame tube. The front base rests on two heat-injected PVC caps.
This Schwinn bike is fairly large. It's 64″ (162 cm) long, and 27.7″W (70 cm) wide, which means it may not exactly be the best choice for a fitness machine if space is an issue. Also, its frame doesn't have any foldability options, so once you've assembled it, it pretty much remains at the specified size.
Seat and handlebars
The seat supplied with the new Schwinn MY16 230 features an ergonomic, contoured design, with a vented structure. It's approx. 17″ (43 cm) wide, and 11″ (28 cm) long. The backrest also features a vented structure, with a slight curvature in its lower part, to supply optimal lumbar
support. Both seat and backrest are made of heavy-duty PVC material. However, despite the fact that they don't have any cushioning, they provide excellent comfort. Also, the vented structure prevents excessive perspiration.
Needless to say, the seat is adjustable. It's attached to an oblique rail system and glides back and forth so that you can secure it closer or farther in relation to the pedals. The seat's adjustment span is fairly long; differently put, the bike can accommodate users between 4'6″ (137 cm) and 6'4″ (193 cm) comfortably. Of course, the machine can also be used by taller users, but they may not benefit from a complete leg extension.
This Schwinn exercise bike features two sets of handlebars, one attached to the seat assembly, and one on the console mast. The recumbent handlebars, the ones on the seat, incorporate stainless steel pulse sensors. The ones on the console mast come fairly close to the user due to the mast's inward curvature, providing excellent workout possibilities, without forcing the user to adopt an awkward posture. Both sets of handlebars feature foam grips, for maximum comfort.
Resistance and drive
The Schwinn MY16 230 is equipped with a motorized, magnetic resistance system. This means the bike's resistance can only be adjusted from the console, and the machine must be connected to a power circuit. A 120V 60Hz AC Input, 9VDC, 1.5A output AC power adapter is
supplied with the bike, adapter which requires a standard 110-120V U.S. electrical outlet. The adapter jack plugs into the bike above its front base.
The resistance mechanism consists of a magnetic brake pad and a small servo motor. As you select a resistance level from the console, the command will be sent to the servo which adjusts the magnetic pad's position in relation to the metallic flywheel, adding or reducing drag. The bike offers 20 levels of resistance, designed for users of all levels. The first resistance settings promote light workouts, great for elderly users, or persons who must undergo a recovery training regimen. Conversely, the top, 18-20 resistance settings will definitely help you break a sweat.
The machine's drive is extremely quiet, almost silent. It's powered by a heavy-duty v-belt, designed for many years of use. The flywheel isn't the heaviest, but it features a balanced structure, providing a consistent momentum and a steady feel. The crank arms are steel-made, finished with weighted, nylon pedals. The pedals feature adjustable straps, with 5 adjustment positions.
The Schwinn MY16 230 features a comfortable Q-Factor, offering a natural positioning of the feet on the pedals, and eliminating lateral stress on the knees. Also, pedaling in reverse is possible, but when pedaling in reverse there is no resistance on the pedals.
Console
The console unit is almost similar in construction and features as the one supplied with the older Schwinn 230 model. It does feature a slightly different layout though, but most importantly, it can transfer your workout data to other online apps as well, rather than just
SchwinnConnect and MyFitnessPal. This new console model gives you the possibility to track your workout data on other apps such as GoogleFit, Apple Health, Endomondo, MapMyRun/Ride, or UA. The console is not Bluetooth enabled though. Your workout data has to be transferred via USB. The unit's USB port also works as a charging port for your device.
The console unit can track time, distance, pulse, speed, RPM, and calories burned. It also features a heart rate zone indicator and a goal percentage indicator, and of course, it indicates the current resistance setting. Goals can be selected for distance, time and calories burned. The workout data is displayed on two monitors. The top 3 x 5 inches wide display indicates the workout profiles, goals and user profile. The 1 x 5 inches display shows the other metrics, such as speed, distance, time etc.
The unit has 22 workout programs, including, 9 profile programs, 8 heart rate programs, 2 fitness tests, 1 quick start and 2 custom. As a general idea, the 9 profile programs are: Rolling Hills, Ride in the Park, Easy Tour, Pike's Peak, Mount Hood, Pyramids, Uphill Finish, Cross-Training, and Interval, just as for the Schwinn MY16 130. The Quick Start program gives you the possibility to workout freely, changing resistance as you like during pedaling. The 2 Custom programs offer the chance to create your own profile programs, save them and use them as many times you want.
In terms of amenities, the console unit integrates a sound system, cooling fan and media holder (or reading rack). The sound system consists of two acoustic chambered speakers which render a fairly decent sound. This sound system is compatible with most MP3 devices, smartphones, tablets etc. The cooling fan has three speeds. It's not exactly a powerful fan, but still, it does provide some cooling in case you opt for a more intense workout. The media holder is placed between the two displays. A tablet of phone placed on it will cover the top display, but the secondary one, which provides most of the workout data will still be visible.
In case you're wondering, the console is telemetric. It can only track pulse via the sensors incorporated in the handlebar but also via an HR chest strap (POLAR) transmitter. This accessory is not included, though.
Finally, the console unit is easy to operate. It features keys for gradual resistance adjustment (in increments of 1), and quick keys for the 1,3,5,7,9,12,14,16,18, and 20 resistance settings. A Pause function is also available, great to have if you alternate bicycle sessions with other types of workouts.
Assembly and Maintenance
This Schwinn exercise bike comes partially assembled. The drive and resistance elements are already in their places, connected to the frame and encased by the protective shrouds. The only elements that require assembling are the base tubes of the frame, the seat with its backrest and handlebars, the console mast, the front handlebars, the console, and pedals. This may take up to two hours. However, the assembly is a straightforward task. The manual provided offers step-by-step instructions for assembly. Also, all tools required are included.
For maintenance, there's nothing much to do. The internal parts come pre-lubricated and won't need further lubrication for many years. Therefore, in terms of maintenance all you have to do is periodically check the machine's bolts and nuts, and re-tighten them if its the case. Also, the console is not waterproof, so make sure you don't spill anything on it, and remove any perspiration that may fall on it.
The Pros
Solid construction, similar to commercial grade bikes, able to support users up to 300 lbs;
Elegant design;
Contoured, vented seat;
Hard, contoured backrest, providing excellent lumbar support, also with vented structure;
Grip pulse sensors;
20 levels of resistance;
22 workout programs;
Goal tracking;
USB port for charging devices and transferring workout data to SchwinnConnect, MyFitness Pal, AppleHealth and other online apps;
Various amenities, including sound system, 3-speed fan, tablet support and water bottle holder;
Smooth and quiet drive;
Weighted pedals, with adjustable straps for extra stability;
Basically maintenance free;
Fairly easy to assemble;
Excellent warranty. 
The Cons
A tablet placed on the holder will cover the top display. However, the smaller display with most of the workout metrics will still remain visible;
POLAR chest strap for pulse reading is not included;
The fan is not extremely powerful.
Summary
The Schwinn 230 MY16 is a mid-range recumbent exercise bike, with an overall construction and sturdiness similar to commercial grade bikes. It's equipped with an eddy current resistance system, with 20 levels, its console offers 22 workouts, and also has a USB port for workout data transfer to various online apps. It's a great bike for users of all levels, excellent for recovery training but also for intervals, stamina, and weight loss. It comes with an outstanding price/value ratio, as it costs less than $400 (at least for the moment), and offers a range of features close to a commercial bike.