Sunny Health & Fitness Magnetic Recumbent Bike SF-RB921

If you're looking for low-cost, but decent quality in an exercise bike, Sunny Health & Fitness should definitely be a brand to put on your list. And when it comes to recumbent bikes, the Sunny SF-RB921 is one of their best rated models.
With a construction and frame design similar to the Marcy ME 709, this Sunny model offers just about everything a basic recumbent exercise bike should offer: a comfortable seat, low to medium resistance range, a decent construction and on top of that, this model also includes a fitness meter, in order to help you keep an eye on your progress.
Technical Details and Specifications
Assembled dimensions: 57L x 24.4W x 35.42H inches (144.7L x 62W x 90H cm)
Assembled weight: 56 lbs (25.4 kg)
Flywheel weight: 8.8 lbs (4 kg)
Max. user weight: 265 lbs (120.2 kg)
Seat: Adjustable
Handlebars: With pulse sensors
Pedals: With straps
Resistance: Magnetic, 8 levels
Performance monitor: Basic
Warranty: Frame 1 year / Parts 90 days
Frame
The bike features a 2-piece main frame. The connection between the two main pieces serves as adjustment for the distance between the seat and pedals. There are several adjustment holes on the seat frame assembly, which enters the tube of the front part and is secured with a knob.
The frame is made of steel tubing, painted with scratch and corrosion resistant paint, while the shrouds covering the flywheel, crank and resistance system are made of hard PVC.
This recumbent bike rests on 3 stabilizing bases. The rear and front part require to attachment to the frame as you assemble the bike, while the mid, smaller base is welded onto the front frame part. The bike is not extremely heavy. Out of the box and assembled, it weighs only 56 lbs (cca 25 kg), therefore its relocation and handling shouldn't be a problem. But despite its light weight, it's quite a stable bike, for users up to 265 lbs. The bike can actually support heavier users, but a user heavier than the listed maximum supported weight may have stability issues when riding this bike.
All bases feature plastic caps, the rear ones being adjustable, which gives you the possibility to perfectly stabilize the bike. It doesn't have an extremely large footprint, taking 57″L x 24.4″W (144.7 x 62 cm) of floor space.
Seat and handlebars
The seat itself doesn't adjust, as it connects with screws to the rear part of the frame. However, the bike's length can be adjusted to accommodate users of various heights. As we've mentioned
above, the rear part features adjustment holes allowing you to move and secure the seat closer or farther in relation to the pedals. The bike can correctly accommodate users between 4'9″ and 6'1″ (145 – 185 cm). Of course, users taller than 6'1″ should also be able to use this bike, but may not be able to benefit from a complete leg extension when pedaling.
The seat is 15″ (28 cm) wide, and 11″ (28 cm) in depth, while the fabric on the seat is synthetic leather. Both seat and backrest feature cca 2″ (5 cm) of foam cushioning, actually offering great balance between softness and firmness. In other words, the seat assembly on this recumbent bike is soft enough to eliminate any discomfort, soreness or numbness during workouts, but still firm enough to supply the correct back support.
The Sunny SF-RB921 features both recumbent and front handlebars, covered with rubber foam material, to supply a comfortable grip, and prevent hands from blistering. The recumbent handlebars are attached to the seat, they're non-adjustable, but they do incorporate pulse sensors, thus the meter can monitor your heart rate. The distance between the recumbent handlebars is 20.5″ (52 cm), and they stand cca 3.5 inches above the seat.
The console mast also incorporates a short handlebar. Now, many will never use this front handlebar because it gives you an awkward posture, but it's still a great feature to have. That's because it gives you the possibility to attach a tablet, phone or book holder, and read, or watch your favorite online streams as you exercise.
Drive system
The Sunny Health & Fitness SF-RB921 uses an 8.8 lbs (4 kg) flywheel. It's not an extremely heavy part, as other recumbent bikes use flywheels up to 22 lbs or even more, but it still supplies a smooth pedaling motion. The bike is belt-driven, incorporating a heavy-duty, stretch-resistant transmission belt. Like most belt-driven bikes with magnetic resistance, the use of this particular model is quiet. The sound generated during pedaling is far too low to interfere with the sound of your TV, or to become a nuisance for other family members. Also, its transmission / drive system basically doesn't require any maintenance.
The crank arms are made of solid steel, finished with weighted pedals, with adjustable straps. In case you're wondering, pedaling backwards is also possible, but with the current resistance setting.
Resistance system
This Sunny recumbent bike model features a basic magnetic resistance system. It involves a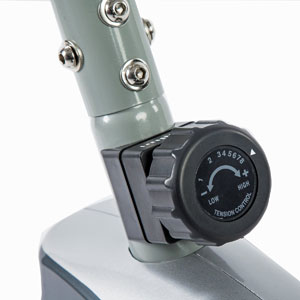 magnetic pad which can be moved closer or farther in relation to the flywheel, increasing or decreasing resistance.
Resistance is adjusted manually, by turning the knob situated at the base of the console mast. There are 8 levels of resistance available, marked on the knob. The 8th resistance setting isn't extreme though, but quite noticeable compared with the lowest settings. It can be classified as "medium" resistance. But several minutes of workout with the top resistance settings will surely help you feel the burn in your thighs. Evidently, the lowest resistance settings are pretty light.
Fitness meter
The console or fitness meter supplied with the Sunny SF-RB921 exercise bike is a pretty basic
unit. But nonetheless, it offers you the possibility to track speed, distance, time, pulse and calories burned. Pulse can only be tracked via the grip sensors on the recumbent handlebars; it doesn't work with a wireless chest strap. Distance is measured in miles only, while speed is displayed in miles per hour.
The meter unit is quite easy to use. It features only one button, which covers various functions. For example, with a short press, you can select / navigate through the values, and select the desired one to be displayed on screen. A long press resets all values. There is also a SCAN function which cycles through the values, leaving each one on screen for several seconds. The meter requires 2-AA batteries.
Assembly and Maintenance
The bike may take up to an hour to assemble, as there are many parts to add, but overall, this task is far from being difficult. It actually requires you to add the stabilizer bases to the frame, connect the two frame pieces, install the seat, grips, the console mast, the console, and connect the wires. The manual supplied provides pretty clear directions, and the tools required for assembly are also included.
Maintenance requires to check the machine's bolts and joints from time to time, and re-tighten them if necessary. The lubrication of the internal parts shouldn't be required for many years of use.
The Pros
Solid frame for a light recumbent bike;
Adjustable frame length;
Cushioned seat and backrest;
Quiet magnetic brake system;
Adjustable resistance (8 levels);
Pedals with adjustable straps;
Fitness meter included;
Easy to assemble and operate;
Lightweight, easy to handle;
Little to no maintenance required;
Great value for the price.
The Cons
Not for users over 6'1″ (185 cm);
When set at maximum length, the frame may wobble during more intense pedaling routines;
No bottle holder.
Summary
The Sunny Health & Fitness SF-RB921 is one of the most affordable recumbent bikes that you can have at the moment. However, it offers a decent construction, great comfort and excellent value for the price. It's not exactly a machine for high-intensity cardio, but it can surely put your leg muscles to work, with a minimal impact on the joints. This being said, it's a great choice for elderly users, or users who must undergo recovery training, with little stress especially on the knees, but also for anyone who is looking for a light, comfortable cardio workout. All in all, it's a basic recumbent bike, but does offer the comfortable workout setting required, and won't break the bank.