Spinner Sprint Premium Authentic Indoor Cycle

If you're looking for a top-quality, commercial grade spin bike, it goes without saying that number one on your list should be Mad Dogg Athletics. They actually invented the term "spinning" related to indoor exercise bikes, the true spin bikes are are provided exclusively by this company.
One of their current, most popular models, is the Spinner Sprint Premium. This isn't exactly the most inclusive bike, but nonetheless, in terms of fitness capabilities, it does offer just about everything you would expect from an indoor cycling bike. On top of that, it offers a slimmer design, more suitable for home use than some of the heaviest models, such as the Spinner NXT. It also comes with four DVDs which will provide you with valuable insight on all the possible spin workouts, for maximum results.
Technical Details and Specs
Product dimensions: 55L x 20W x 48H inches (140L x 51W x 122H cm)
Product weight: 121 lbs (55 kg)
Flywheel weight 43 lbs (19.5 kg)
Supported weight: 350 lbs (159 kg)
Handlebars: Adjustable vertically
Seat: Adjustable horizontally and vertically
Pedals: With straps
Drive mechanism: Chain
Brakes: Direct-contact, leather pad
Resistance: Adjustable
Bottle holder: Yes
Performance monitor: No
Warranty: Frame 1 year, Parts 1 year
Frame
The frame on the Spinner Sprint bike features a modified frame design, eliminating the extra bulk in the main tubing, resulting in a slimmer bike, more appropriate for your home gym. Like most Mad Dogg spin bikes, this model is particularly sturdy. Even though it's rated for a maximum user weight up to 350 lbs (159 kg), it should easily support users slightly heavier.
Overall, the bike is pretty heavy, with a 121 lbs (55 kg) weight, which considerably adds to its stability.
The main tubing of the bike is powder coated with silver paint finish, paint highly resistant to corrosion. The flywheel has its core painted black, with the nice Spinning logo.
Both front and rear bases are finished with rubber, adjustable levelers, in order to provide maximum stability even if the bike is placed on uneven flooring. The front base also has silicone transport wheels, which ease the relocation of the bike. The main tube of the frame is also equipped with a water bottle holder.
The Spinner Sprint indoor cycling bike has a slightly larger footprint (length wise) than other bikes of this caliber. It occupies 55″L x 20″W of floor space, but overall isn't an extremely large piece of equipment, like an elliptical such as Sole E95 for example.
The seat and handlebar on this exercise bike are both height-wise adjustable. The bike is actually intended for users between 4'10" and 6'8″ (147 – 203 cm). Seat also offers fore to aft. adjustment possibilities. Both handlebar and seat are easily adjustable via knobs. There are preset adjustment holes with markings on the posts, pretty useful feature in case multiple persons use the bike. This way you can easily and quickly readjust the bike to your apposite settings. Also, their posts are ovalized not cylindrical, in order to prevent any lateral wobbling during workout, or missalignment.
The seat, although it's not consistently cushioned, it provides the required comfort for a spin bike. It's a slim seat, similar to the seats on most road bikes or other indoor cycling bikes. The handlebar is not completely horizontal. The lateral grips have a 5° tilt upwards, for superior ergonomics. The handlebar assembly also features a central, horizontal loop, to diversify grip and posture possibilities. Evidently, the grips are covered in rubber foam material, to offer maximum comfort and prevent hands from blistering.
Drive type and brake system
The Spinner Sprint features a direct-contact, friction resistance system. It's powered by a top-to-down leather pad, which tightens onto the flywheel as you turn the resistance knob. There aren't any resistance levels specified on the knob. Basically, you can tighten it up to the point you cannot pedal anymore. The resistance knob also has the function of an emergency brake. By pushing it down, you can quickly stop the flywheel.
When it comes to its drive system, one of the most important aspects that require mentioning here, is that the bike uses a chain to set the flywheel in motion. The chain is pretty much the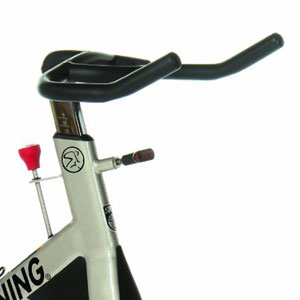 same as the ones found on outdoor bikes. The bike does have a fixed gear, therefore freewheeling or coasting isn't possible. If the flywheel is spinning, the pedals are also spinning. Backwards pedaling is also possible, but with the same resistance as regular pedaling. Also, in order to pedal backwards, you need to stop the flywheel first, in case its in motion, to prevent any damage to the chain and gear, or any possible injuries.
The flywheel equipped on this spinning bike is quite a heavy one, weighing 43 lbs (19.5 kg). It's perimeter weighted, which results in a consistent momentum, and a smooth pedaling motion, eliminating the "stair climbing" effect, and considerably reducing the impact on the joints. The crank assembly is extremely solid, with extra large and sturdy arms. This being said, the bike can easily withstand a user of the maximum specified weight, in complete, stand-up position.
The bike's Q-factor is 155mm, similar to the Q-factor of most elite road bikes. This helps reducing the tension on the knees and ankles, also improving the momentum. The pedals equipped on this bike feature staps and toe clips, to prevent feet from slipping off during a high intensity workout.
Last but not least, the drive system and chain are covered by a guard, which prevents sweat from falling onto them, which may cause corrosion. Also, it's a great feature to have, in order to prevent clothing from getting caught in the chain.
Accessories
As we've mentioned before, this bike isn't exactly one with all the belts and whistles, but it does include a few accessories that require mentioning. First of all, there's a water bottle on the main bar of the frame. This feature, although insignificant, it may be very handy as you won't need to change your workout posture much when drinking water, and most definitely won't have to interrupt your workout session in order to keep hydrated.
Another aspect on the list of accessories for this spin bike, is the set of 4 DVDs containing over four hours of training courses. Here are the titles and a brief summary of each one:
Train and Tone – covers instructions on bike setup, safety, assembly and microadjustments, as well as high intensity workouts and recovery. It also holds a selective music mix that you may find suitable to your workouts.
Ultimate Energy – covers instructions on a workout simulating smooth hills and straightaways influenced by the open road. It also hold guidance on movements, cadence and count down times.
Turn and Burn – strength-building and calorie burning workout advice.
Maximum Results – ultimate weight-loss ride.
Assembly and Maintenance
The assembly of this bike is extremely simple. All you require to do is remove the transport bases of the frame and add the bike's bases, insert the seat and handlebar posts, and install the pedals. The flywheel, chain, and crank system should be already attached to the frame. The whole assembly should be a 20 minutes task, tops. A very detailed user's manual and the tools for the assembly come with this bike.
Maintenance doesn't require much either. Since it's a chain-drive bike, the chain requires lubrication from time to time. WD-40 or any bike chain oil should do. The brake pad also requires lubrication in case it squeaks as it touches the flywheel in motion. Also, after several years of use, the brake pad should wear out and will require replacement.
Pluses
Superlative quality from a top spinning gear brand.
Sleek, professional design.
Rock-solid frame, able to support users up to 350 lbs.
Bases with adjustable levelers.
Sturdy crank assembly, designed for long-lasting performance and for stand up workout routines.
Ovalized seat and handlebar posts to prevent missalignment.
Hanlebar and seat adjustability.
Chain drive system, built to last a lifetime.
Heavy flywheel, also perimeter-weighted for a fluid pedaling motion and a consistent workout.
Adjustable resistance.
Pedals with toe cages and straps.
Pretty quiet bike.
Easy to maintain and assemble.
Water bottle holder included.
Set of 4 DVDs with extremely useful insight regarding spinning workouts, for maximum results.
Minuses
Pretty similar bike with the Sole SB700, in terms of price and features. However, compared to this particular model, the Spinner Sprint lacks a few features.
No fore to aft. adjustability for the handlebar.
No performance monitor. 
Warranty only 1 year. Anyway, this shouldn't be an issue, since each spin bike is built to last a lifetime.
Other than these, it's pretty much a 5-star exercise bike.
Bottom Line
The Spinner Sprint is not exactly an affordable bike, but high-quality never comes cheap. It's actually a commercial-grade bike, redesigned for home use. It fits users of all levels, from beginners to pros. It's an excellent exercising machine for calorie burning, muscle toning, cardio training, and in general, for a lower body and legs workout with minimal impact on the joints. It's a bike built like a tank, designed to resist prolonged heavy spinning sessions, or stand-up cycling routines. All in all, it's one of the best spinning bikes that you can have.