The HouseFit HB-8304C is one of the many indoor cycling bikes released in 2020. It's also referred to as HouseFit Racer200. It's a pretty standard bike for spin workouts featuring a lighter flywheel than other models and a magnetic resistance system.
Key Features and Specifications
Assembled dimensions: 49.4L x 19.1W x 49H inches (125L x 48W x 124H cm)
Shipping weight: 95 lbs (43 kg)
Flywheel weight: 16 lbs (7.2 kg)
Supported weight: 265 lbs (120 kg)
Seat: 4-way adjustable
Drive mechanism: Belt
Resistance: Magnetic
Fitness meter: Time, speed, distance, odometer, and calories burned
Extras: Tablet holder, bottle holder
Warranty: 1 year limited
Frame construction
The HouseFit HB-8304C indoor cycle has a slightly different construction than most other spin bikes.
It features a triangular frame with straight lines for improved aesthetics. Needless to say, its frame is made of steel tubing. The main frame section is coated with a dark-gray paint finish which is resistant to corrosion. The seat and handlebars tubes are also painted by in a lighter gray color. The flywheel has a chrome finish and ABS side panels. The drivetrain cover is also made of ABS material.
The fully assembled bike is fairly heavy. It weighs over 90 lbs which is at least two times more than any road bike. This weight adds stability to the bike. Plus, both its base bars feature adjustable stabilizers with rubberized pads.
Although the bike is heavy, its relocation shouldn't be a problem once it is assembled. Its front base features a set of wheels. By using these wheels, you will only have to handle approx. 35% of the bike's total weight when relocating it.
The bike is a few inches larger than other models (lengthwise). It is 49.4″ (125 cm) long, and 19.1″ (48 cm) wide, while its highest point is approx. 49″ (124 cm) above floor level. It is also recommended to leave at least two feet of clearance all around it for ease of access.
One last aspect that requires mentioning here regards the small horizontal bar that unites the bike's main oblique tube with the seat tube. This particular bar can be used as support for stretching or as a step-up bar. Not all spin bikes have it, so it's a plus, as you can perform various spin workouts that require you to repeatedly mount and dismount.
Seat and handlebars
The HouseFit HB-8304C exercise bike comes with a race saddle. This type of saddle has a slim and rounded
design. It's top is made of polyurethane material thicker at the rear for extra comfort. This type of saddle may not be too comfortable for users that are new to spinning. However, it has a standard, collar-based attachment system, so compatible replacements for it should be available in any bike shop. Also, its comfort can be improved by a gel seat cover.
The bike's seat is four-way adjustable (up, down, front, back). Its upright post has multiple adjustment positions while its horizontal slider provides a few extra inches of front to back adjustment. This being said, the bike can accommodate users between 5'1″ and 6'4″ (155 – 193 cm). It is also durable enough to support users up to 265 lbs (120 kg).
The bike is equipped with a multi-grip handlebar. Its side grips allow a climbing grip, a parallel grip, and a standard grip. The handlebar also makes available an aero grip featuring a long, unified aero bar in the middle. The side grips feature a layer of urethane material for improved comfort. The aero bar, however, is not urethane-coated.
It's important to mention that the bike's handlebar doesn't have any pulse sensors. Also, the included exercise meter does not have a pulse reading function.
Drive and resistance
The HouseFit HB-8304C indoor cycle is equipped with a manual magnetic resistance system. This means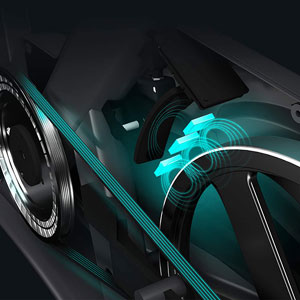 you don't need an adapter for it, and you don't need to connect it to a power source. But on the other hand, it also means that the bike cannot change the resistance automatically and the included bike computer doesn't have preset programs.
The bike's resistance system consists of a magnetic brake that is connected to the tension knob on top of the main frame tube. By turning the knob clockwise, the magnets move closer to the flywheel which increases the pedaling difficulty.
The magnetic brake pad also integrates a small felt pad. Therefore, the tension knob can be pressed down to immediately stop the flywheel from spinning, if necessary.
As opposed to many other magnetic exercise bikes, the HouseFit Racer200 doesn't have pre-determined tension levels. You simply turn the knob until you get the resistance that fits your needs.
Since the bike uses a magnetic resistance system, it doesn't have an extra-heavy flywheel like other spin bikes. It only weighs 16 lbs (7.2 kg). It is perimeter-weighted for improved inertia. It is also bi-directional; in other words, it allows pedaling in reverse. However, coasting is not possible on this bike, and when pedaling in reverse, you benefit from the same pedaling difficulty as when pedaling forward.
The bike features a belt drivetrain. This means you don't have to lubricate it. Also, a belt generates less vibration than a chain and contributes to a smoother and quieter pedaling motion.
The HouseFit HB-8304C indoor cycling bike is equipped with a durable 3-piece crankset featuring steel crank arms. The pedals feature adjustable toe cages but they don't have SPD elements for spin shoes. Their threads are standard, though, so they can easily be replaced.
Exercise meter
The HouseFit HB-8304C stationary bike is equipped with a basic exercise meter. It features an LCD display
that tracks time, speed, distance, and calories burned. It does not have a pulse reading function and the bike does not have pulse sensors.
The meter unit is very easy to use. It only has one button. By pressing the button repeatedly you can scroll through the workout metrics and select the one you want to remain on the display. This way you can also select the unit's Scan Mode which rotates all the metrics automatically, showing each one for a few seconds.
The meter unit is battery-powered. It requires 1 AAA battery which is included. It starts up when you begin pedaling and also automatically turns off after a few minutes of inactivity on the bike, to save battery.
The exercise meter integrates a tablet holder with a 10.2″ support so it can accommodate most tablets. The tablet holder is placed above the meter display, so if you place a tablet on it, it won't cover your workout data.
Assembly and Maintenance
The main body of the bike comes pre-assembled. The flywheel, the magnetic brake, the crankset, and the drivetrain are also assembled. You only have to attach the two base bars, the seat post, the saddle, the handlebar post, the handlebars, and the console. This shouldn't take more than 30-40 minutes of your time. The task is far from being complicated and the manual provides clear assembly instructions. A basic toolkit is also included.
Since the bike features a belt drive system, it doesn't require lubrication. In fact, once it is assembled, you don't have to worry too much about its maintenance. You only have to keep the bike clean and periodically check for loose bolts and parts.
The Pros
Durable steel construction – can support users up to 265 lbs;
Aesthetic design;
Transport wheels;
Adjustable stabilizers;
Step-up bar between the seat bar and main tube bar;
4-way adjustable seat;
Smooth and almost silent belt drive, which makes the bike perfect for apartment use;
Perimeter-weighted flywheel for improved inertia;
Frictionless magnetic resistance;
Integrated felt pad for emergency braking;
Durable pedals with toe cages and standard threads;
Exercise meter with tablet holder – it tracks time, distance, speed, and calories burned;
Bottle holder included;
Easy to assemble;
Little maintenance required.
The Cons
No pulse reading function;
No LED backlight on the display.
Summary
The HouseFit Racer200 HB-8304C is an indoor cycling bike designed for spin workouts and home use. It features a stepless magnetic resistance system, a 16-lb flywheel, a race saddle, and a basic exercise meter. It's a great bike for users of all levels, for intense cardio training, intervals, stamina development, and weight loss. It's also an affordable trainer, a great alternative for a more expensive, commercial-grade bike.