Exerpeutic LX7 Indoor Cycle Trainer

Unit
Size
Supported
weight
Resistance
Bike
computer
Warranty
Exerpeutic LX7



Check Discounted Price

L:47"
W:20"
H:49"

300 lbs
Friction,
Felt-pad
Time,
Speed,
RPM,
Distance,
Pulse,
Calories,
SCAN
1 year limited
Along with the several Sunny Health & Fitness bikes, the Exerpeutic LX7 is one of the most affordable models that you can find at the moment. And as opposed to several bikes within this price range, this Exerpeutic indoor cycle trainer comes with an exercise meter. It's definitely not a commercial grade bike, but nonetheless, if you're looking for a budget exercise bike that can support spin workouts, this one is definitely worth having a look at.
Technical Details and Specifications
Assembled dimensions: 47L x 20W x 49H inches (120L x 51W x 125H cm)
Assembled weight: 90 lbs (40.8 kg)
Flywheel weight: 40 lbs (18.1 kg)
Weight capacity: 300 lbs (136 kg)
Handlebars: 2-way adjustable
Seat: 4-way adjustable
Pedals: With toe-cages
Drive mechanism: Chain
Resistance: Friction, adjustable
Exercise meter: Distance, RPM, time, speed, pulse, calories, SCAN
Bottle holder: Included
Warranty: 1 year limited
Frame construction
The Exerpeutic LX7 features a steel construction, with a sturdy, 1-piece chassis. It's not an extremely heavy bike, compared to other spin bikes such as the Star Trac Spinner Blade for example, but still, it weighs 90 lbs (40.8 kg) when fully assembled, which is more than twice the weight of the average road bike. This means it provides excellent stability, even if you engage in more demanding spin workouts. Also, both base tubes are equipped with metallic and rubberized foot stabilizers.
The frame does not fold, but the front base is equipped with transport wheels, therefore moving the bike for storage shouldn't be a problem for anyone. If you can lift 20 lbs, you should also be able to lean this bike onto its wheels, and move it.
When it comes to dimensions, this Exerpeutic exercise bike isn't an extremely large piece of equipment. It takes only 47″L x 20″W (120 x 51 cm) of floor space. Therefore, it should fit with no problem even in a smaller room.
The bike's frame is coated with corrosion resistant paint, black and blue, these being the only colors available at the moment for this model. The seat post and the handlebar post feature a chrome finish, which is also corrosion resistant. However, the bike is meant only for indoor use. If stored or used outside, its bolts, nuts and other parts may still catch rust. Also, the exercise meter is not waterproof.
Seat and handlebars
The Exerpeutic LX7 is equipped with a slim seat, similar to the ones on most spin bikes. It's not a comfortable seat, it does not integrate any air cell cushioning like the seat on the
IRONMAN H-Class 520 for example, but the bike is intended for intense workouts not for comfort. However, the seat's attachment system to its post is standard, so you can easily find a replacement for it. Also, its comfort can always be increased by a gel cover, or sheepskin cover.
The seat is 4-way adjustable, up, down, back and forth. Its vertical post has several adjustment holes, and can accommodate users between 5'0″ and 6'3″ (152 – 190 cm). Taller users can still use this bike, but may not benefit from a complete leg extension. Also, the bike is rated with a weight capacity of 300 lbs (136 kg).
The bike's handlebars feature a multi-grip design. They're only vertically adjustable though. They integrate a curved aerobar which makes available several extra workout postures. The side bars have built-in stainless steel pulse sensors, thus the exercise meter can track your pulse. Also, they're fully covered by a sheet of rubber foam material to provide a firm, yet comfortable grip.
Both seat and handlebars feature large adjustment knobs, easy to turn and pull. Therefore, adjusting the bike to your requirements takes less than a minute.
Drive and resistance
This Exerpeutic indoor cycling bike features a chain drive system. This type of drive comes with several benefits. One, it uses a chain identical to most road bikes, thus if the chain breaks, or catches rust, you can easily find a replacement for it, at your local bike shop. Two, the
pedaling motion is quiet and smooth, similar to riding a road bike.
The bike is equipped with an extremely sturdy 3-piece crankset, with solid steel crank arms, made to support users up to 300 lbs (136 kg) in complete stand-up pedaling routines. Differently put, the bike should be able to withstand just about any spin workout. The pedals are also very durable, made of aluminum alloy. They're equipped with toe cages and straps, but not clips for spin shoes. However, their threads are standard and you can easily find replacement for them if you want to use SPD pedals.
The flywheel, although not the heaviest there is, it's still pretty heavy, weighing 40 lbs (18.1 kg). It's made of cast iron, with a balanced construction; most of its weight placed in its perimeter. It provides a consistent momentum, and a smooth pedaling motion. However, since the bike's transmission is simple, and does not integrate a derailleur as a road bike, you cannot coast on it. In other words, the pedals will spin for as long the flywheel is spinning. Therefore, if you want to pedal in reverse (which is possible), it's recommended to use the bike's emergency brake to stop the flywheel first.
The Exerpeutic LX7 features a friction resistance system, powered by a wool-felt pad positioned to come in contact with the flywheel top-to-down. The brake pad is connected to the resistance knob on the main tube of the bike. The resistance knob doesn't have any "clicks" specified on it like magnetic resistance bikes though. You simply tighten it until you find the resistance level that's adequate to your workout. Also, the resistance knob fulfills the function of an emergency brake. You can press it down to quickly stop the flywheel.
Exercise meter
The fitness meter unit supplied with this Exerpeutic indoor cycle trainer offers a bit more than the average, basic unit. That's because it can also track pulse and RPMs, while a basic unit tracks only speed, time, calories and distance. So, to recap, this unit tracks time, distance,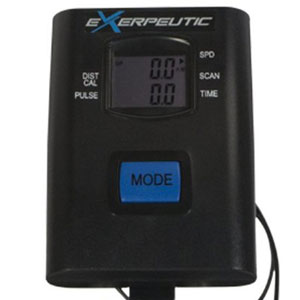 speed, RPMs, calories and pulse. Distance is displayed in miles, while speed is measured in MPH.
In case you're wondering, the exercise meter unit is not telemetry enabled. It cannot read pulse via a HR chest strap transmitter. Therefore, in order for it to read your pulse, you have to hold on to the metallic sensors incorporated in the handlebars.
The meter unit is easy to operate. It has only one button. By pressing it repeatedly you can scroll through the metrics that it can display, and select the one you're most interested in. However, you can also select its SCAN function, which will enable it to cycle through all the workout metrics automatically, displaying each one for 4 seconds. You can reset all the values on it by pressing and holding the button for 4 seconds. The unit has no custom on-board workouts, and you cannot add any workout programs to it.
The meter unit uses 2-AA batteries (which are not included). It's powered on when you begin pedaling, or if you press the button, and automatically shuts down after 4 minutes of inactivity on the bike.
Assembly and Maintenance
This exercise bike is fairly easy to assemble. The flywheel, chain, resistance pad and crankset come already assembled, attached to the main frame. Thus the only parts that require assembly are the bike's base tubes, pedals, seat post, seat, handlebar post, handlebar, aerobar, and finally the console. The manual provides pretty clear, step-by-step assembly instruction, so this task shouldn't take more than 45 min, one hour maximum. All the required tools for assembly are supplied.
When it comes to maintenance, the periodic lubrication of the chain is required. The felt pad may also require a bit of lubrication, which can be done by applying a bit of silicone lubricant on the edge of the flywheel. Other than that, the periodic check of the bike's joints, bolts and nuts is recommended.
The Pros
Sturdy and durable steel frame, up to 300 lbs weight capacity;
Small footprint in comparison to other fitness equipment;
Adjustable stabilizers on both base tubes;
Transport wheels;
4-way adjustable seat;
2-way adjustable handlebar;
Multi-grip handlebar;
Pulse sensors integrated in handlebars;
Smooth and quiet chain drive;
Simple yet very effective resistance system;
Heavy, perimeter-weighted flywheel for a consistent momentum and a smooth pedaling motion;
Durable, metallic pedals, with toe cages and standard threads;
Exercise meter included;
Bottle holder included;
Little maintenance required.
The Cons
Seat not very comfortable;
Meter display doesn't have backlight, thus it may be a bit difficult to read in poor lighting conditions. 
Summary
The Exerpeutic LX7 is an indoor cycle trainer designed to support spin workouts. It features a sturdy steel frame, with a weight capacity of 300 lbs. It's equipped with a heavy, perimeter-weighted flywheel, chain drive and friction resistance. It also comes with a fitness meter, accessory that other, more expensive bikes don't include. It's a great bike for cardio training, interval training and weight loss. You can actually burn up to 6-700 calories per hour on it, depending on the type of workout. And finally, it's quite an affordable exercise bike, priced for less than $200, thus we can safely say it comes with an excellent price / value ratio.