Efitment E005 Elliptical Trainer

Unit
Size
Supported
weight
Resistance
Console
Warranty
Efitment E005



Check Discounted Price

L:34.5"
W:24.5"
H:61"

220 lbs
Manual
magnetic
Time,
Distance,
Total
distance,
Speed,
Calories,
Pulse,
SCAN
3 years

If you're looking for an affordable elliptical trainer for light workouts, there are several models available, such as the Sunny SF-E2310, or the Exerpeutic 1000XL. These all are older models, though; they've been around for several years. However, in this post, we're going to address one of the newest elliptical machines within the affordable category, which is the Efitment E005.
Technical Details and Specifications
Assembled dimensions: 34.5″L x 24.5″W x 61″H inches (88L x 62W x 155H cm)
Assembled weight: 63 lbs (28.5 kg)
Supported weight: 220 lbs (100 kg)
Stride: 11 inches (28 cm)
Incline: No
Footplates: Standard, ribbed
Resistance: Manual magnetic, 8 levels
Exercise meter: Time, distance, speed, calories, pulse, SCAN
Extras: Tablet holder
Warranty: 3 years
Frame construction
The Efitment E005 is one of the smallest elliptical trainers available at the moment. Its footprint only takes 34.5″L x 24.5″W (88 x 62 cm) of floor space, and therefore, it should fit well in a small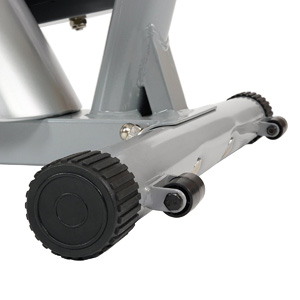 room or apartment. Even though it doesn't have a folding frame, the storage of the unit shouldn't be a problem.
Since it's a rather small fitness machine, it's also not extremely heavy. With the frame fully assembled, it weighs only 63 lbs (28.5 kg). However, the front base is equipped with two small wheels; so, moving the unit once you have finished your workout isn't too difficult.
The caps of the rear base feature a polygonal design; they can also rotate and serve as stabilizers.
Even though it's not a heavy unit, the Efitment 005 elliptical trainer is built on a steel frame, its console mast, moving arms, and handlebars also being made of steel. All the steel tubes in the machine's construction are powder coated with a durable finish, resistant to corrosion. The color used is gray. Also, in case you're wondering, the protective covers of the internal mechanism are made of hard plastic.
Drive system and parts
To begin with, the Efitment E005 is a rear-drive elliptical trainer. This means that its elliptical path is slightly inclined forward. Therefore, the pedaling feel resembles going down a soft ramp. This can be a plus, as a workout on this machine puts more focus on your quads and tibial
muscles.
Since it's a small elliptical trainer, it doesn't have a very long stride. Its maximum stride is only 11″ (28 cm). If you're looking for an elliptical with a long stride in this price range, the Gazelle Edge may be a better choice.
This Efitment elliptical trainer is equipped with a perimeter-weighted flywheel. This means that it generates a very smooth, steady motion. Its weight is not specified, but since the overall weight of the machine isn't much over 60 lbs, it's not a very heavy flywheel. Its weight should be somewhere around 8-12 lbs, which is just enough to provide a decent momentum.
Since it's a magnetic-resistance elliptical, it features a belt drive system. This means you don't have to lubricate its transmission; the belt can't possibly stiffen up or have locked links like a chain. It also generates a smoother motion, with less vibration.
The machine's pedals are pretty standard. They're made of heavy-duty ABS, being designed to hold users up to 220 lbs (100 kg). They feature a ribbed surface to generate more adherence. And they're fairly large, being able to accommodate athletic footwear or feet of all sizes.
The pedal step-up height is approx. 6″ (15 cm), while the highest point reaches a height of approx. 12″ (31 cm) above floor level. This being said, it's recommended to use the machine in a room with a ceiling height at least 15″ higher than your own height. Also, the pedal Q-Factor (spacing between the pedals) isn't extremely wide; your feet are positioned on the pedals naturally, so the pedaling motion doesn't generate lateral stress on the joints.
The machine's cranks are made of solid steel. The connection points between them and the pedals, as well as the connection points between the mobile arms and the console mast, integrate industrial grade ball bearings. Thus, the movement of the pedals and arms is very smooth.
Last but not least, the Efitment E005 elliptical trainer features two sets of handlebars, moving and fixed. The moving handlebars or moving arms have a multi-grip design. The fixed ones integrate stainless steel EKG sensors, so the console can track your pulse if you hold on to them. Both types of handlebars feature rubberized grips for maximum adherence and comfort.
Resistance system
This Efitment elliptical trainer features a manual magnetic resistance system, similar to the Sunny SF-E3607, or various upright bikes, such as the FitLeader UF4. It consists of a small
magnetic brake attached to the knob on the console mast. As you turn the knob clockwise, the magnetic brake will come closer to the elliptical's metallic flywheel, generating more resistance.
The machine is not motorized. This means that its console plays absolutely no role in its resistance adjustment. Also, the unit does not require being connected to a power circuit.
There are 8 distinctive levels of resistance marked on the elliptical's tension knob. The first 1-3 settings generate a light resistance. The top 7-8 settings, although they don't provide an extreme tension like commercial machines, they still offer the possibility to achieve a more intense muscle burn.
Exercise meter
The Efitment E005 elliptical machine is equipped with a meter that offers a bit more than a completely basic unit. First of all, it has a large LCD display with large digits, easy to read. Along with speed, time, distance, total distance (odometer) and calories, it can also track your pulse.
However, it's not telemetric; it can only track your pulse via the EKG sensors in the handlebars. It doesn't work with Polar or other types of HR chest straps.
By default, the unit's SCAN function is on. This function rotates all the values mentioned above, showing each one for 4 seconds. You can toggle it off by pressing the MODE button. Also, by pressing the MODE button repeatedly, you can select any of the workout metrics to be shown on the display all the time.
The console unit does not have any preset programs. However, it does have countdown functions for time, distance, calories, and pulse. You can use the SET button to set up a target value for any of these, and the unit will countdown from that value until you reach zero. Evidently, the RESET button covers the unit's reset function; by pressing and holding this key you can clear all the values to zero.
The unit is battery-powered; it uses AAA-type batteries, which are included. It also has a sleep function to which will enter after 4 minutes of inactivity on the elliptical, to save battery life.
One last aspect to mention here regards the unit's integrated tablet holder. This consists of a fairly large tray, placed under the display. It can accommodate just about any tablet. However, the unit doesn't have a USB port for recharging the tablet, nor does it have online connectivity.
Assembly and Maintenance
The core of the machine comes already assembled. You don't have to worry about the assembly of the internal parts. The assembly task only requires you to add the machine's base tubes, the console mast, the mobile arms with the pedal bars, the pedals themselves, the fixed handlebars, and the console. This shouldn't take more than 30-40 minutes of your time. A basic toolkit including all the tool's needed for the assembly comes in the box. Also, the included manual provides excellent assembly instructions.
For maintenance, it is recommended to periodically check the integrity of the machine, look for loose or broken parts in order to re-tighten or replace them before using it. Also, the joints may require lubrication after a while.
The Pros
Solid construction for a light elliptical – can support users up to 220 lbs (100 kg);
Small footprint;
Adjustable stabilizers on the rear base;
Transport wheels on the front base;
Fixed and mobile handlebars;
EKG pulse sensors built-in the fixed handlebars.
Balanced flywheel providing a smooth and steady pedaling motion with a consistent momentum;
Extra-large, durable pedals;
Easy-to-use console unit;
8 levels of magnetic resistance;
Fitness meter included;
Countdown functions for time, distance, calories, and pulse;
Quiet operation;
Easy to assemble;
Little maintenance required.
The Cons
The console display doesn't have backlight;
A tablet placed on the tablet holder will cover the console display block access to the controls;
Short stride – only 11 inches.
Summary
The Efitment E005 is an entry-level elliptical trainer, featuring a manual magnetic resistance system, belt drive, and console that can track pulse, time, distance, speed, and calories. It's a fitness machine for light to medium intensity cardio workouts, excellent for muscle toning, stamina gain, and weight loss. It doesn't have a long stride (only 11″) but this can be a plus for users that require joint recovery training. And finally, it's an inexpensive trainer, but offers excellent value for the price. So far, it has benefited only from 4-5 star reviews.