Unit
Size
Supported
weight
Product
weight
Resistance
Console
XTERRA ERG500



Check Discounted Price

L:72"
W:19"
H:33"

300 lbs
79.4 lbs
Air,
8 levels
Time,
Distance,
Count,
SPM,
Calories,
Pulse,
Goals,
Recovery
If you're looking for a more affordable alternative to a Concept2 air resistance rower, the XTERRA Fitness ERG500 is definitely a choice worth looking at. It's in the same price and spec range as the Stamina X AMRAP rower, offering adjustable air resistance, and a console that tracks all the necessary workout metrics. Although it's not sold as a commercial machine, it has a construction pretty close to one. Differently put, it's a mid-range rower, perfect for home use, and a for a full-body cardio workout.
Technical Details and Specifications
Assembled dimensions: 72L x 19W x 33H inches (183L x 48W x 84H cm)
Assembled weight: 79.4 lbs (36 kg)
Weight capacity: 300 lbs (136 kg)
Frame: Steel & aluminum
Footrests: Adjustable, with straps
Resistance type: Air, 8 levels
Exercise meter: Time, distance, calories, SPM, count, pulse, visual stroke display, goals, recovery function,
Warranty: Frame 5 years / Parts 2 years / Labor 90 days
Frame construction & parts
The XTERRA ERG500 features a considerably more solid construction than the lighter version, the ERG200. Most of the frame is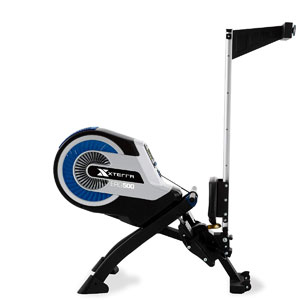 made of steel, with the exception of the seat rail which is aluminum-made, for a smoother seat travel.
Compared to other rowing machines, the ERG500 is not extremely large. With the frame fully assembled, it's approx. 72″ (183 cm) long, and 19″ (48 cm) wide. However, its rail is long enough to accommodate users up to 6'5″ (196 cm), promoting a complete leg extension.
The frame features a space-saving design. The rail with the seat can fold up. The rail is locked at the middle with a pull-pin. By removing the pin, you can lift the rail up and lock it into upright position. With the rail folded up, the unit's length is reduced by approx. 40%. Its folded dimensions are 45″L x 19″W x 57″H (114 x 48 x 145 cm).
The unit's rail is not completely horizontal. It has an incline of approx. 2°, which means that it is a few inches higher at the rear, so at the highest point, the seat is placed at approx. 15″ (38 cm) above floor level. This being said, the trainer offers an easy access to the seat even to users with certain disabilities. It also promotes a slightly faster recovery motion and a slightly more consistent workout for the legs.
The seat is approx. 16″ (40 cm) wide. Its top is made of high-density foam, with a contoured surface in order to provide optimal comfort and superior adherence so that you won't slide off during your workout. It's mounted on a durable steel frame and integrates three sets of wheels. All wheels have ball bearings and they're concealed in order to improve the overall safety of the unit. Also, the seat assembly along with the rail can support users up to 300 lbs (136 kg).
This XTERRA rower rests on three bases. The front and mid bases are equipped with rubber pads, while the rear base features a set of adjustable stabilizers. The mid-base also has two transport wheels which facilitate the relocation of the unit when it is in folded
position. The machine is not extremely heavy, though. With the frame fully assembled it weighs only approx. 79.4 lbs (36 kg), and by using the wheels to move it, you will only have to handle half of its total weight.
The pulling handle is a short straight bar. It measures 15.4″ (39 cm). It has rubberized grips, and is attached to a nylon strap.
The machine's footrests are made of steel, but their central adjustment element is made of nylon material. They offer enough adjustment in order to accommodate any size of athletic shoes. They're equipped with adjustable straps and heel guards to provide maximum foot stability.
The footrests do not have a pivoting design as for the Body Xtreme Turbo 2000 rower, for example. They're attached to the frame via two rods each. They're set at an optimal angle of approx. 45°, providing a natural foot positioning.
One last aspect to mention here regards the unit's paint finish. The steel parts feature a corrosion-resistant powder coating black in color, while the aluminum rail has its natural polish. Evidently, the casing of the flywheel is made of ABS material, not steel.
Resistance system
The XTERRA Fitness ERG500 rowing machine features a full air resistance system. In other words, the resistance is exclusively
generated by the flywheel-fan at the front of the unit. It doesn't have any magnetic resistance elements for additional resistance, such as the Diamondback 910R, for example.
Just as any other fitness machine with an air resistance system, this XTERRA rower generates a dynamic response during exercising. Differently put, the harder and faster you pull the handle, the more resistance you will get. However, similar to the Concept2 Model D rower, the ERG500 features an adjustment system which allows you to regulate the airflow out of the turbine, increasing or decreasing the overall resistance generated.
The unit's resistance adjustment system consists of an internal damper, and an external lever, placed between the footrests. The lever has 8 distinct positions, so the machine offers 8 resistance settings. The resistance generated for each setting is quite noticeable, with the highest setting providing an intense burn and cardio training.
Last but not least, since the ERG500 is an air rower, its fan does generate some noise when it is in use. However, the noise is far from being loud, it's not disturbing and shouldn't cover the sound of your TV, for example. You can compare it with the sound generated by a large electrical fan.
Exercise meter
The included console is a mid-range one. It doesn't have pre-set programs, nor does it connect online to any fitness apps. However, it
features a multi-window LCD display which covers all the necessary workout metrics. It tracks time, distance, calories, strokes per minute, count (total strokes), and pulse. Each one of these metrics is displayed in its own window, so you won't have to use a SCAN function to alternate them. Also, the unit's bottom window shows the visual stroke travel distance, a feature that can help with your coordination and rhythm.
The unit doesn't have interval workouts or a time/500m reading. Its distance is shown only in miles, while the count display simply keeps track of the number of your strokes. For pulse reading, the unit is telemetric. It can read your pulse via an HR chest strap transmitter, but this accessory is not included.
As we've mentioned above, the console doesn't have preset programs but does offer a bit of programmability. For example, it has goal settings for time, count, distance, calories, and pulse. For example, you can set up a target value for each one of these metrics and the console will count down from it until you complete that particular goal. For the pulse goal, you can select a heart rate zone between 90 and 220 bpm. The display will flash and prompt you to reduce your speed and the intensity of the exercise in case you exceed the selected interval.
The unit also has a Recovery function. This also requires an HR chest strap. The Recovery test is to be initiated at the end of your workout; the console will measure the amount of time your heart rate requires to get back to normal, and according to the result, it will give you a fitness score between F1 (excellent) and F6 (poor).
The console is battery-powered. It uses two AAA batteries (which are not included). It's pretty easy to use, featuring five buttons. The MODE button allows you to enter the SETUP mode and give targets to distance, time etc. The UP/DOWN buttons allow you to increase/decrease those values. The RESET button clears all the unit's values to zero, while the RECOVERY button initiates the recovery test.
To power up the console, you simply need to commence your workout. It also has a sleep mode to which will enter if it doesn't detect any activity on the machine for four minutes.
Assembly and Maintenance
The ERG500 Air Turbine Rower from XTERRA Fitness requires partial assembly. The turbine with its internal mechanism, and the console are already attached to the front part of the frame. Thus, you will only have to attach the unit's transport wheels, the rail, the seat, the rear base, the front base, and the footrests. This shouldn't take more than an hour. The manual provides full assembly instructions accompanied by detailed schematics. The tools needed for assembly are also included.
For maintenance, it's recommended to periodically clean the unit's turbine. This doesn't require the removal of its casing; you can vacuum most of the accumulated dust from the outside. The unit's rail should be kept clean to prevent any nicks to it or damage to the wheels. And finally, it is recommended to periodically check for loose parts and bolts.
The Pros
Sturdy construction – supports users up to 300 lbs;
Folding frame, space-saving design;
Mid-base wheels for ease of transport;
Rubber pads the middle and front bases for better stability;
Rear adjustable stabilizers;
Elegant design;
Long rail – can accommodate users up to 6'5″;
Foam-padded and contoured seat;
Adjustable footrests with straps and heel guards;
Air resistance, providing a dynamic response during rowing;
Adjustable damper providing 8 distinct resistance levels;
Multi-panel LCD console which tracks time, distance, calories, strokes per minute, count (total strokes), and pulse;
Countdown settings for time, distance, count, calories, and pulse;
Recovery function; 
Telemetric console;
Easy to assemble;
Easy to handle and relocate;
Little maintenance required;
Excellent warranty.
The Cons
No interval programs;
The batteries for the console are not included;
The console doesn't have backlight;
HR chest strap is not included.
Summary
The XTERRA Fitness ERG500 is an air resistance rower featuring a resistance adjustment system with 8 levels. It has a durable construction and a folding design. Its console tracks all the workout metrics, also providing goal settings and a recovery feature. In all, it's a great fitness machine for a full-body cardio workout, stamina development, and weight loss. It's also not an expensive machine, offering an excellent value for the price.