Tunturi F20 Competence Upright Bike

Unit
Size
Supported
weight
Resistance
Console
Warranty
Tunturi F20



Check Discounted Price

L:39"
W:23"
H:62"

297 lbs
Manual
magnetic,
8 levels
Time,
Distance,
Calories,
Speed,
RPM,
Pulse,
Goals,
Scan,
BMI,
Recovery
3 years
limited
The F20 is one of the new exercise bikes from the "Competence" series released by Tunturi in the second part of 2018. For reference, this is the model number 17TBF20500.
The Tunturi F20 Competence is actually the upright bike version of the F20-R that we've already covered on our website. It has the same drive and resistance system, and the same console. It's a mid-range hometrainer for light to medium intensity cardio workouts.
Key Features and Specifications
Assembled dimensions: 39″L x 23″W x 62″H (99L x 59W x 157H cm)
Assembled weight: 81 lbs (36.8 kg)
Flywheel weight: 20 lbs (9 kg)
Weight capacity: 297 lbs (135 kg)
Seat: Adjustable
Pedals: Weighted, with straps
Resistance: Magnetic, 8 levels
Console: Time, distance, speed, calories, pulse, goals, BMI, Recovery, SCAN
Warranty: 3 years
Frame construction
Like many other hometrainer upright bikes, the Tunturi Competence F20 is not a very large unit. With the frame
fully set up, it is approx. 39″ (99 cm) long, and 23″ (59 cm) wide. Its highest point is given by the top of the handlebar and can reach approx. 62″ (157 cm) above floor level. These being said, the bike shouldn't need a usage area larger than 100″ x 70″ (254 x 178 cm).
The bike's construction combines steel and ABS elements. The main frame is made of ovalized and cylindrical steel tubing, while the covers of the flywheel and several other covers are made of durable ABS plastic. All the steel bars feature a corrosion-resistant and abrasion-resistant paint finish; the color used is black, and this is the only color available for this model.
Although this exercise bike is not extremely heavy, it still weighs approx. 81 lbs (36.8 kg). This is more than twice the weight of an average mountain bike. Therefore, the unit provides excellent stability. Plus, both its base bars have adjustable stabilizers with rubber pads which deliver a good grip on the floor.
The bike is quite easy to move and handle once it is assembled. Its front base features two transport wheels which facilitate its relocation if needed. However, it's important to mention that this exercise bike does not fold in any way. In case you're looking for a foldable upright bike, you might want to have a look at the XTERRA FB150 or the ProGear 225.
Seat and handlebars
The Tunturi F20 Competence features a 4-way adjustable seat. Its upright post offers the possibility to adjust it up
and down, featuring several adjustment position. Also, the horizontal slider of the seat provides a few inches of extra front-to-back adjustment. Therefore, the bike should accommodate users between 5'0″ and 6'2″ (153 – 188 cm) with no problem, allowing a complete leg extension during pedaling.
The bike's saddle has a standard, collar-based attachment system. This being said, in case you will ever need to replace it, compatible options are widely available.
In terms of comfort, this seat is superior to others as it integrates a decent layer of cushioning. Its surface is contoured and its upholstery is made of a solid, double-stitched vinyl material. Also, the whole seat assembly is designed to support users up to 297 lbs (135 kg).
This Tunturi exercise bike is equipped with a multi-grip handlebar which is fully covered by a layer of rubber-foam material in order to provide a secure grip. Its lower section features stainless steel pulse sensors, so you can monitor your heart rate during each workout session.
The bike's handlebar is adjustable as well. It is attached to the front mast via a large knob which you can easily untighten and retighten if you want to adjust the angle of the handlebar.
Drive and resistance
As we've mentioned above, this upright exercise bike features the same drive and resistance systems as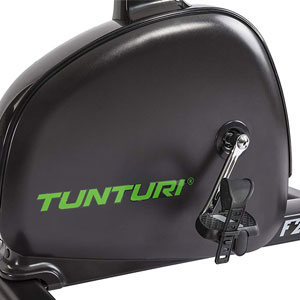 the Tunturi Competence F20-R. To begin with, it has a belt drive system using a poly-v belt which delivers a very smooth and almost silent motion. Like any other exercise bike belt drivetrain, it does not require lubrication.
The bike's internal flywheel weighs approx. 20 lbs (9 kg). It is perimeter-weighted, made to provide a consistent momentum and a steady pedaling motion. It also allows pedaling in reverse which is quite a plus as you can put some diversity into your workouts. The console continues to measure your distance traveled, calories burned and the other metrics when you pedal in reverse as well.
The Tunturi Competence F20 is equipped with a manual magnetic resistance system. In other words, it does not have an internal motor, it does not require to be connected to a power source, and the console does not control its resistance. The internal brake mechanism is completely mechanical. It consists of a magnetic bracket attached to the tension knob on the front mast of the bike via a steel wire.
The bike's resistance knob has 8 tension levels specified on it. By turning it clockwise, the internal magnetic brake moves closer to the flywheel which results in a greater pedaling difficulty. The 1st level of resistance offers a light pedal tension which can be great for anyone who needs recovery training. Conversely, the 8th tension level simulates a climb and offers the possibility to undergo a more intense cardio training.
The bike is equipped with a durable crankset. Its arms are made of steel, while the pedals are made of solid nylon material with a metallic core. However, this is not an exercise bike made for spin workouts, so, even though the pedals and cranks can support you while standing up, this type of workouts are not recommended. Like most upright bikes, the Tunturi F20 Competence is made for seated workouts.
The included pedals don't have SPD clips for spin shoes but do have adjustable straps. They also integrate weight elements which enable them to turn upright every time you remove your feet from them.
Console
The Tunturi F20 Competence upright bike is equipped with the same console as the F20-R. It has a 5.5 LCD display
divided into 6 separate windows in order to show most of the workout metrics at once.
The unit tracks time, distance, RPM, speed, calories, and pulse. You can select any of these metrics to be shown on the top larger window, or you can select the Scan Mode which will cycle all the metrics in the top window showing each one for a few seconds. For pulse reading, you can either use the integrated sensors or a 5 – 5.4 kHz wireless chest strap (not included).
Like most non-motorized upright bikes, the console of the Tunturi F20 does not have preset programs. However, it has a Recovery function and a Body Mass Index calculator. The Recovery function measures the time required by your heart to bring your pulse to normal after the workout. Based on the result, it will provide you with a rating between F1 (Outstanding) and F6 (Poor). This way you can make an idea of your current fitness level. The BMI function determines your body fat percentage based on your height, weight, gender, and age.
Goal functions are also available. You can select a target value for time, distance, and calories. Once a target goal is selected, the console will display the remaining value up to the selected goal as you exercise.
The console unit is very easy to use. Its Mode button has a double function. You can press it to enter setup mode, and then turn it in order to select values. The Body Fat Index and Recovery functions have their own keys, and there also are Reset and Total Reset buttons.
The console unit is battery-powered. It requires two AA batteries. To turn it on, you can press its Mode button or just begin pedaling. It also has a self-shutdown function which will initiate if there is no input on the bike for four minutes.
One last feature to mention here with regards to the bike's console is the tablet holder. This element is placed between the LCD display and the keypad of the unit. It is large enough to accommodate any tablet or smartphone. However, since the unit is battery-powered, it does not have a USB charging port for your device. It also does not have a sound system or a cooling fan.
Assembly and Maintenance
The base frame of the bike with all the drive and resistance parts comes pre-assembled. Therefore, you only need to attach the base bars, the pedals, the console mast, the seat post, the seat, and the console. You will also need to connect the tension cable to the knob, and the sensor cables to the console. The manual provides very clear instructions and all the necessary tools are included, so the task shouldn't take more than one hour.
Once the bike is fully assembled, its maintenance doesn't require much. All you have to do is remove the dust if it's the case, keep liquids away from the console, and check for loose bolts and parts before each workout.
The Pros
Sturdy frame – can support users up to 297 lbs;
Rubberized, adjustable stabilizers on both base bars;
Transport wheels on the front base;
Multi-grip and angle adjustable handlebar;
Pulse sensors integrated into the handlebar;
4-way adjustable seat;
Cushioned and contoured saddle for optimal comfort;
Perimeter-weighted flywheel for a steady pedaling motion;
Weighted pedals with adjustable straps;
Quiet belt drive;
Zero friction magnetic resistance;
8 resistance settings;
Console that can track time, distance, speed, RPM, calories and pulse;
The console can also read pulse from a 5 – 5.4 kHz wireless HR transmitter;
Goal settings for time, distance, and calories;
Recovery and BMI functions;
Tablet holder included;
Bottle holder included;
Little maintenance required;
Easy to assemble;
Decent warranty.
The Cons
No backlight on the console display;
A tablet placed on the holder will cover the console display;
An HR chest strap is not included.
Summary
The Tunturi F20 Competence is a mid-range hometrainer upright bike. It features a manual magnetic resistance system with 8 available settings. It offers superior micro-adjustability and comfort. It has a sturdy construction and can support users up to 297 lbs. It's an exercise bike for light to medium intensity cardio workouts, muscle toning, calorie burning, stamina development, and recovery training. It's not one of the most affordable units in this feature range but does offer excellent quality for the price.