Unit
Size
Supported
weight
Resistance
Drive
Console
Sunny SF-RB4616



Check Discounted Price

L:54.4"
W:26"
H:39.5"

300 lbs
Magnetic,
8 levels
Belt
Time,
Distance,
Speed,
ODO,
Calories,
Pulse,
SCAN

Although the Sunny SF-RB4616 has been around for a while, it's still one of the best and most affordable Sunny Health & Fitness recumbent bikes available at the moment. It's definitely not a gym-grade trainer but does offer a pretty sturdy construction and optimal comfort. It's also equipped with a basic exercise meter.
Technical Details & Specifications
Assembled dimensions: 54.4L x 26W x 39.5H inches (138L x 66W x 100H cm)
Assembled weight: 59 lbs (27 kg)
Weight capacity: 300 lbs (136 kg)
Pedals: With adjustable straps
Drive: Belt
Resistance: Magnetic, 8 levels
Console: Time, distance, speed, calories, odometer, pulse, SCAN
Warranty: Frame 3 years / Parts 90 days
Frame construction
The Sunny Health & Fitness SF-RB4616 is an exercise bike made for home use but does have a durable
construction with a steel frame that can hold users up to 300 lbs. The main chassis of the bike is one piece, not two pieces as for other bikes such as the Body Xtreme BXF003. This particular aspect leads to an improved overall sturdiness.
All the steel bars within the bike frame are coated with a corrosion-resistant paint finish. The color used is metallic gray, this being the only color available for this unit.
Compared to other fitness machines, this Sunny exercise bike isn't extremely large. However, it still is approx. 54.4″ (138 cm) long, and 26″ (66 cm) wide. Plus, it is recommended to assign a usage area for it of at least 70″ x 50″ (178 x 127 cm), for safe operation and ease of access.
Speaking of ease of access, the Sunny SF-RB4616 features a step-through design. This type of frame construction promotes an easy entry and exit, which may be extremely important for users with certain disabilities.
The bike isn't extremely heavy. With the frame fully assembled, it only weighs approx. 59 lbs (27 kg). This means it can easily be put together by one person. Also, its front base features a set of wheels which facilitate its relocation.
Like most recumbent bikes, the Sunny SF-RB4616 offers an excellent stability. Plus, its rear bar is equipped with a set of adjustable polygonal stabilizers. You can rotate any of these two stabilizers in order to perfectly level the bike. However, it's recommended to place and use the bike on a rubberized mat.
Seat & handlebars
The Sunny Health & Fitness SF-RB4616 features a fairly large seat. It's 14.5″ (37 cm) wide, and 11″ (28 cm)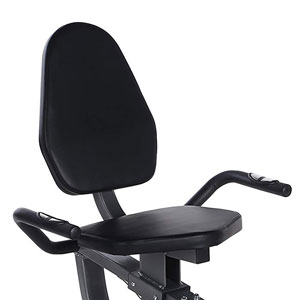 deep. Both the seat and the backrest have a 1.5″ (3.8 cm) thick foam padding, in order to provide optimal comfort. The upholstery on both is made of a durable and perspiration-proof vinyl material.
In case you're wondering, the backrest cannot be adjusted independently from the seat. It doesn't recline, nor it can be positioned lower or higher. It has a very sturdy backbone and delivers a comfortable lumbar support.
The whole seat assembly is 2-way adjustable. It is attached to a slider which can move back and forth on its base rail bar. The adjustment system features a lever placed on the right side under the seat. Therefore, you can adjust the position of the seat while you are seated.
The seat's adjustment span can accommodate users with an inseam between 26″ and 33.9″ (66 – 86 cm), in other words, users between 5'0″ and 6'5″ (153 – 196 cm). Also, the seat assembly is durable enough to support users up to 300 lbs (136 kg).
This Sunny recumbent bike is equipped with two sets of handlebars. One is attached directly to the seat assembly. These handlebars incorporate pulse sensors so that the unit's meter can track your pulse. The other is attached directly to the console mast. This handlebar set is fairly simple but slightly curved in order to deliver a more comfortable grip for your wrists. These handlebars do not have pulse sensors. Both sets of handlebars are covered by a layer of rubber foam material.
Resistance & drive
This Sunny recumbent exercise bike features a manual magnetic resistance system. This means you don't have
to connect it to a power source. The resistance adjustment is done manually from the tension dial on the console mast. The console does not play any role in the resistance adjustment; it's merely a fitness meter that tracks your distance traveled, speed, pulse etc.
The resistance system consists of a small magnetic brake attached to the dial on the console mast. As you turn the knob clockwise, the magnetic brake will move closer to the metallic flywheel increasing the intensity of the internal magnetic field. Thus, you will benefit to a higher resistance during pedaling.
There are 8 levels of resistance available. The first levels offer a very light workout, great for users who require recovery training. The top resistance levels (7-8) are not too hard, though. They do offer, though, a mid-range resistance which can help you break a sweat if needed.
Like most other exercise bikes with a magnetic resistance system, the Sunny SF-RB4616 features a belt drive system. The internal belt is quite durable and delivers a smooth, silent operation. Also, as opposed to a chain drive, it does not require any lubrication.
The weight of the internal flywheel is not specified. But considering that the bike's weight is only 59 lbs (27 kg), the flywheel should weigh somewhat between 8-12 lbs (3.6 – 5.4 kg). It's a balanced flywheel which promotes a steady pedaling motion.
The bike is equipped with a durable crankset. However, it is not a bike made for standing up on the pedals. Any workout of this sort may damage the internal components.
The pedals feature a weighted design. They should always turn face-up when you remove your feet from them. They are equipped with adjustable straps and have a non-slip surface. Their threads are also standard, so you can easily find replacements for them if needed.
Exercise meter
The Sunny SF-RB4616 includes a basic fitness meter. However, this unit does offer a bit more than the basic
units, as it has an odometer function and a pulse reading functions. It has an LCD display which can track time, distance, total distance (odometer), speed, calories, and pulse. It doesn't offer user input data, such as weight, age or gender, so the calorie reading isn't too accurate.
The unit is not telemetric, so it can't read your pulse via a wireless HR chest strap transmitter. In order to benefit from a pulse reading, you will have to use the EKG sensors within the seat handlebars.
The console unit is easy to operate. It has only one button which toggles the SCAN function On and Off, and also serves as a Power On button and as a Reset button. When the SCAN function is On, the display will show each workout metric for several seconds, then moving to the next and so on. By toggling the SCAN function Off, you can select any of the workout metrics to be shown on the display all the time. To reset all the workout metrics on the console, you simply have to press and hold the button for a few seconds.
The console is battery powered. It uses two AA-type batteries which are included. It also has a sleep mode to which will enter after several seconds of inactivity on the bike. To turn it on, you can either press the button or begin pedaling.
Assembly & Maintenance
The main body of the bike comes pre-assembled. However, there still are parts that require assembly. You will basically have to attach the two base bars to the main frame, the seat, the console mast, the handlebars, the console, and the pedals. This may take more than an hour of your time. However, the included manual provides very clear assembly instructions and schematics. Also, the tools required for the assembly are included.
This exercise bike features a magnetic resistance system, thus, there isn't any maintenance required for the internal parts. The only thing to do for this matter is to periodically check for loose bolts and parts.
The Pros
Sturdy, steel frame, capable of supporting users up to 300 lbs;
Transport wheels on the front base;
Adjustable base stabilizers on the rear base;
Step-through frame design for easy access to the seat;
Both front and seat handlebars (other recumbent bikes don't have front handlebars);
Pulse sensors incorporated into the seat handlebars;
Padded seat and backrest, for optimal comfort;
Quiet magnetic resistance system;
Adjustable resistance offering distinctive 8 levels;
Weighted pedals with adjustable straps;
Exercise meter that can track time, distance, total distance, speed, calories, and pulse;
Lightweight, easy to handle;
Fairly easy to assemble;
Little to no maintenance required.
The Cons
No tablet holder;
No backlight on the exercise meter display.
Summary
The Sunny Health & Fitness SF-RB4616 is a recumbent exercise bike made for home use. It features a manual magnetic resistance system, a belt drive, and includes a basic exercise meter. It's equipped with a comfortable and adjustable seat. It has a fairly sturdy frame, rated for a user capacity of 300 lbs. It's a great trainer for recovery training, muscle toning, and stamina development. You can also lose weight with this bike if you undergo a more intense cardio regimen, on the 7-8 resistance settings. In all, it's an excellent and also affordable exercise bike, currently available for less than $200.