The Star Power RW1001 is one of the rowing machines released in 2022. It offers a similar range of features to the Sunny Health & Fitness SF-RW5713. However, it comes with a simpler monitor and has a slightly different frame design.
Key Features and Specifications
Assembled dimensions: 69.29L x 20W x 24H inches (176L x 51W x 61H cm)
Shipping weight: 64 lbs (29 kg)
Supported weight: 335 lbs (152 kg)
Frame: Steel
Footrests: Pivoting, with straps
Resistance type: Water
Fitness monitor: Time, count, t-count, distance, calories, goals, scan
Warranty: 12 months
Frame construction
The Star Power RW1001 features a steel frame combining oval and rectangular tubes in its construction. All the steel
parts are coated with a corrosion-resistant paint finish. The color used is gray, this being the only color available for this particular rower. Also, the unit's rail features aluminum side covers for extra protection and for a smoother seat motion. They are not painted.
The rower also integrates several non-metallic parts. For example, the footrests and the fitness monitor casing are made of ABS material, while the water tank is made of durable polycarbonate material.
The machine is not as large as other rowers, such as the Strongick model, for example. However, it still takes approx. 69″L x 20″ (175 x 51 cm) of floor space. Plus, you should allow at least two feet of clearance on each side and at the rear of the machine, for a correct execution of the rowing motion. The applicable user inseam length for this rower is approx. 36″ (91 cm), so it should be able to accommodate users up to 6'3″ (190 cm) with no problem. It is also rated for a maximum user weight limit of 335 lbs (152 kg) which is not bad for a home-use rower.
This rower does not have a folding rail system. However, it can be stored vertically, similar to the MBH Fitness rower. In vertical position, its footprint is approx. 24″L x 20″W (61 x 51 cm), while its height reaches approx. 69″ (175 cm). The water can remain inside the tank if the rower is stored vertically.
Last but not least, the rower is not too heavy. Its net weight is around 60 lbs (27.2 kg) but with the water tank filled to its maximum level, it reaches a weight of approx. 90 lbs (40 kg). Once assembled, it is pretty easy to move, though. Its front base bar features a set of wheels. Also, its rear base stabilizer features a set of adjustable levelers.
Seat and other parts
The Star Power RW1001 rower is equipped with a pretty standard seat. Its top section features a layer of high-density
foam which is also contoured for optimal comfort. It is approx. 14″ (35 cm) wide, so it provides plenty of contact surface. But one of the best aspects with regards to the seat of this rower is its height. Its stops stands at approx. 18″ (45 cm) above the floor which can be quite a plus for users with certain disabilities, as it provides an easy entry and exit.
The base of the seat is made of steel. It integrates three sets of wheels. Two wheels sets slide on top of the rail, while the third set of wheels closes the seat base on the rail for improved stability. All the wheels have ball bearings for a smooth seat motion. Also, the wheels have a rubber layer on the outside to reduce noise.
The machine's pulling handle features a pretty simple design. It's a short straight bar with PVC foam sleeves for an improved grip. It does not have pulse sensors or other types of controls. It attaches to a heavy-duty nylon strap which connects to the machine's pulley system.
The Star Power RW1001 rowing machine is equipped with a set of durable footrests. As we've mentioned above, they're made from a durable ABS plastic material. Their size is non-adjustable, but they are large enough to accommodate athletic shoes of all sizes. They have straps and heel guards for improved foot stability.
The footrests have a pivoting design. This means that they can tilt back and forth on their axis so that they can adapt better to the pressure generated by your feet during rowing. They have stoppers at the heels, though, so they won't tilt backward past an angle of approx. 50°.
Resistance system
The Star Power RW1001 is a water resistance rower. It's equipped with a water tank made of durable polycarbonate
material with clear walls. Its exact capacity is not specified, but similar to other rowers, its capacity should be around 4 gallons (15 liters).
The machine's water tank features a simple, single-chamber construction. It also does not have an integrated water level adjustment system, like the First Degree Fitness Laguna rower, for example. However, it has 6 water levels marked on it, so, in case you want to increase or decrease the overall resistance, you can manually add or remove water from it with the included siphon pump.
The main resistance-generating element is a multi-blade impeller integrated into the tank and connected to the machine's pulley system. Therefore, when you pull the handle, the impeller spins inside the tank water and generates resistance.
Similar to other water resistance rowers, the Star Power RW1001 provides a dynamic response during rowing. In other words, if you pull the handle faster, the impeller will also spin faster inside the tank water and will generate more resistance. This resembles the rowing of a real boat through the water and can be a plus for users who want to train on a professional level.
The rower is not too noisy during usage. However, it is not completely silent as is the case for most magnetic rowers. The spinning of the impeller inside the water tank can be heard, but the noise level is pretty low; for example, it shouldn't cover the sound of a TV set on a low volume level.
Fitness monitor
The monitor unit included with the Star Power RW1001 rower is pretty basic. It's similar to the unit included with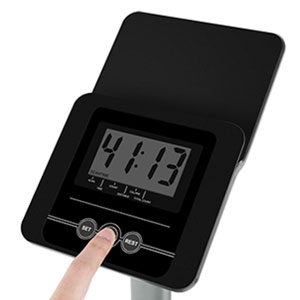 the HouseFit DH-8633. It features an LCD display that tracks time, distance, stroke count, total strokes, and calories burned. The distance is shown in miles. Also, the unit does not have a time/500m function and does not read pulse.
Since it's a basic monitor unit, it also does not have pre-set programs or online connectivity. However, it does have a goal-setting function. For example, you can select a workout target for time, distance, or calories burned. Once a target is set, the unit will count down from the selected value until it reaches zero. This way, you can keep track of your progress and push your limits from one workout session to another.
The monitor unit features three buttons. These are Set, Mode, and Reset. The Set button covers the goal-setting function. The Mode button allows you to select the desired workout metric to view on the screen. With the Mode button, you can also select the unit's scan function which automatically rotates all the metrics showing each one for a few seconds. And finally, the Reset button allows you to delete all the values on the monitor if you want to start fresh.
The monitor unit is battery-powered. It runs on two AA batteries which are not included. It begins monitoring your data when it detects activity on the rower, and also automatically turns off after four minutes of inactivity on the machine. It also integrates a device holder on which you can place your phone or tablet, but it doesn't have any connection ports for your device.
Assembly and Maintenance
The water tank unit comes pre-assembled and attached to the front frame section. Therefore, in terms of assembly, you only need to attach the front frame stabilizer, the rear frame stabilizer, insert the seat on the rail, connect the rail to the front frame section, and attach the fitness monitor. This shouldn't take more than an hour of your time. The manual provides pretty clear assembly instructions and all the necessary tools are included.
For maintenance, you only have to keep the rower clean, especially the rail to prevent any damage to the seat wheels. The water in the tank can be treated with a rower chlorine pill every 6 months. Pills are not included, though. Other than this, you should periodically inspect the machine and check for loose bolts and parts.
The Pros
Sturdy frame – can support users up to 335 lbs;
Can be stored vertically;
Adjustable levelers on the rear base bar;
Transport wheels on the front base bar;
Ergonomic, contoured seat;
Pivoting footrests with adjustable straps;
Long rail for users up to 6'3″;
Water resistance system, providing the most natural rowing feel that you can get;
Performance monitor included – it tracks time, distance, strokes, strokes per minute, and calories burned;
Goal settings;
Device holder included;
Smooth and quiet operation;
Little maintenance required;
Easy to assemble.
The Cons
No online connectivity;
The monitor doesn't have backlight.
Summary
The Star Power RW1001 is a rowing machine made for home use. It is equipped with a water resistance system, a comfortable seat, and a set of pivoting footrests. It also includes a fitness monitor that tracks the most important workout metrics. It's a machine for a full-body cardio workout, muscle toning, stamina development, and weight loss. And finally, it's one of the most affordable water resistance rowers available at the moment.