Spinner S5 Indoor Cycling Bike

The Spinner S5 indoor cycling bike offers is within the same range of features as the Spinner S3. There are actually only three main differences between the two models. The S5 features a black paint finish comes with dual-sided pedals and has transparent flywheel side guards. The S3 is white, its pedals have only toe cages, while its flywheel guards are black.
Despite the fact that we've already covered the S3 model here, we're still going to provide as much information as possible regarding all the features of the Spinner S5 model. So, let's see what this spinner bike can offer.
Technical Details and Specifications
Assembled dimensions: 43L x 18W x 37H inches (110L x 46W x 94H cm)
Assembled weight: 96 lbs (43.5 kg)
Flywheel weight: 31 lbs (14 kg)
Supported weight: 250 lbs (113.3 kg)
Handlebars: 2-way adjustable
Seat: 4-way adjustable
Pedals: Dual-sided
Drive mechanism: Chain
Brakes: Direct-contact, leather pad
Resistance: Adjustable
Performance monitor: No
Accessories: Bottle holder, 4 workout DVDs
Warranty: 1 year limited
Frame construction
The Spinner S5 indoor cycling bike features an all-steel, highly-durable frame. Its mid-section, right above the pedals, integrates a horizontal step-up bar which makes available a series of spin workouts that require the user to step-off and step-on the frame, alternating these sessions with
more or less pedaling sessions. This feature is a plus that other indoor cycling trainers don't have.
The frame features an industrial-grade, corrosion and scratch resistant powder coating, black in color for this bike model. The main tube of the frame and the seat tube both feature the Spinning logo painted on them in white. The slider and the upright bar of the seat, as well as the handlebar post feature a chrome finish.
This exercise bike is not an extremely large fitness machine. Its footprint is only 43″ x 18″ (110 x 46 cm), so it doesn't take a lot of room, fitting even to a small apartment. It is recommended, though, to leave at least two feet of clearance around it for safe operation.
Despite the fact that the bike isn't too large, it's fairly heavy. With the frame and parts fully assembled, it weighs 96 lbs (43.5 kg) which is two times more than the average mountain bike. This weight plays an important role in its stability, though. Plus, both of its bases integrate adjustable levelers with large rubber caps, which allow you to perfectly stabilize it on any type of surface. The front base also has large silicone wheels which facilitate the relocation of the bike. However, the frame cannot be folded.
Seat and handlebars
The Spinner S5 is equipped with a multi-grip handlebar, featuring a unified aero bar in the middle. The handlebar offers only vertical adjustability; it does not have a horizontal slider as the seat. Its vertical adjustment span is several inches. The handlebar is completely covered by a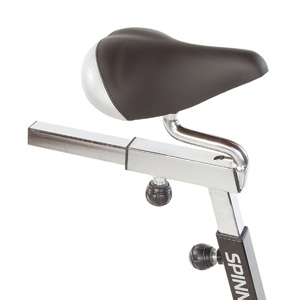 sheet of rubber foam material to provide a non-slip grip and protect the hands from damage during longer workouts.
The bike's seat is 4-way adjustable. The saddle is slightly different than the average spin bike seat. It's thicker, designed to provide more comfort. Its connection system to its post is standard, thus it can easily be replaced.
Both seat and handlebar are equipped with pop-pins, easy to grip and turn. Therefore, you can adjust the bike's dimensions in less than a minute. Considering the adjustment span of the seat, and the span of the handlebar, this bike can accommodate users in a range between 4'10" (147.3 cm) and 6'7″ (200.6 cm).
One last important aspect to mention here regards the shape of the seat and handlebar posts. They're both rectangular, which means it's basically impossible for them to twist sideways. This also plays an important role in the bike's overall sturdiness.
Resistance and drive
This spin bike trainer features a manual friction resistance system, which consists of a leather brake pad attached to the tension dial atop the main tube of the frame. As you turn the knob,
  the pad applies more or less friction to the flywheel, which results in a higher or lesser difficulty of pedaling. The tension dial also fulfills the role of an emergency brake. You can press it down to quickly stop the flywheel from spinning if needed.
As opposed to magnetic exercise bikes, the Spinner S5 doesn't have pre-defined resistance settings on the tension knob. You simply tighten the knob until you feel that the bike delivers the adequate resistance for your workout.
The bike uses a chain drive, featuring a standard bike chain. Like any bike chain drive, this comes with two main advantages. First of all, the chain is much more durable than a belt, and second, even if it sustains damage you can easily find a replacement for it in any bike shop. But on the other hand, the downside is that it requires periodic lubrication in order to prevent it from catching rust. This can be easily done by removing the chain guard and adding a few drops of standard bike chain lubricant.
Just as the Spinner S3, the S5 model comes with a 31 lbs (14 kg) flywheel. Although this is a mid-range flywheel, it still heavy enough to provide a consistent momentum. It's also perimeter weighted, designed to deliver a smooth motion and a steady pedaling feel. The Spinner S7 model comes with a slightly heavier flywheel, of 35 lbs. But there also are other bikes with a 40 lbs flywheel, such as the ActionLine A84016 or Sunny SF-B901B.
The flywheel is bi-directional. In other words, you can pedal in reverse if you want. But before changing the way you pedal, it is recommended to use the emergency brake in order to stop the flywheel to prevent any injuries. Also, you cannot coast on the bike, since it doesn't have a 
derailleur as a road bike. The pedals will continue to move for as long as the flywheel is spinning.
The bike is equipped with an extremely sturdy crankset, featuring solid steel crank arms which can support any spin workout. In other words, as long as you don't weigh over 250 lbs (113 kg) – the specified max. user weight – you should be able to exercise while standing up on the pedals, without any problem.
The pedals supplied with this bike are dual-sided. They have toe cages and straps on one side and SPD elements for spin shoes on the other. They're highly-durable, made of metallic alloy and have standard threads so you should easily find replacements for them if needed.
One last aspect to mention here regards the bike's Q-Factor (the spacing between the pedals). The Spinner S5 features a narrow, 147 mm Q-Factor, promoting a natural positioning of the feet on the pedals, which eliminates the lateral stress on the knees and ankles.
Accessories
The Spinner S5 indoor cycling bike does not include an exercise meter. There are several models available separately. The only accessories that come with it are the bottle holder, which we've described above, and a set of DVDs with spin workouts.
The DVDs cover various spin workouts. In case you've never been to a spin class before, the workouts on them are quite educational, motivational and entertaining. They're quite great to train with. They actually generate the atmosphere of a real spin class, and will considerably help with your results. The DVDs include Ultimate Energy, Train and Tone, Turn and Burn, and Maximum Results workouts.
Assembly and Maintenance
The main parts of the bike come already assembled. You only have to connect the base tube to the main frame, add the seat and handlebar posts, then the seat and handlebar, and finally the pedals. This shouldn't take longer than 20-30 minutes. All the tools for assembly are included, and the manual provides very clear step-by-step assembly instructions.
The primary maintenance aspect is the lubrication of the chain. You can use any oil-based lubricant for it, or simply use standard bike chain oil. Resistance pad may also require lubrication if it emits a squeaky noise when in contact with the spinning flywheel. Using silicone-based lubricant for it can eliminate the problem. Last but not least, a periodic check for loose bolts and parts is also recommended.
The Pros
Sturdy construction, highly durable frame, made for all spin workouts;
Adjustable base stabilizers, with large rubber pads;
Transport wheels included;
Solid crank assembly;
Heavy-duty, dual-sided pedals, with SPD clips on one side and toe cages on the other;
Comfortable, narrow Q-Factor, reducing stress on knees;
4-way adjustable seat;
2-way adjustable handlebars;
Quiet, smooth and durable chain drive;
High-inertia, heavy flywheel;
Basically limitless resistance settings;
Bottle holder included;
4 free DVDs with different spin workouts included;
Little maintenance required;
Really easy to assemble.
The Cons
Does not include an exercise meter;
Handlebar cannot be adjusted horizontally.
Summary
The Spinner S5 is a spinning bike designed for home use. It features a solid frame construction, similar to the commercial bikes, however with a lighter frame, able to support users only up to 250 lbs. It is equipped with a standard friction resistance, features a mid-range flywheel and a chain drive. It's an excellent indoor cycle trainer for muscle toning, cardio and interval training, and of course, for losing weight. It's not exactly the most affordable exercise bike, but it's an authentic spin bike, and quality definitely stands up to its price.