ProForm 325 CSX Exercise Bike

The CSX 325 is one of the newest recumbent bikes released by ProForm for 2016. It's a mid range exercise bike, with a frame construction and range of console features similar to a light commercial model. In terms of specs, it's comparable to the Nautilus R616 or Schwinn 270. Its price is also similar to these older bike models.
Technical Details and Specifications
Assembled dimensions: 57L x 25W x 50H inches (145L x 64W x 127H cm)
Assembled weight: 150 lbs (68 kg)
Supported weight: 300 lbs (136 kg)
Seat: Cushioned, adjustable
Pedals: With adjustable straps
Resistance: Eddy current, 22 lvls
Console: 24 workout apps, Recovery function, iFit enabled
Amenities: Sound system, workout fan, bottle holder, tablet holder
Warranty: Frame lifetime / Parts 1 year / Labor 1 year
Frame construction
The ProForm 325 CSX recumbent bike features an extremely sturdy frame. It's also quite a heavy frame, weighing more than 100 lbs. This weight considerably adds to the bike's overall stability. Differently put, the bike won't wobble or feel shaky even if you engage in a high-intensity workout. On top of that, its rear base features adjustable stabilizers, with rubber caps, which enhance the bike's stability. The front base caps serve as rollers, facilitating the bike's relocation once you have finished your workout. Also, the rear base integrates a handle to help lifting the bike on its rollers. Thus, when transporting the assembled bike on its front rollers, you will basically handle less than its total assembled weight.
Like most recumbent bikes of this type, the ProForm 325 CSX doesn't have a folding frame. However, its frame does have a step-thru design, which makes it extremely easy to take position on the seat. Evidently, the bike's main frame is made of steel tubing. In fact, it quite sturdy, being able to hold users up to 300 lbs (136 kg). The only non-metallic parts in its overall construction being the guards of the flywheel and rear frame, parts that only fulfill a protective and cosmetic role.
One last aspect to mention here, regards the bike's footprint. This ProForm exercise bike takes approx. 57″L x 25″W (145 x 64 cm) of floor space. Also, it doesn't require a lot of clearance on the sides, rear and front for safe operation, as a workout on it doesn't require a lot of moving, or mounting / dismounting as for spin workouts. Differently put, it's not an extremely large machine, and should fit even in a smaller room or apartment.
Seat and handlebars
This ProForm recumbent bike is equipped with a wide and comfortable seat, with 2″ (5 cm) padding and highly durable, vinyl upholstery. The seat's position in relation to the pedals is
adjustable. It features a rail-type adjustment system, which makes it extremely easy to find the most comfortable position for your workout. The adjustment rail is fairly long, accommodating users between 5'0″ – 6'5″ (152 – 195 cm).
The backrest is non-adjustable as for the Ironman Triathlon X-Class 410. It's attached directly to the seat's frame, and will move along with the seat on its rail though. It features the same padding as the seat, also providing the required firmness for an excellent back support.
The bike is equipped with two sets of handlebars. One set is attached to the seat assembly, and will move along with the seat on its rail, as you adjust the seat. The front handlebars are attached by the console mast, directly under the console, and integrate stainless steel pulse sensors. Both sets of handlebars have rubber-foam grips to provide optimal comfort.
Resistance and drive
The ProForm 325 CSX recumbent bike features a current assisted magnetic tension system. In other words, it uses a motorized magnetic brake to create drag onto the flywheel. The resistance is controlled exclusively from the console. You can adjust it as you pedal. Or, in
case you will be using one of the pre-set programs, or one of the iFit programs, the bike will adjust the resistance automatically.
This exercise bike offers 22 levels of resistance. The lower settings are pretty light, suitable for elderly users, or users who require recovery training. On the other hand, the top 20-22 resistance settings are quite tough, simulating a steep climb, offering quite a challenge for anyone who wants a consistent cardio training.
This recumbent exercise bike features a smooth and quiet belt drive, which basically doesn't require any maintenance. It uses a v-belt type, highly resistant to stretching, and a balanced flywheel for a steady pedaling motion, with a consistent momentum. The bike's pulley is finished with steel crank arms, while its pedals feature a ribbed design, integrating adjustable straps. Pedals also have standard threads, and in case you want a different model, you should be able to easily find a replacement.
This bike also allows reverse pedaling, which basically doubles the workout possibilities. But since it's a bike with a simple transmission system (unlike a road bike with a derailleur), you cannot coast on it. In fact, when pedaling backwards, the resistance on the pedals remains the same, given by the selected setting on the console.
Console
The console supplied with the ProForm 325 CSX is somewhat similar to the one the ProForm Performance 600i treadmill. It features a LED display, quite intuitive and easy to use, which indicates distance (in miles or km), pace, speed (MPH or KM/H), time, watts, calories, heart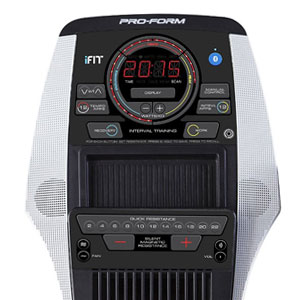 rate, and of course the current resistance setting. It also has a SCAN mode which displays your workout information in a repeating cycle.
There are 24 workout apps pre-loaded in the console, divided in two categories: Tempo and Interval. There's also a Recovery function which allows you to create a workout interval. As you exercise, press the Recovery and Work buttons as desired to alternate between the saved interval settings. After you press a button, the resistance of the pedals will automatically adjust to the level that you saved.
The console integrates a sound system and workout fan. The sound system consists of two speakers, one on each side of the console. The sound system is compatible with most MP3 players, smartphones or tablets and the sound rendered by it is quite decent. Volume can be adjusted directly from the console for more convenience. The workout fan is placed at the bottom of the console unit, and features several speed settings.
The middle of the console unit features a shelf section where you can place a tablet or your phone. However, a tablet holder accessory is also supplied with this bike, accessory that attaches to the top of the console.
The console unit of this ProForm indoor exercise bike is iFit enabled. This means you can connect it to your Bluetooth device, in order to access an iFit workout, track your progress online, and even compete with other iFit members. However, this requires an iFit membership which is a separate purchase. But nonetheless, even if you don't use iFit, you can still use the 24 on-board workout apps.
Last but not least, the console can track your pulse via a Bluetooth HR chest strap transmitter. This accessory is not supplied with the bike though.
Assembly and Maintenance
The ProForm 325 CSX is easy to assemble; the whole process shouldn't take longer than one hour. However, since the bike is rather heavy, two persons are required to receive and transport the box. Assembly basically requires you to attach the base tubes to the frame, the seat and its backrest, the handlebars, pedals and console, connecting the wires. The manual supplied offers pretty explicit guidance for the assembly steps. Two Allen wrenches required for assembly are included, however you will need your own adjustable wrench and a Phillips screwdriver.
Maintenance for this bike is almost inexistent. Basically, you just need to keep the bike clean, and re-tighten bolts in their places if its necessary. Internal parts shouldn't need any additional lubrication.
The Pros
Sturdy construction, step-thru design;
High user capacity (300 lbs);
2-inch padding on seat and backrest for optimal comfort;
Adjustable seat;
Automatic, magnetic resistance, with 22 available settings;
24 pre-set programs;
Recovery function;
Bluetooth enabled console, iFit compatible;
Handlebars with pulse sensors;
Can also read pulse via a Bluetooth HR chest strap;
Sound system included;
Workout fan included;
Bottle holder included;
Tablet holder included;
Smooth and quiet drive;
Basically maintenance free;
Decent warranty plan.
The Cons
No pulse sensors on the recumbent handlebars;
HR chest strap not included.
Summary
The ProForm 325 CSX is a recumbent bike pretty close to light commercial quality, equipped with a magnetic, current assisted resistance system, a smooth and quiet drive, and excellent comfort factors. It offers 24 preset workouts, also being iFit enabled. It's a bike for light to medium workouts, and for users of all levels. It's great for bolstering and maintaining your cardiovascular shape, building stamina and strength, interval training, and also for recovery training. It's currently available for less than $400, thus the overall value that it offers definitely matches its price.