NordicTrack E 7.0 Z Elliptical Trainer

Unit
Size
Supported
weight
Resistance
Console
Warranty
NordicTrack E 7.5 Z



Check Discounted Price

L:66"
W:25"
H:69"

300 lbs
Eddy
current,
20 lvls
20 pre-set
workouts,
Goal settings,
iFit capable
Frame: lifetime
Parts: 1 year
Labor: 1 year

The E 7.0 Z elliptical trainer from NordicTrack has been around since 2015, but since it's an excellent machine, it's still available to this day. It's similar in construction to the NordicTrack C 7.5, but only has a manual incline, fewer onboard programs, and does not come with the iFit module. However, the machine's console is compatible with iFit modules.
Technical Details and Specifications
Assembled dimensions: 66L x 25W x 69H inches (168L x 64W x 175H cm)
Assembled weight: 200 lbs (90.7 kg)
Flywheel weight: 15 lbs (6.8 kg)
Supported weight: 300 lbs (136 kg)
Stride: 20 inches (51 cm)
Incline: Manual, 5 levels
Handlebars: Mobile and fixed (with pulse sensors)
Resistance system: Eddy current, 20 levels
Console: 20 workout programs, iFit compatible
Amenities: Bottle/accessory holder, media tray, speakers
Warranty: Frame lifetime / Parts 1 year / Labor 1 year
Frame construction and parts
Although this NordicTrack elliptical trainer is not advertised as a commercial model, its frame construction is quite similar to a light commercial one. It features a heavy steel frame, weighing approx. 200 lbs (90.7 kg). This weight is quite a plus, though, as it adds a
lot of stability to the machine. On top of that, its rear and front bases rest on rubberized stabilizers, which also adjust, in order to level the machine fully. It's not required to place it on a rubberized mat; however, this is recommended.
The NordicTrack E 7.0 Z does not have a folding frame. The relocation of the machine isn't difficult, though, as the front base integrated a set of transport wheels. The rear base also has a handle, so by lifting from behind and leaning it on its front wheels, you won't be handling more than 45 lbs.
All steel parts of the machine feature a corrosion resistant, black coating, except for the gliding rails of the pedals, which have a chrome finish. The covers of the motor and flywheel, along with several other covers, are made of heavy-duty plastic material.
Like most elliptical trainers, this NordicTrack model is fairly large. It takes approx. 66″L x 25″W (168 x 64 cm) of floor space. It also requires at least two feet of clearance on each side, front and back, for safe operation. Therefore, if space is an issue, this trainer may not be the best choice for a cardio machine. An indoor cycle trainer such as the L NOW LD-77 or Spinner S3 may be a better choice.
This elliptical trainer is equipped with a set of large pedals, featuring a highly adherent surface. They're approx. 7 3/4″ wide, able to accommodate sports shoes of all sizes.
They're also slightly angled inward, in order to provide a natural placement of the feet.
The bars on which the pedals are attached are extremely sturdy. They can support users up to 300 lbs (136 kg). They're equipped with heavy-duty rollers, which integrate industrial grade sealed ball bearings. Thus, their gliding on the rails is extremely smooth, and the noise generated is minimal. The joints between the pedal bars and mobile arms of the machine also integrate high-grade ball bearings.
When it comes to handlebars, this NordicTrack elliptical trainer is equipped with two sets, mobile and fixed. They both have simple, rubberized grips to provide optimal comfort and prevent any damage to the hands during prolonged workout sessions. The fixed handlebars also integrate pulse sensors, these being the only means that can be used for monitoring your heart rate. The machine's console is not telemetric.
Stride, incline, and elevation
Several websites advertise the NordicTrack E 7.0 Z elliptical machine as one with an adjustable stride. Well, the stride is "adjustable", but not length-wise. In terms of length, its stride is a flat 20″ (51 cm). However, as you adjust the machine's incline, the shape and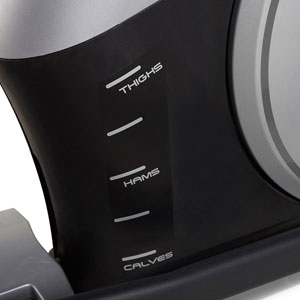 angle of the stride adjust, and this way you can put more focus on various groups of muscles.
This NordicTrack elliptical features a manual incline system. The rail assembly is attached to the front part of the frame and can lock onto it in 5 positions, offering incline settings of 0°, 5°, 10°, 15° and 20°. Adjusting incline is easy. You simply have to push the button at the front of the rail, pull the rail up and release the button to lock it in the desired position. Evidently, since the incline system requires manual adjustment, you cannot adjust incline from the console as you pedal; in order to adjust incline, you have to pause your workout, step down from the pedals, adjust incline, and then resume your workout.
Last but not least, the machine can give you a total elevation of approx. 22″ (56 cm). Therefore, in order to prevent any ceiling issues, make sure that the ceiling height in the room where you'll be using it, is at least 25-26 inches higher than your own height.
Resistance and drive
The NordicTrack E 7.0 Z is a motorized magnetic elliptical machine. Its resistance system consists of a magnetic flywheel and a servo motor, and can only be adjusted from the machine's control panel. As you select a specific resistance level, the servo motor will adjust the magnets' pull, creating more drag. Also, if you select one of the pre-set programs, or choose to exercise via an iFit program, the trainer will adjust resistance automatically.
Evidently, since the machine's resistance is motorized, it requires being connected to a power circuit. A power adapter is included, its specs being 100-240V, 50-60 Hz at 5A, with an output of 9V / 200 mA.
Just as many other ellipticals, bikes or rowers with magnetic resistance, this NordicTrack model features a belt drive system, using a heavy-duty belt. Due to this fact, the elliptical's transmission does not require lubrication. Also, the sound generated by it is almost inexistent. The flywheel has most of its weight placed in its perimeter. Therefore, the pedaling motion is smooth and steady, with a consistent feel.
Pedaling in reverse is possible on this machine, and when pedaling in reverse, the console will continue to track your workout statistics. Also, the Q-Factor is narrow, resulting in a comfortable placement of the feet, without any strain on the knees and ankles.
Control unit
The NordicTrack E 7.0 Z is equipped with a mid-range console. It features a multi-panel LCD display, with blue LED backlight, which means that its readability is excellent, even in a room with poor lighting. The display can show several workout metrics
simultaneously, including, speed, distance, RPM, the number of strides, time, calories, total calories, pulse and, of course, the selected resistance level. Distance and speed can be calculated in miles/mph and kilometers/kmh. Also, there's the MyTrail function which displays distance in a 1/4 miles (400 m) race track, keeping count of the laps you have completed.
The console unit has 20 pre-set, profile-based programs, which automatically adjust resistance, depending on the current segment of the workout. These programs are divided into two categories, 10 designed for calorie burning, and 10 being performance-oriented. Also, you can setup goals for calories, time and distance.
Along with these fitness-oriented functions, the console is also iFit compatible. This means you can connect an iFit module to it, in order to sync it with your laptop or tablet, to directly transfer your workout data to your iFit account. iFit also opens various other functions, gives you the possibility to compete with others, or exercise by using a virtual trail via GoogleMaps. An iFit module is not supplied with the machine, though.
When it comes to heart rate, as we've mentioned above, the console can only monitor it if you hold onto the sensors in the fixed handlebars. It's not compatible with any heart rate chest strap transmitters.
The control unit offers several other features, along with the fitness programs and iFit compatibility. First of all, it integrates a tablet tray which can accommodate any tablet or smartphone. A tablet support that attaches to the top part of the unit is also included. A USB charging port is available on the left of the unit, so you can dock your device to charge while you're exercising. A sound system compatible with most smart devices and MP3 players is also available. This sound system, although it might not provide the sound quality of a dedicated sound system, it can definitely render superior sound to any tablet or phone speakers.
The console operation is easy and straightforward. Resistance can be adjusted gradually from the + / – keys, but keys for quick adjustment are available as well, for the 3,6,9,12,15,18 and 20 settings. Each category of programs has its own key on the dashboard. The top part of the console has several keys for direct control of the iFit interface. And finally, a Pause/End key is available, useful feature to have if you alternate elliptical sessions with other workouts, or simply have to put your workout on hold.
Assembly and Maintenance
The core of this elliptical trainer comes ready-assembled. In other words, the resistance and drive systems are already attached to the frame and enclosed by their protective shrouds. Thus, in terms of assembly, you only have to attach the bases, the pedals, the arms, handlebars, and console. This shouldn't take more than an hour and a half. The supplied manual has all the necessary assembly instructions. Also, the tools required for it are included.
For maintenance, it's recommended to periodically inspect the unit for loose bolts and parts. The rails of the machine should be inspected and wiped before each workout as any small objects can cause damage to them or the pedals' rollers. In case the joints between arms and pedals become squeaky, some lubrication may be required. And finally, the internal parts should not require any maintenance for a long period of time, as they come pre-lubricated from the factory.
The Pros
Heavy frame, sturdy construction;
Aesthetic design, which can be quite a motivation factor;
Transport wheels included;
Large pedals, with a slight inward angle, for a comfortable positioning of the feet;
Narrow Q-Factor to eliminate extra stress on the knees;
Fixed handlebars with pulse sensors;
Smooth and quiet drive;
Manual incline with 5 positions;
Motorized, magnetic resistance with up to 20 levels;
20 built-in programs;
Goal settings for time, distance, and calories;
iFit capable;
Multi-panel, LED backlit display; 
Various amenities included, such as sound system, tablet shelf, USB charging port, bottle holder;
Easy to assemble;
Very little maintenance required;
Excellent warranty plan.
The Cons
A tablet placed on the lower media support may cover the control unit display;
Console cannot read pulse via an HR chest strap;
iFit module not included.
Summary
The NordicTrack E 7.0 Z is a mid-range elliptical trainer, with motorized eddy current resistance, and manual incline. Its console offers 20 onboard programs, goal settings, also being iFit capable. Although it's not a commercial machine, its construction is pretty close to the light commercial models. It's a trainer perfect for users of all levels, offering the possibility to undergo light to intense cardio workouts, interval workouts, build strength and stamina, and of course, lose weight. You can actually burn up to 700 calories per hour on it, or more if you engage in a more demanding workout. It's not an expensive unit, being at least a few $100s cheaper than a light commercial model. In all, it's a machine with an excellent price/value ratio.