Unit
Size
Supported
weight
Drive
Resistance
Console
L NOW D760



Check Discounted Price

L:43.7"
W:20.9"
H:46.1"

220 lbs
Belt
Friction
Time,
Distance,
Odometer,
Speed,
Calories,
Pulse,
Scan
The L NOW D760 is one of the newer indoor cycling bikes released by L NOW in 2018. It's also referred to as L NOW "pooboo", this name can be seen painted on the frame and flywheel. It's a smaller and lighter trainer than the LD-577 or the C580, but nonetheless, it's a cycling trainer designed for spin workouts. Also, as opposed to other models, it includes a basic fitness meter.
Technical Details and Specifications
Assembled dimensions: 43.7L x 20.9W x 46.1H inches (111L x 53W x 117H cm)
Assembled weight: 71 lbs (32 kg)
Flywheel weight: 22 lbs (10 kg)
Supported weight: 220 lbs (100 kg)
Seat: 4-way adjustable
Pedals: With toe cages
Drive: Belt
Resistance: Friction
Fitness meter: Time, distance, speed, calories, pulse, odometer, SCAN
Frame
The L NOW D760 features a V-type frame made of steel tubing. The only ABS components in its construction are the belt guard
and the heads of the adjustment knobs.
As we've mentioned above, this L NOW exercise bike is lighter than most of the other models. It only weighs approx. 71 lbs (32 kg), which still is at least twice the weight of the average road bike. This means it should be able to withstand most spin workouts without rocking or wobbling.
The frame doesn't integrate a stepping pad or section, such as the Body-Solid ESB150, for example. So, it's not recommended stepping on the joint between the two main top bars of the frame. Also, the longitudinal base bar is slightly curved at the rear for improved overall sturdiness.
The bike isn't extremely large. With all the parts connected, it is only 43.7″ (111 cm) long, and 20.9″ (53 cm) wide. This being said, it can fit pretty well even into a small room. But as a general idea, it is recommended to leave at least two feet of clearance all around it for an easy access and for the proper execution of all spin exercises.
The bike's stability is enhanced by the adjustable levelers placed on both its base bars. They have rubber pads for a superior grip on the floor. Also, the front base has a set of transport wheels to facilitate the relocation of the unit, if necessary.
Seat & handlebars
The bike is equipped with a standard seat which is wider than the typical spin seats. It doesn't have surface contouring, nor it has
a longitudinal cutout but does integrate a thick layer of padding. Therefore, we can safely say that it provides considerably more comfort than the average spin bike seat. Also, its surface is made of a highly durable faux leather, which should last for many years of usage.
The seat has a standard design. The attachment point to its adjustment post basically consists of a metallic collar which is tightened via one screw. This being said, there are many other options available, in case you want to replace it.
The bike's handlebar features a multi-grip design, with two welded aero bars. The sidebars integrate pulse sensors so that the exercise meter can track your pulse. It's also fully covered by a layer of urethane material, in order to provide a more secure and comfortable grip.
Both the seat and the handlebar are adjustable. The seat offers 4-way adjustability (up, down, front, back), while the handlebar also offers several inches of upright adjustment. The maximum length between the pedal and the seat reaches approx. 34″ (86 cm), so the bike should be able to accommodate users up to 6'2″ (188 cm) with no problem, promoting a correct leg stretch during pedaling.
Resistance & drive
The L NOW D760 is equipped with a friction resistance system. It has manual control, which means you don't have to connect the
bike to a power source. It consists of a felt brake pad attached to the bike above the flywheel and connected to the tension knob above the main bar. By tightening the knob, the brake pad applies more friction to the flywheel which results in a higher pedaling difficulty.
The bike's resistance system doesn't have pre-determined tension levels. In other words, you can tighten it up to the point when you barely pedal. The tension knob also acts as an emergency brake. You can press it down to stop the flywheel from spinning if necessary.
The bike's flywheel is bi-directional. It allows you to pedal in reverse, and this way, you can add more diversity to your workouts. It's not a heavy flywheel – weighs only 22 lbs (10 kg) – but does have a perimeter-weighted structure. This enables it to deliver a steady pedaling feel and a more aggressive inertia.
The L NOW D760 indoor cycling bike is equipped with a belt drive system. The belt is completely enclosed by the ABS covers. As opposed to a chain drive, it doesn't require any lubrication. It also generates less vibration, an aspect which contributes to the overall smoothness of the ride.
Last but not least, the bike is equipped with a durable crankset. Its steel crank arms can support users up to 220 lbs (100 kg) while standing up on the pedals. Thus, the bike can take just about any spin workout, if the user doesn't exceed 220 lbs (100 kg).
The pedals are made of a durable aluminum alloy. They have an anti-slip design and are also equipped with toe cages which provide the possibility to thrust during pedaling without the fear that your feet will slip. They do not have SPD clips for spin shoes, but they're standard pedals, so compatible replacements for them are widely available.
Exercise meter
The meter unit included with the L NOW D760 is a basic one. It features an LCD display and is battery-powered. It starts up when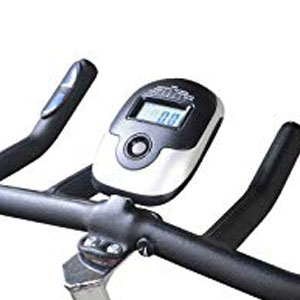 you begin pedaling and automatically turns off after a few minutes of inactivity on the bike.
The display tracks several workout metrics, including time, distance, total distance, speed, calories, and pulse. It's not telemetric, but it can read your pulse if you grip the metallic sensors built-in the sidebars of the handlebar assembly.
The button allows you to turn ON/OFF the unit's SCAN function. When SCAN mode is ON, all the metrics are shown in a sequence, each one appearing on the screen for a few seconds. By toggling the SCAN mode off, you can basically lock one of the workout metrics on the display to view all the time. The unit doesn't have any preset programs, nor does have a Recovery Test, BMI, or goal settings.
Assembly & Maintenance
The bike's core frame comes assembled. You only need to attach the seat, the handlebar, the pedals, the base bars, and the exercise meter unit. This shouldn't take more than 30 minutes. A set of basic tools is included, and the manual provides pretty clear assembly steps.
Since it's a belt-drive bike, its transmission doesn't require any lubrication. So, once it is fully setup, you only have to remove the dust from time to time, make sure to keep liquids away from the meter unit, and periodically check the bike for loose parts and bolts.
The Pros
Sturdy, steel construction;
Appealing design;
Bases with adjustable stabilizers;
Comfortable seat for an indoor cycle;
Perimeter-weighted flywheel for a consistent momentum;
Heavy-duty crank
Aluminum alloy pedals with toe cages for foot stability;
4-way adjustable seat;
Multi-grip handlebar with integrated aero bars;
Pulse sensors integrated into the side handlebars;
Friction resistance system;
Fitness meter included – it can track time, distance, total distance, speed, calories, and pulse;
Quiet operation, great for apartment use;
Really easy to assemble;
Little maintenance required.
The Cons
No bottle holder;
The meter display doesn't have backlight.
Summary
The L NOW D760 is an entry-level indoor cycling bike for spin workouts. It features a sturdy steel construction, a friction-based resistance system, and a comfortable seat. A basic fitness meter is also included. It's a great bike for mid-range and intense cardio workouts, stamina development, muscle toning, and weight loss. It's not one of the most affordable models, but it has an excellent price/quality ratio.