Unit
Size
Supported
weight
Flywheel
Resistance
Console
Kettler E3



Check Discounted Price

L:45"
W:21"
H:49"

330 lbs
17.6 lbs
Eddy
current
Time,
Distance,
Speed,
RPM,
Calories,
Pulse,
Goals,
Recovery,
4 programs

The Kettler E3 ergometer is not exactly one of the most affordable upright bikes that you can find at the moment. However, the quality of its construction and components is considerably superior to other bikes within this specs range, such as the ActionLine A81829. It has its pluses and minuses, and in this review, we're going to put them all into view.
Technical Details and Specifications
Assembled dimensions: 45L x 21W x 49H inches (115L x 54W x 125H cm)
Assembled weight: 97 lbs (44 kg)
Flywheel weight: 17.6 lbs (8 kg)
Weight capacity: 330 lbs (150 kg)
Handlebars: Adjustable
Seat: 4-way adjustable
Pedals: With adjustable straps
Resistance: Eddy current, 25-400 watts
Console: Time, distance, RPM, speed, calories, pulse,
Warranty: 3 years
Frame construction
The Kettler E3 upright bike features a base frame made of durable steel tubing. It's actually built to support users up to 330 lbs (150 kg). The only ABS parts in its construction are the
covers of the motor, some of the unit's joints and the support of the console. These don't influence the bike's overall sturdiness.
The steel parts within the bike's construction feature a rust-resistant and scratch-resistant powder coating. The color used is light gray, with the exception of the seat post which has a chrome finish.
The Kettler E3 bike is not an extremely large fitness machine. In fact, it has quite a small footprint and can fit well even into a small room or apartment. It's 45″ (115 cm) long, and 21″ (54 cm) wide, while the highest point of the handlebars reaches approx. 49″ (125 cm) above floor level. Compared to other exercise bikes with similar dimensions, such as the Fitness Reality 210 for example, this one weighs quite a bit more. It's approx. 97 lbs (44 kg); but on the other hand, it's not too difficult to move, once it is assembled. Its front base features transport wheels. Also, its rear base integrates adjustable stabilizers, so you can perfectly level it on any type of floor.
Last but not least, this Kettler exercise bike features a frame with a step-through design. Although this aspect may seem insignificant, it may be quite an important feature for users with disabilities as it considerably improves entry and exit.
Seat and handlebars
The Kettle E3 ergometer is equipped with an ergonomic seat which integrates a layer of cushioning. It's designed for seated workouts, being slightly wider than the average spin bike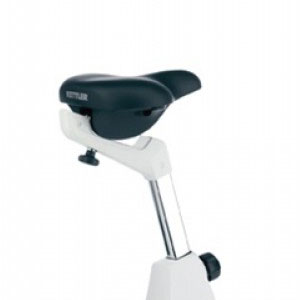 seat. Its comfort can also be improved by a gel seat cover if necessary.
The seat is 4-way adjustable. Its upright bar offers several adjustment positions while its oblique slider also allows a bit back-forth travel, offering the possibility to find the perfect position. Due to the seat adjustment, the bike can accommodate users between 5'0″ and 6'5″ (153 – 196 cm). Also, the seat's upright post and slider can support users up to 330 lbs (150 kg) with no problem.
As opposed to many other upright bikes, the Kettler E3 features an adjustable handlebar. The upright console mast is non-adjustable, but the angle of the handlebar itself can be adjusted. The knob on top of it allows you to lock it at the desired angle.
The handlebar doesn't integrate pulse sensors, but the unit's console can read your pulse via an ear clip or a wireless HR chest strap. Its grips have a layer of rubber foam material in order to prevent the hands from slipping and deliver optimal comfort.
Drive and resistance
This Kettler exercise bike features a belt drive system. It uses a heavy-duty rubber belt, resistant to stretching. The main advantage of a belt drive is that it doesn't require any lubrication. It also generates less vibration than a chain, while the pedaling motion is
smoother and almost completely silent.
This bike is equipped with a mid-range flywheel. It weighs 17.6 lbs (8 kg) and is perimeter-weighted to provide a more consistent momentum. It's designed to provide a steady motion, and since the unit's braking system is magnetic, it's not subjected to any friction or wear and tear.
The flywheel is also bi-directional. You can pedal in reverse if you want. When pedaling in reverse, the console continues to calculate your energy output, distance traveled, etc.
The bike is equipped with a durable crankset, with solid steel crank arms. However, this is not a spin bike, so pedaling while standing up on the pedals, or performing any other spin workouts are not recommended.
The included pedals are weighted, designed to always turn face-up when your feet are not on them. They're made of durable nylon material, they're equipped with adjustable straps, and they have a non-slip surface. Their threads are standard 9/16, so in case you want to replace them, you should be able to easily find a compatible alternative.
The Kettler E3 ergometer is equipped with an electromagnetic resistance system. This means the resistance can only be adjusted from the console and an external power source (110-120V) is required. A power adapter is included with the bike.
The bike's resistance system consists of a small servo motor and a magnetic brake pad. As you select a certain resistance level from the console, the servo motor adjusts the position of the brake pad in relation to the flywheel, producing more or less drag.
As opposed to many other exercise bikes, the resistance levels of this one are not pre-determined. You can gradually increase or decrease the resistance in increments of 5 watts, from 25 watts and up to 400 watts. This being said, the starting resistance level is very light, great for elderly users, users with joint problems, or users recovering from different types of surgery. Conversely, the highest resistance levels offer the possibility to perform an intense cardio workout, simulating a climb.
Console
The Kettler E3 ergometer comes with a mid-range console featuring an LCD display with blue LED backlight. This considerably improves its readability. One of its most important features is that the display is divided into 7 panels, one for each workout metric. Therefore, you can
view all the workout metrics at once without having to use a SCAN function to alternate them.
The display tracks time, distance, speed, RPM, energy output, watts, and pulse. For speed and distance, both standard and metric units are available. For pulse reading, an ear clip sensor is included with the bike. However, the console can also read your heart rate from a Polar T-34 HR chest strap transmitter. The HR strap is not included.
The console offers 4 workout programs: Manual, Hill, HRC Up, HRC Down. The manual program gives you the possibility to adjust the resistance according to your liking during your training session. The Hill program is a pre-set 30 min. program, but you can customize it before initiating the workout, increasing or decreasing the resistance. During the program, the console auto-adjust the pedal tension. The HRC programs are heart rate based workouts for which you can adjust the starting resistance between 25 and 100 watts.
The console offers the possibility to set up targets for your time, distance, kcalories and heart rate. For heart rate, there are two preset goals, FAT=65%, FIT=75% and MAN(ual)=40%-90%. If you set up a goal for heart rate, the resistance will auto-adjust according to your pulse rate during the workout aiming to keep you within the selected HR percentage.
A recovery function is available. This is a program that requires being initiated at the end of the workout. The console unit will monitor the amount of time that your heart rate takes to return to normal after the workout. At the end of the test, the console will provide you with a fitness rating between F1 and F6, F1 being "excellent", while F6 being "very poor".
The console also has a USB port and allows you to save your workout data on a USB flash drive. It also has two internal user profiles and can save two distinct workout settings for the bike.
The console doesn't have any online capabilities, nor it is compatible with any fitness apps. It also doesn't have any amenities such as sound system or tablet holder.
Assembly and Maintenance
The body of the bike comes pre-assembled. Therefore, you only have to add the base stabilizers, the seat, the pedals, the console mast, and the console. This may take up to an hour of your time. All the tools required for the assembly are included. Also, the manual provides very clear, step-by-step assembly instructions.
Maintenance doesn't require much. The internal parts are pre-lubricated so they don't require any additional lubrication. Basically, all you have to do for maintenance is periodically check for loose bolts and part, remove the dust from the trainer if it's the case, and keep liquids away from the console.
The Pros
Solid construction – can support users up to 330 lbs;
Aesthetic design;
Adjustable rear stabilizers;
Transport wheels on the front base;
Angle-adjustable, multi-grip handlebar;
4-way adjustable seat;
Balanced flywheel, supplying a smooth pedaling motion;
Quiet belt drive;
Weighted pedals with adjustable straps;
Zero friction magnetic resistance;
A wide range of resistance adjustability, from 25 watts to 400 wats;
7-panel LCD console, which shows time, distance, speed, RPM, kcalories, kjoules, and pulse;
4 workout programs;
The console can read pulse via a T34 Polar chest strap;
Ear clip pulse sensor included;
2 user profiles;
USB port for external workout data saving;
Goal setting functions for time, distance, and calories;
Recovery function;
Little maintenance required;
Easy to assemble.
The Cons
HR chest strap is not included;
No tablet holder;
No bottle holder;
No sound system;
No online connectivity.
Summary
The Kettler E3 is an upright ergometer featuring an automatic magnetic resistance system, adjustable handlebars, and a console with 4 workout programs that can read time, distance, speed, RPM, kcalories, kjoules, and pulse. The bike has a sturdy, steel frame, which can hold users up to 330 lbs (150 kg). It's a bike for light to medium intensity cardio training, muscle toning, stamina development, and weight loss. It's not the most affordable bike in this range of features, but definitely offers excellent value for the price.