FitLeader FS1 Exercise Bike

The FitLeader FS1 is an indoor cycle made for spin training. However, it's quite a bit different than the Bladez GS Fusion II or the Sunny SF-B1002. First of all, it's a lighter bike, it uses magnetic resistance rather than friction, and it features a belt drive system. It doesn't exactly have the frame construction and weight of the Spinner NXT model, or Schwinn AC, but nonetheless, it's a bike made for workouts higher in intensity than the workout possibilities offered by the average upright bike.
Technical Details and Specifications
Assembled dimensions: 46L x 25.3W x 38.8H inches (116.8L x 64.2W x 98.5H cm)
Assembled weight: 69.3 lbs (31.4 kg)
Flywheel weight: 13.2 lbs (6 kg)
Supported weight: 293 lbs (133 kg)
Handlebars: 2-way adjustable
Seat: 4-way adjustable
Pedals: With adjustable straps
Drive: Belt
Resistance: Adjustable, 8 levels
Fitness meter: Included
Amenities: Bottle holder, tablet holder
Warranty: 1 year limited
Frame construction
The bike's frame is made of steel, but it's not an extremely heavy bike. It weighs 69.3 lbs (31.4 kg), which makes it quite easy to transport and handle. On the other hand, this particular aspect suggests that it's not a fitness machine for heavy users. It can support though users up to 293 lbs (133 kg) with no problem.
The bike's bases are a couple of inches wider than in other models, an the rear base is triangular, providing superior stability. On top of that, both bases feature stabilizers with rubber caps, which not only can help you achieve maximum stability on uneven flooring, they will also prevent the floors from sustaining damage. Even though the bike is not extremely heavy, the front base integrates caster wheels which ease its movement, in case you have to relocate it for storage after your workout.
Seat and handlebars
The Fitleader FS1 features a wider seat than most indoor cycling bikes, similar to the seats in upright bikes. It's a padded seat, but without air cell cushioning. So, this being said, a non-seasoned user may find it a bit uncomfortable at least for the first sessions.
On the other hand, the seat offers 4-way adjustability (up, down, fore and aft). The vertical adjustment range is approx. 7″ (18 cm), between 31.5″ and 38.5″ (80 – 98 cm) from the floor level. This being said, the bike can accommodate comfortably users between 5'0″ and 6'1″ (152 – 185 cm).
The bike's handlebar is simple, also similar with the ones offered by upright bikes. It doesn't integrate aero bars or elbow rests, and only features 2-way adjustability (up / down). But it does integrate pulse sensors, thus the bike's fitness meter can track your pulse if you hold onto them. The handlebar is padded with rubber foam, to supply a comfortable, non-slip grip.
Both handlebar and seat posts are ovalized, which is quite a plus, as it prevents them from turning sideways, in case they're not tightened properly. On top of that, they're locked into place with sizeable knobs, easy to grip and turn.
Resistance and drive
This indoor cycling bike features a manual magnetic resistance system, involving a magnetic flywheel. It does not have a brake pad like friction resistance cycles, such as the Star Trac models for example. Resistance is adjusted via a lever placed on the main tube of the frame.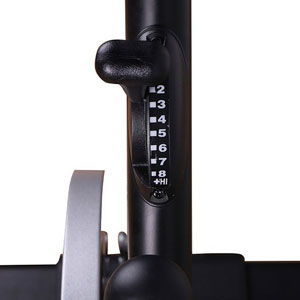 There are 8 distinctive resistance settings on the lever, and the bike's overall resistance is pretty decent. For example, the 4-5 resistance settings supply a rather difficult workout, simulating a steep climb, while the 7-8 resistance settings are actually made for strength training. The level 1 setting is not too light either. Thus, this bike may not be a good choice for someone who requires recovery training, due to knee injuries for example.
The FS1 fitleader features a belt-drive system, extremely quiet and virtually maintenance free. It's powered by a heavy-duty v-belt, made to last. The belt guard is completely sealed, so you can't actually see it or the pulley, unless you remove the covers.
Evidently, since it's a bike made to support spin workouts, it features two solid steel crank
arms which should be able to hold the full weight of the user. The bike's Q Factor is 9″ (230 mm), which is a bit larger in comparison to the Q Factor of most road bikes. But still, the pedaling motion feels pretty comfortable.
Reverse pedaling workouts are possible on this bike. And when pedaling in reverse, the console will continue to track distance, speed and other values. Even though the flywheel is not extremely heavy like on other indoor cycling bikes, you can still build a consistent momentum while pedaling, and if you will remove feet from the pedals, the will continue to move along with the flywheel for a few more rotations, depending on the current resistance setting.
Last but not least, the pedals supplied with this bike are pretty simple. They don't integrate clips for spin shoes, but they do have adjustable straps. Their threads are standard 9/16, therefore you should be able to easily find replacements, in case you want to use cycling shoes with clips.
Fitness meter and amenities
The fitness meter supplied with this Fitleader exercise bike has a little bit more to offer than the basic bike fitness meter. Along with the time, speed, distance and calorie readings, it can
track pulse and RPM, also having an odometer function. Like most basic meter units, it has a SCAN function which cycles through the values, indicating each one for several seconds, but you can also lock one of the values on screen to view at all time, if you want.
This console uses 4-AA type batteries which are included with the box. It's easy to operate and features only one button for all its functions.
In terms of amenities, the console integrates a tablet tray, which can accommodate basically any tablet. Also, a bottle holder (bottle not included) is supplied with the bike.
Assembly and Maintenance
Since the bike is not much heavier than a mountain bike, you should be able to put it together without any help. The assembly process itself is quite simple as well. The drive mechanism and flywheel come already attached to the bike. You only need to add the seat and handlebar posts, the seat and handlebar themselves, the bike's bases, pedals, and console.
Given the fact that this exercise bike is belt driven, it doesn't require lubrication. In terms of maintenance, all you have to do is keep the dust off the bike, wipe any perspiration that may fall on it, and re-tighten the bolts from time to time if it's the case.
The Pros
Sturdy construction, lightweight frame;
Small footprint, easy to fit in smaller rooms;
Rubberized foot stabilizers;
Extremely quiet operation, suitable for apartment use, or in a place where you want to workout without bothering the others;
4-way adjustable seat;
Quiet, wear-free, magnetic resistance;
Consistent resistance, offering the possibilities of stamina and strength training;
Solid crankset, designed to support stand-up pedaling routines;
Handlebars with pulse sensors;
Fitness meter included, able to track speed, distance, time, RPM, calories and pulse, also having an odometer function;
Batteries for the console are included;
Tablet tray on the console;
Bottle holder included;
Easy to assemble;
Little maintenance required.
The Cons
No aero bars on the handlebar assembly;
Limited user height range; only for users between 5'0″ – 6'1″;
A tablet placed on the tray will cover the meter display.
Summary
The Fitleader FS1 is without a doubt an exercise bike that can offer a higher workout spectrum than most upright bikes. It's a well-built indoor cycle, able to supply excellent cardio, interval and stamina building workouts. Also, due to its rather high overall resistance, it can successfully be used for strength training, also offering excellent weight loss possibilities. It doesn't have the weight, sturdiness and capacity of a genuine spin bike, but on the other hand, it costs at least $500 less, and also comes with a fitness meter. All in all, this Fitleader exercise bike offers an excellent price / quality ratio.