Crystal Ultra-Silence Indoor Upright Cycling Bike

The Crystal Ultra-silence Indoor Upright Cycling Bike is actually a bike designed to support spinning workouts, not only seated workouts like most upright bikes do. It's similar in specs with the Bladez Fusion GS II, but it features a belt drive system, not a chain, and its fitness meter can also monitor your heart rate. But on the other hand, its handlebars are only 2-way adjustable.
There are several indoor cycling bikes available under the Crystal brand name. Therefore, to avoid any confusion regarding the identity of this particular model, we'll specify here that this is the Crystal SJ-32411 item number.
Technical Details and Specifications
Assembled dimensions: 50L x 19W x 43H inches (127L x 48W x 109H cm)
Assembled weight: 92 lbs (42 kg)
Flywheel weight 28.6 lbs (13 kg)
Supported weight: 250 lbs (113.3 kg)
Handlebars: 2-way adjustable
Seat: 4-way adjustable
Pedals: With toe cages
Drive mechanism: Belt
Resistance: Friction
Fitness meter: Time, speed, distance, total distance, calories, pulse, SCAN
Warranty: 1 year limited
Frame construction
Just as any other exercise bike designed for spinning workouts, the Crystal SJ-32411 is made of steel tubing. Its main frame is coated with corrosion resistant paint, while the seat post, handlebar post, and flywheel have a chrome finish. When it comes to color, this
exercise bike is available in two versions, Blue/Red/White and White/Blue/Black.
Although it's not an extremely heavy fitness machine, it does weigh at least two times more than the average road bike, providing excellent stability. Its assembled weight is approx. 92 lbs (42 kg). However, its front base integrates two transport wheels which ease its relocation if needed.
Both base tubes are equipped with adjustable stabilizers. Therefore, you should be able to perfectly level the bike on any type of flooring. On top of that, a rubberized, non-slip mat is included with the bike, for extra floor protection. A bottle of matching color to the bike, and a bottle holder, are also included accessories.
This exercise bike isn't an extremely large fitness machine. It's far from having the dimensions of a treadmill, such as the Body-Solid T100, for example. It takes only 50″L x 19″W (127 x 48 cm) of floor space, but it's recommended to maintain at least two feet of clearance all around it, for safe usage. This being said, it can be a great fit for a cardio machine, if you live in a small apartment.
Seat and handlebar
The Crystal Ultra-Silence indoor cycling bike is equipped with a standard, spring seat, that features a thin layer of padding. It's not an extremely comfortable seat, but on the other hand, this is a bike designed for spin workouts, not for comfort. However,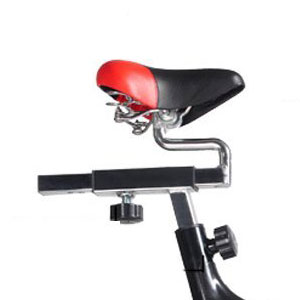 considering that it features a standard connection system, you can easily find a replacement for it. You can also increase its comfort with a gel cover.
The seat is 4-way adjustable (up, down, forward and backward). The saddle can also be slightly tilted forward or backward. It features large adjustment knobs, therefore, its adjustment doesn't take long.
The Crystal SJ-32411 indoor cycling bike features a multi-grip handlebar, which integrates an aero bar. The handlebar is completely padded with synthetic foam to provide a good, comfortable grip. Also, it integrates elbow rests and pulse sensors, accessories which many other exercise bikes in this price range do not have.
The handlebar is only 2-way adjustable (up, down), offering an adjustment span of approx. 5″ (13 cm). Along with the adjustability of the seat, the bike can accommodate users between 4'10" and 6'3″ (147 – 190 cm).
Drive and resistance
The Crystal SJ-32411 exercise bike features a mid-range flywheel, with a weight of 28.6 lbs (13 kg). The flywheel is perimeter weighted, though, offering a pretty consistent momentum and a steady feel. 
The bike uses a belt drive system, integrating heavy-duty v-belt, which renders the bike's operation very smooth and quiet. Another plus for a belt drive system is that it doesn't require lubrication as a chain transmission.
The crankset features durable steel arms, which can support loads up to 250 lbs (113.3 kg). In other words, if you weigh less than that, you can engage in standing up pedaling routines without any problem. Other sources erroneously specify this bike's user weight capacity to be 250 kg (which is over 550 lbs). The real user weight capacity of this bike is 250 lbs.
The crank arms are finished with durable aluminum pedals. These pedals are equipped with toe cages and straps but do not include clips for SPD shoes. However, their threads are standard 9/16, so you should be able to find other compatible pedals in just about any bike shop.
The bike features a classic, friction resistance system, which consists of a felt brake pad connected to the knob on the main tube of the bike. By turning the knob clockwise, the pad applies more drag onto the flywheel increasing the resistance. There are no resistance settings specified on the knob. You simply tighten it until it provides the resistance suitable for your workout.
Just as in many spin bikes, the resistance knob has double-function. It also acts as an emergency brake. By pressing it down you can instantly stop the flywheel from spinning if it's necessary.
Exercise meter
Although the exercise meter supplied with the Crystal SJ-32411 exercise bike is a rather basic one, it still offers two extra features compared to the one on the Sunny SF-B1421. It
can track time, distance, total distance, calories, and pulse. The unit is not telemetric. It can only read your pulse via the sensors integrated into the handlebars. It won't work with any HR chest strap transmitters.
The exercise meter is easy to operate. It has only one button. By pressing it repeatedly you can scroll through the metrics that it can display, and select the one you're most interested in. You can also select its SCAN function, which will enable it to cycle through all the workout metrics automatically, displaying each one for 4 seconds. You can reset all the values on it by pressing and holding the button for 4 seconds. The unit has no custom onboard workouts, and you cannot add any workout programs to it. Also, it's not programmable; you cannot set up targets for distance, time etc.
Assembly and Maintenance
Most of the bike comes ready-assembled. The flywheel, belt, and resistance elements are already in their places. All you have to do is mount the frame on its base bars, add the seat, the handlebar, the pedals and the console, task which shouldn't take more than 30 minutes.
Maintenance doesn't require much. Its belt doesn't require lubrication. However, the resistance pad may require a bit of silicone lubricant, especially if it overheats during a more intense workout, or it generates a squeaking sound. Other than that, make sure to keep the bike clean, and periodically check for loose bolts and parts.
The Pros
Sturdy and durable steel frame;
Small footprint in comparison to other fitness equipment;
Adjustable stabilizers on both base tubes;
Transport wheels;
4-way adjustable seat;
2-way adjustable handlebar;
Multi-grip handlebar;
Elbow rests and aero bar;
Pulse sensors integrated into the handlebars;
Smooth and quiet belt drive, which doesn't require lubrication;
Heavy, perimeter-weighted flywheel for a consistent momentum and a smooth pedaling motion;
Friction resistance, offering the possibility to tighten the resistance pad up to the point you can barely pedal; 
Durable, aluminum pedals, with toe cages and straps;
Exercise meter included;
Bottle holder with bottle included;
Rubber mat for extra stability and floor protection included;
Little maintenance required.
The Cons
The seat is not too comfortable;
The meter display may be a bit difficult to read as it doesn't have backlight;
The calories readings may not be too accurate as the meter doesn't allow you to input personal data as weight, height, gender etc.
Bottom Line
The Crystal SJ-32411 is an indoor cycling bike designed for spin workouts. It features excellent micro-adjustability, friction resistance, and comes with a fitness meter. It's not a commercial grade bike, but for home use, it can provide the perfect training setting for cardio workouts, intervals, building stamina and losing weight. You can actually burn up to 6-700 calories per hour on this bike, depending on the difficulty of your workout. And finally, it's one of the most affordable indoor cycling bikes with a fitness meter that you can find at the moment.