Best Elliptical Trainer Reviews 2017 and Comparison Chart
Elliptical trainers are some of the most convenient and comfortable fitness machines that you can choose from, due to many aspects. For example, they offer an excellent training setting for a superior cardiovascular boost, a full-body workout, and a great weight-loss potential, with a minimal impact on articulations. That's why they're great for a wide array of users. No matter if you're completely out of shape, you're no longer young, you're recovering from an injury or you're already at a pretty high level of fitness, a decent elliptical machine should be able to offer you the aerobic workout that you need.
But since there are many models out there, it's only natural to feel a little bit confused when choosing one, if you've already decided that this is the training machine that you want to use in the comfort of your home. There are many specific aspects that you should know about elliptical trainers. Within this post, we'll put them into view, along with a palette of some of the best ellipticals that you can find on the market at the moment. In fact, to begin with, here's a table with 10 of the best ellipticals training machines for 2017, featuring their core specs.
Top 10 Elliptical Trainers
Unit
Size
Maximum
user
weight
Stride
Resistance
Incline
Workout
apps
Warranty
Sunny SF-E3607


L:49.5"
W:27.5"
H:64"

220 lbs
13"
Manual
magnetic
No
No
Frame: 1 year
Parts: 90 days
Schwinn 430


L:71.1"
W:28.2"
H:63.2"

300 lbs
20"
Eddy
current,
20 levels
Manual,
0° - 10°
22
Frame: 10 years,
Parts: 2 years,
Electronics: 1 year,
Labor 90 days
AFG 2.5AE


L:68"
W:22"
H:64"
275 lbs
18"
Eddy
current,
10 levels
No
12
Frame: Lifetime,
Parts: 1 year,
Labor: 1 year
Nautilus E614


L:71.5"
W:26.7"
H:63.2"
300 lbs
20"
Eddy
current,
20 levels
Manual,
0° - 30°

22
Frame: 10 years,
Parts: 2 years,
Electronics: 1 year,
Labor 90 days
Sole E35


L:82"
W:31"
H:67"
375 lbs
Adjustable,
20"-22"
Eddy
current,
15 levels
Motorized,
0° - 30°
10
Frame: lifetime
Parts: 5 years
Electronics: 5 years
Labor: 2 years
Schwinn A40


L:59"
W:23"
H:64"
275 lbs
17.5"
Eddy
current,
8 levels
No
7
Frame: 10 years
Mechanical: 1 year
Electrical: 1 year
Wear: 60 days
Labor: 60 days
IRONMAN X-Class 610


L:70"
W:31"
H:64"
325 lbs
23"
Eddy
current,
32 levels
No
16,
Bluetooth
enabled
Frame: lifetime
Parts: 5 years
Electronics: 5 years
Labor: 5 years
Schwinn MY17 470


L:70.1"
W:28.2"
H:63.2"
300 lbs
20"
Eddy
current,
25 levels
Motorized,
1°-10°
29,
Bluetooth
Frame: 10 years
Parts: 2 years
Electronics: 1 year
Labor: 90 days

Exerpeutic 1000XL

L:54"
W:23"
H:63"
300 lbs
13"
Manual
magnetic,
8 levels
No
No
Frame: 3 years
Labor: 90 days
Sole E95


L:83"
W:27"
H:62"
400 lbs
Adjustable,
20"-22"
Eddy
current,
15 levels
Motorized,
0° - 30°
10
Frame: lifetime
Parts: 5 years
Electronics: 5 years
Labor: 2 years
As you can see, the selection of elliptical training machines presented in the table above covers a range of models from the most basic, to some of the most inclusive. You should be able to find one in there that fits your needs and budget. Within the final part of this post though, you'll find a more detailed recommendation by price, and our final recommendation for the best model for home use.
However, before we get to that, there are several important aspects that must be clarified about ellipticals.
Why Should You Buy An Elliptical Training Machine?
One of the main reasons to invest in a quality trainer pretty much stands for just about any other fitness machine: it's the possibility to workout from the comfort and safety of your own home. You'll be able to watch your favorite TV shows or online streams, you'll be able to listen to your favorite music without bothering anyone, you won't have to wait in line to use the elliptical, and you won't be stressed out that others are waiting for you to finish. They are also more appropriate for home use than treadmills as they produce much less noise; the cadence noise, thumping, and stomping sounds usually generated during a run on a treadmill are non-existent when using an elliptical.
During the cold seasons running outside can be risky, or simply impossible; therefore indoor training is the best option. However gym fees may be quite costly, and by saving the money for several monthly subscriptions, you may gather just enough to buy a decent elliptical trainer.
Another important reason to get an elliptical machine is the low impact training that it can offer. Even the most basic models can supply a safer workout, and with a much less impact on the joints than a treadmill or even an indoor cycling bike. When riding an elliptical machine, your feet maintain contact with the pedals at all time, and this way there's virtually no cadence related shock on knees and ankles. On top of that, many models feature pedals with pivoting mechanisms and extra cushioning, in order to provide maximum comfort. This makes elliptical trainer a great choice for users with articulation problems, or for users recovering from various injuries.
An elliptical trainer offers a full body workout. The elliptical motion engages many groups of muscles, not just the legs and lower body. Also, there are models with pivoting handlebars, such as the Yowza models, which offer a much better workout for the arms, shoulders, and torso. This being said, these machines are great for muscle toning and calorie burning. Depending on your weight and the intensity of workout you're undergoing, you can actually burn 7-800 calories per hour on this type of fitness machine, or even more.
Since elliptical machines are excellent for cardio training, they can successfully be used in interval workouts. Adding the minimal impact on the joints that they provide, it's actually recommended to use over treadmills in interval workouts.
Last but not least, an elliptical machine promotes a healthy, upright posture rather than the leaned forward, slouching posture promoted by indoor cycling bikes, which may generate all kinds of back problems.
Main Differences Between Commercial Grade And Home-Use Ellipticals
You ought to know these differences in order to make sure you end up with a durable piece of equipment when it comes to an elliptical. Also, since there are intermediate models, this will help you see better which models have a better price/quality ratio.
To begin with, most commercial grade ellipticals are equipped with shock absorbing mechanisms and cushioning, eliminating completely the stress on ankles and knees, and maximize the contact of the pedals with your feet during your training. This also generates a more stable and smooth feel. On the other hand, the cheaper models have simple pedals, without any shock absorbing system, and in general, without any articulation. Don't get this wrong though, using a fitness machine of this type, with simple pedals still offers a workout with much less stress on the joints than running. But the more advanced machines improve the elliptical motion by a lot.
All gym-class ellipticals feature a motorized, automatic incline, offering more or less incline percentage. On top of that, they offer various onboard workout routines which will automatically adjust incline and resistance. Conversely, the basic ellipticals don't offer this feature. However, there are mid-level ellipticals, such as the Nautilus E614 or ProForm 520 which feature a manual incline. In case of a manual incline system, even though you won't be able to adjust the slope during your workout, you can still have this possibility, which leads to a more diversified workout spectrum.
Footprint and overall assembled weight are pretty large in gym-grade ellipticals. Most of them have a length and width of approx. 80″ x 26″, taking quite some space, and weighing over 200 lbs, which may render transport and assembly rather problematic. On the other hand, many basic models have a much smaller footprint and a weight lower than 80 lbs. Maximum user weight is also an aspect to look at, especially if you need to shed several dozens of pounds. If some of the basic models can only support 220 – 250 lbs of user weight, most commercial grade ones are made to support users of 400 lbs or more.
There are huge differences between the consoles of basic models and commercial models. Basic models typically feature a basic computer, which tracks calories, time, speed, distance, and some of them can track pulse as well. However, gym grade models have quite advanced and multifunctional consoles, with multiple workout apps, built-in cooling fans, sound systems, Bluetooth, and online connectivity.
Advantages of a Variable Stride
One really important aspect with regards to ellipticals is stride length. And we dedicate a whole title to it because this aspect really needs clarification.
In general, in most ellipticals with an incline mechanism, the stride is more or less variable. As incline is increased, so is the stride. Therefore, at a maximum incline, the stride also reaches a considerable increase, and sometimes the pedaling motion becomes closer to a stair climb, rather than a walk, or jog.
The stride length of an elliptical machine is really important as it directly influences the consistency of your workout. For example, a machine with a short stride, of 13″ isn't exactly fit for an intense workout. Exercising with such a stride pretty much resembles a light stroll, at a small pace. Commercial ellipticals usually offer an adjustable stride, beginning at 19″ – 20″, and up to 32″. It goes without saying that such an elliptical can also offer a heavy-duty workout, for a maximum cardio burn.
Now, it's important to realize that by using the same stride length, and maybe with the same training routines, may lead to a certain acclimation of your body to that specific training. Thus, the final rewards may be reduced over time. But by adding to incline and stride, or alternating stride lengths and training intensity, you can maximize the efficiency of your training. That's why, if you're going to opt for an elliptical trainer, it's a good idea to invest in one model which offers a decent incline capacity.
Our Best Recommendations by Price
For the final part of this page, we're going to put into view some recommendations by price. And when it comes to price, elliptical trainers can actually be divided into three major categories:
under $300 – typically basic machines, with no incline, no workout apps, simple pedals and very few resistance settings;
between $300 and $1000 – ellipticals with a medium spectrum of options, some of them with manual incline, most of them offering at least a basic array of workout apps, automatic resistance adjustment, and pretty decent build;
over $1000 – elliptical trainers made for gym use, with an extremely solid construction, high ergonomics, online connectivity, many workout apps etc.
Therefore, here are 3 recommendations for each price interval:
Price: Under $300
Sunny Health & Fitness SF-E3607
The Sunny SF-E3607 is a basic elliptical trainer, with manual magnetic resistance, rear drive, and a simple fitness console. It has simple frame construction, with a 1-piece, steel frame. It's light machine, with a weight capacity of only 220 lbs. Its console does not have any workout programs. It can only track your main workout statistics, such as time, distance, speed, calories and pulse. For distance, it also has an odometer function, which basically keeps track of how many miles you've traveled.
The Sunny SF-E3067 is also a machine with a limited range of motion. Its stride is only 13″ which means it's a trainer made mostly for light aerobic workouts. Also, it's not exactly a machine for tall users. But nonetheless, since it costs less than $200, it definitely has a decent price/value ratio… Read Full Review.
Sunny Health & Fitness SF-E2310
If you're looking for affordable fitness machines for home use, machines that feature a solid construction, you've got to have a look at what Sunny Health & Fitness has in stock. When it comes to elliptical trainers, there are quite many Sunny models under the $300 mark. However, one of the most solid is the SF-E2310.
This model actually has a construction similar to the one of an indoor cycling bike. The frame is made of thick, heavy steel tubing, and the drive system involves a rather heavy, perimeter weighted flywheel. It features a friction brake, with a top-to-down felt pad. One of the best aspects of this machine is that it can support up to 300 lbs user weight… Read Full Review.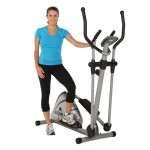 Although the extended title of this particular elliptical machine suggests that it's a "heavy-duty" one, it's far from the sturdiness of gym-class models. It also supplies a rather short stride, of 13″, which it's not adjustable, these aspects placing it into the category of models that can only offer a "stroll ride" at a small pace, in other words, a light workout. On the other hand, it can support users up to 300 lbs and has quite a decent construction.
It's a machine with manual magnetic resistance, pretty quiet and easy to use. Like most other models in this price interval, it comes with a basic console, for tracking speed, time, scan, calories, and pulse. It has two set of bars, for mobile action and for fixed action, the fixed ones featuring built-in pulse sensors… Read Full Review.
Price: $300 – $1000
The ProForm Smart Strider 735 elliptical trainer offers an impressive array of features and functions, along with a commercial grade frame and construction. It's a rather large machine, with a footprint of 78.5″L x 32″W but it has a fold-away design. The whole console mast, along with the arms can be folded down onto the frame, while the frame can be stored in a vertical position, resting on its rear base and flywheel guard. Its pedals offer angle-adjustability, and several adjustment settings, not only to supply the most comfortable positions for your feet but also increase the workout spectrum.
Needless to say, this ProForm elliptical features a motorized magnetic resistance system, with 20 tension levels. Its console has 22 pre-set workouts and also integrates a sound system, cooling fan, and tablet holder… Read Full Review.
In general, Schwinn offers only top-quality fitness equipment, and when it comes to ellipticals, there's no exception. The best price/quality ratio is offered by the Schwinn MY16 430, as its price is only a little above $500, but offers almost as many features as the commercial, gym models. Also, this model is one of the newest from Schwinn, released in the second part of 2016.
The Schwinn MY16 430 is a trainer with automatic magnetic resistance, featuring 20 tension levels and 22 onboard programs. Needless to say, it's quite a sturdy machine, being able to support users up to 300 lbs. Pedals feature cushioning, while the fixed handlebars incorporate sensors for pulse reading. This model is also equipped with an incline system, but just as for the ProForm 520, its incline system is manual. It has a standard 20″ stride… Read Full Review.
The Nautilus E614 is a model similar in design and specs to the Schwinn 430. In fact, they're almost the same machine. It costs a little more than the Schwinn model though, but pretty much the only difference is the construction of the front base. This model features a front base consisting of a triangular tube with rubber feet, while the Schwinn has a cylindrical tube base, with caps on the ends, rather than feet.
Nonetheless, the Nautilus E614 is also an excellent fitness machine, with a solid build, and quiet, eddy current brake, with 20 levels of resistance. The onboard programs are 22 in number, also offering 2 user profiles for multiple users. The console on this machine is quite a multifunctional unit, including 3-speed fan, sound system, tablet rack and a dual LCD monitor combo… Read Full Review.
Price: Over $1000
Just about any elliptical trainer over the mark of $1000 should offer a solid construction, at least a fair amount of onboard workout apps, shock-absorbing pedals, power incline, and of course, a higher user capacity. The Sole Fitness E35 is actually one of the most affordable ellipticals that fit this category. It's a model with a front drive system, and the incline situated at the rear. It actually offers an incline up to 30°, which also adjusts the stride between 20″ and 22″.
One of the best aspects with regards to this Sole trainer is that it has a double gliding rail on each side, supplying a much smoother and stable feel during workouts. Needless to say, this machine comes with a multifunction console, with a built-in cooling fan, sound system, and other comfort factors… Read Full Review.
There aren't many significant differences between the Sole E35 and Sole E95. The second one has pretty much the same construction, with the same number of resistance settings and incline settings. The two major differences between the two is user capacity and flywheel weight. The Sole E95 is rated for users up to 400 lbs, while the E35 can support users only up to 375 lbs. The flywheel on the E95 is slightly heavier than on the E35, 34 lbs as opposed to 29 lbs. A heavier flywheel offers a little bit more resistance and smoothness to the pedaling motion.
This elliptical also has 10 onboard workout apps and 15 resistance levels. It features a solid construction, meant to withstand repeated and prolonged use within a gym… Read Full Review.
Although it's not a full commercial machine, the Yowza Fitness Jupiter Plus definitely has all the "ingredients" of a light-commercial one. It's a rear drive elliptical trainer, with a really sturdy frame construction, and a weight capacity of 300 lbs. The machine itself weighs over 200 lbs, aspect that considerably enhances its stability. Its pedals are equipped with ErgoFit™ and SureFit™ shock absorption elements, in order to take the workout impact on your joints to almost zero. Also, its stride is adjustable, in a span between 18 to 22 inches.
Like most trainers in this price range, this Yowza Fitness elliptical trainer features an automatic resistance system, with 16 tension levels. Its console unit has 9 pre-set workouts, 5 user profiles, sound system, cooling fan… Read Full Review.
Final Pick: The Best Elliptical Trainer for Home Use
All the models within the recommendations above are pretty solid, offering an excellent price/quality ratio. But for our final recommendation for a home-use elliptical, we went with the Schwinn MY17 470. That's because it offers quite an array of elements also present
in commercial grade machines.
To begin with, the MY17 470 is one of the newest elliptical trainers released by Schwinn in 2017. As opposed to the older Schwinn 470, it features a console with an interface that is more user-friendly and also has Bluetooth connectivity, being compatible with the "Schwinn Trainer" app. This trainer features an eddy current resistance system, offering 25 resistance levels and 29 workout programs. It also has an automatic incline system, offering a ramp up to 10°.
There are actually very few aspects that keep this trainer out of the commercial category. These are its 300 lbs weight capacity (while commercial trainers offer a greater capacity) and its non-adjustable stride. However, it offers a stride of 20″ which can accommodate users up to 6'3″… Read Full Review.
Final Thoughts
Choosing a fitness machine to use in the comfort of your home may not be quite an easy task, as there are many types out there, which can supply a similar training setting. But if you're looking for one that can supply a great aerobic training and help you lose weight with a minimal impact on the joints, an elliptical trainer is an excellent choice. Therefore, if you've decided upon this type of exercising machine, the selection of models we've pointed out in this post should help serve you as a starting point for choosing the model that fits perfectly to your needs and budget.