The Xtremepower US trainer is in the same category of affordable indoor cycling bikes as the Urstar or Goplus bikes. It's definitely not a commercial grade model, but it boasts a pretty decent construction, being able to support a wide array of spin workouts. As opposed to many other bike models in this price range, this one includes a fitness meter, which is quite a plus for an affordable bike.
Technical Details and Specifications
Assembled dimensions: 44L x 19W x 43H inches (112L x 48W x 109H cm)
Assembled weight: 61 lbs (27.6 kg)
Flywheel weight: 22 lbs (10 kg)
Supported weight: 441 lbs (200 kg)
Handlebars: 2-way adjustable
Seat: 4-way adjustable
Pedals: With toe cages
Drive: Chain
Resistance: Standard friction
Bottle holder: Included
Computer: Basic
Frame construction
The XtremepowerUS indoor cycle trainer features a frame made of steel tubing. It's not an extremely heavy bike, though, due to the lighter flywheel. When fully assembled it weighs only approx. 61 lbs (27.6 kg), which makes it very easy to transport and assemble.
All the bike's steel parts are coated with a corrosion resistant powder paint finish. As the title suggests, this is the Blue-Black model, but there's also a Red-Black model which comes with a slightly different seat.
Despite the lighter construction, the bike offers excellent stability. Both its base bars are equipped with adjustable levelers, so you should be able to perfectly stabilize it on any type of flooring. The front base bar also has a set of transport wheels to ease the bike's relocation for storage, once you have finished exercising.
This XtremepowerUS indoor cycling bike is far from being a large fitness machine. With the frame completely assembled, its length reaches approx. 44″ (112 cm), while its width is approx. 19″ (48 cm). This being said, it doesn't require a wide usage area, but it is recommended to maintain at least two feet of clearance on each side of the bike, and at least one foot of clearance at the rear and front for safe usage.
An important aspect to mention here regarding the bike's frame is the lack of the small horizontal bar above the crank assembly, as in the AFG 7.3AIC cycle. This bar opens the possibility to perform a few extra spin workouts, but the XtremepowerUS bike doesn't have it. But nonetheless, you can perform most other spin workouts on this bike.
Seat and handlebars
The XtremepowerUS indoor cycling bike comes with a pretty standard spin bike seat. Most bike seats of this sort aren't meant for comfort, as many spin workouts require to be standing up on
the pedals for at least a part of the workout. The seat does feature a durable upholstery and a longitudinal groove to promote a healthy blood circulation. It has a standard connection system to its slider, so you should easily be able to find a compatible replacement for it, which delivers more comfort. Also, it's comfort can be improved by a gel cover.
The seat adjusts up, down, back and forth. Its upright adjustment span is between 29″ – 35″ (73.6 – 89 cm) above floor level. The adjustment span of the horizontal slider is 2″ (5 cm). This being said, the bike can accommodate short users, starting with 4'9″ (144 cm), but users taller than 6'0″ (183 cm) will not benefit from a complete leg extension, even with the seat adjusted all the way up and back.
The handlebar is only two-way adjustable (up, down). It offers an adjustment span of a few inches, though. It has a multi-grip design, with high-density foam grips, and a middle loop aerobar. It also incorporates metallic pulse sensors, a feature that other bikes in this price range don't have, and the included training meter can track your pulse.
Drive and resistance
This indoor cycling trainer is equipped with a chain drive. This type of drive comes with two main benefits. First of all, it uses a standard bike chain, so in case it sustains damage, you can easily find a replacement for it in just about any bike shop. Second, a chain drive is more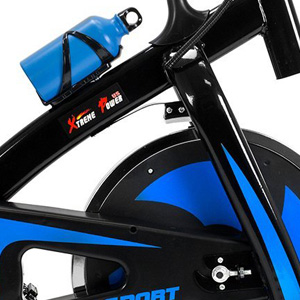 durable than a belt drive, it doesn't stretch, and with proper care, it can last a lifetime.
The bike's flywheel is not extremely heavy, though. It's actually a fairly light type, weighing only 22 lbs (10 kg), while other models, such as the Sunny SF-B901B or the Bladez Echelon come with a 40 lbs (18.1 kg) flywheel. Evidently, a heavier flywheel offers a stronger momentum and a higher challenge. But nonetheless, the 22 lbs (10 kg) flywheel on this bike also provides a pretty decent momentum; it's also perimeter-weighted, so the pedaling motion is very smooth and steady.
The flywheel is also bi-directional. This means you can pedal in reverse. But since the bike is not equipped with a derailleur or other gear system, it doesn't give you the possibility to coast, like a road bike. When pedaling in reverse, it maintains its resistance.
The bike is equipped with a very solid crankset. The manual actually specifies that it can hold riders up to 441 lbs (200 kg), and that should stand for spin workouts too. However, considering the bike's overall construction, we don't recommend it for users heavier than 300 lbs (136 kg).
The crank arms are made of solid steel. They're finished with metallic alloy pedals, with toe cages and straps. The pedals do not have SPD elements for spin shoes. But on the other hand, they feature standard threads, and just as for the seat, you should easily be able to find compatible SPD replacements for them.
The XtremepowerUS exercise bike features a standard, top-down, friction resistance system. It consists of a felt brake pad connected to the dial on top of the main tube of the frame. When you turn the tension dial clockwise, the brake pad applies more friction to the flywheel generating more resistance.
The resistance dial also acts as an emergency brake. In case you want to stop the flywheel from spinning, you can press it down. This is actually recommended when you want to change the way of pedaling from normal to reverse, or vice-versa, to prevent injuries.
The bike's resistance system doesn't have distinctive levels marked on the tension dial. You simply tighten it until you get the resistance you need for your workout.
Training meter
This exercise bike is an affordable one, so naturally, it comes with a simple fitness meter. However, the unit offers a bit more than the similar basic units, as it can also track your pulse,
along with time, speed, distance, total distance, and calories. It's actually a very similar meter to the one supplied with the Ancheer SP-4013 bike.
The meter unit is quite easy and straightforward to operate. It only has one (MODE) button. The button allows you to toggle ON and Off the unit's SCAN function, which rotates the workout values, showing each one for several seconds. As you stop the SCAN function, you can select time, speed or any of the other workout statistics to be shown on screen all the time. The MODE button also covers the unit's RESET function. By pressing and holding it for a few seconds it will clear all the values to zero.
The unit is battery powered. It starts up when you begin pedaling or when you push the button. It also has a sleep function, to which will enter after a few minutes of inactivity on the bike.
Assembly and Maintenance
Just as many other spin bikes, the XtremepowerUS (Blue-Black) comes almost completely assembled. The flywheel, crank, chain, and brake are already attached to the frame. Therefore, you will only need to add the base bars, the pedals, the seat, the handlebars and the fitness meter. This shouldn't take longer than 30-40 min. as the manual provides pretty clear assembly instructions. Also, all the required tools for the assembly are included.
Since it's a chain drive exercise bike, the main aspect of its maintenance is lubricating the chain. This can be done with standard bike chain oil. The resistance pad may also require lubrication if it produces squeaking noises when in contact with the flywheel. For this, silicone lubricant is recommended. Other than these, it's a good idea to periodically check the if all the bolts and parts hold tight in their places, and re-tighten them if it's the case.
The Pros
Sturdy steel frame;
Small footprint in comparison to other fitness equipment;
Adjustable stabilizers;
Transport wheels;
4-way adjustable seat;
2-way adjustable handlebar;
Multi-grip handlebar;
EKG sensors incorporated into the handlebar;
Highly durable chain drive;
Bi-directional flywheel with a perimeter-weighted structure for a consistent momentum and steady motion;
Friction resistance, which basically offers tension up to the point you can barely pedal;
Bottle holder with bottle included;
Included fitness meter, which tracks speed, time, distance, calories and pulse;
Easy to assemble;
Little maintenance required.
The Cons
No SPD clips on the pedals;
No backlight on the fitness meter.
Bottom Line
The XtremepowerUS indoor cycling trainer is a model designed for spinning workouts. It features a sturdy frame, a 22 lbs flywheel, friction resistance, and a 4-way adjustable seat. It also has a fitness meter which can track speed, distance, total distance, time, calories and pulse. It's an indoor cycling trainer perfect for interval training, light to intense cardio, muscle toning, building stamina and leg muscle strength, and of course, for losing weight. Finally, it's one of the most affordable bikes in this spec range, currently priced under $200.