Best Rowing Machines Reviews 2018 and Comparison Chart
Rowers come in a variety of shapes and sizes. They all offer basically the same type of workout. But depending on their construction, resistance system, and several other factors, the overall feel and impact of the workout may be different. There are many types of rowers that you can choose from, and not just about any model may fit into your home or workout that you require.
Therefore, this page brings forth several of the best rowing machines for 2018, it aims to make sure that a rower is exactly the machine that you need by pointing out several important aspects regarding these machines, and finally, we'll make a few recommendations to fit to just about any budget. But before we get to that, here are 10 of the best rowers at the moment.
Top 10 Best Rowers
Unit
Unit
dimensions
Maximum
user
weight
Unit
weight
Frame
Resistance
Console
Warranty
Stamina Body Trac Glider 1050


L:58.25"
W:42.5"
H:18.12"
250 lbs
39 lbs
Steel,
Aluminum

Hydraulic
Adjustable,
12 levels
Time,
Calories,
Count,
Total
count
Frame: 1 year
Parts: 90 days
Sunny SF-RW5515


L:82"
W:19"
H:23"
250 lbs
59 lbs
Steel,
Folding
Magnetic,
8 levels
Time,
Calories,
Count,
Total
count
Frame: 3 years
Parts: 90 days
Marcy NS-6050RE


L:86"
W:20.5"
H:36"
300 lbs
85 lbs
Steel,
Aluminum
Air,
Magnetic
Time,
Speed,
Calories,
Count,
Distance,
RPM
Unspecified
Sunny SF-RW5623


L:86"
W:19"
H:28"
300 lbs
59.5 lbs
Steel,
Aluminum
Air,
Magnetic
Time,
Count,
Total
count,
Calories,
SCAN
Frame: 1 year
Parts: 90 days
LifeCORE Fitness R90


L:96"
W:18"
H:41"
300 lbs
80 lbs
Steel,
Aluminum
Air,
Magnetic
Time,
Time/500m,
Strokes/Min,
Total Strokes,
Meters,
Watts,
Calories,
Pulse,
Goals,
Recovery
Frame: lifetime
Parts: 3 years
Labor: 1 year
FDF Viking 2 AR


L:84"
W:22"
H:21"
330 lbs
72 lbs
Ash
wood
Water,
Adjustable,
4 levels
Time,
Distance,
SPM,
Watts,
Cal/H,
500m split,
Pulse,
Frame: 5 years
Parts: 3 years
Wear: 2 years
FDF Newport AR


L:77.8"
W:20.9"
H:20.1"
300 lbs
60 lbs
Anodized
aluminum,
Non-folding
Water,
Adjustable
Distance,
Calories/hour,
Strokes per minute,
Wattage,
Time,
500M time,
Pulse,
PC connectivity.
Frame: 5 years
Tank: 3 years
Seals: 3 years
Mechanical: 2 years
Parts: 1 year
Concept2 Model D


L:96"
W:24"
H:14"

500 lbs
57"
Aluminum
and steel,
Folding.
Air,
Adjustable,
10 levels
Speed,
Distance,
Pace,
Calories,
Watts,
Pulse,
Games,
PC connectivity
Frame: 5 years
Parts: 2 years
Meter: 2 years
Concept2 Model E


L:96"
W:24"
H:20"
500 lbs
65 lbs
Steel,
Aluminum
Air,
Adjustable,
10 levels
Speed,
Distance,
Pace,
Calories,
Watts,
Pulse,
Games,
PC connectivity
Frame: 5 years
Parts: 2 years
Meter: 2 years
WaterRower Natural


L:82.25"
W:22.25"
H:20"
700 lbs
66.5 lbs
Wood (Ash),
Non-folding.
Water

Time,
Distance, Strokes/min, Calories,
Watts,
Pulse,
9 workouts,
PC connectivity.
Frame: 5 years
Parts: 3 years
Why Should You Buy a Rowing Machine?
To make this clearer, we'll start with the few downsides related to rowing. First of all, due to the seated position, a prolonged rowing session can lead to numbness of the buttocks. And second of all, this type of exercise does put some stress on the lower back. Especially users new to this may experience lower back soreness and even pain after several few sessions until their body adapts to this kind of workout. That's why, due to the stress on the lower back, a rowing machine may not be exactly the best choice for users with problems of the lumbar area.
But on the other hand, there are quite many positive aspects related to this type of cardio training and to these machines in particular.
Rowing comes with a wide array of benefits. Whether you're rowing an actual boat or an indoor rower, it basically has the same effects on your physique and cardiovascular system. It's pretty obvious that the workout posture promoted by either a rowboat or a rowing machine eliminates an important part of the impact on the leg joints of the user, as the upper body weight rests on a seat. The workout involves multiple groups of muscles in the torso, arms and especially legs, and therefore results in a really consistent aerobic workout. Due to this fact, you don't even have to pull extremely hard, in order to obtain a rich cardiovascular workout. That's why a rowing machine is an excellent choice for users who are no longer young and age has already taken its toll on their bodies. But nonetheless, these are machines for users of all ages.
Since rowers interest multiple groups of muscles, they're great machines for boosting strength and stamina. And due to the low impact on the leg joints, they're actually great machines for overweight users, who are just trying to get back into shape. In this case though, it's important to underline that if you want a rower machine to use at home, it's best to check and double check its maximum user capacity, to make sure you end up with a solid machine, not one that will fall apart under your weight.
As opposed to a treadmill which requires quite a bit of focus when running, a rowing machine will actually help you disconnect. Especially if you use a water resistance rower machine, which resembles closely the motion of rowing a real boat, a workout of this sort will actually help you relieve stress and calm your nerves after a busy day at work.
Since most rowers come with at least a basic console, it's easy to track your progress or quantify your workout. Even more, some models feature online connectivity, giving you the possibility to compete with other users worldwide.
Last but not least, a rowing machine gives you the possibility to row in the absence of a boat, and/or in the absence of a body of water. You can also undergo your training in the comfort and safety of your home. Differently put, can watch TV or watch your favorite online streams during your workout, without being exposed to most of risk factors related to being out in open water.
Variable Resistance vs Constant Resistance
There are four main resistance systems featured by rowing machines: water-based, air-based, magnetic and hydraulic. Evidently, each type of resistance has its own specifics, but as a general idea, water and air rowers feature a "naturally variable" resistance. In other words, if you exercise on a water or air rower machine, the harder you stroke, the more resistance you should experience.
Conversely, a rower featuring magnetic or hydraulic tension system cannot render this "naturally variable" feel. Even if they do feature multiple levels of resistance, for each setting the resistance will be constant, and it is not conditioned by the strength you put into your stroke.
Now, regardless of type, just about any rower should provide a consistent cardiovascular workout. If this is what you're looking for, you can basically go with any type. However, if you want to train on a professional level, or train for rowing an actual boat, the natural "feel" of the stroke may be necessary. That's because a rower with constant resistance may affect your technique, or enable you to develop bad habits. Therefore, in this case it's best to opt for a water or air rower.
Differences Between Commercial Grade vs Home-Use Rowers
There are actually several differences between rowing machines made for home use, and the commercial grade ones. The two main indicators are maximum user capacity and price. It's pretty obvious that a rowing machine which is supposed to be used by a wide array of users, within the premises of a gym or club, should be able to withstand even the heaviest users. Thus, most gym-grade rowers have a maximum user capacity of 500 or even 700 lbs. A sturdier build, a higher quality tension mechanism, and a more advanced performance tracking console also lead to a higher price. Also, most rowers you'll find in gyms feature water or air resistance.
On the other hand, there are rowers designed for home use, which usually feature a lower weight capacity, typically up to 300 lbs., a basic design and console, and in general, a folding frame to save space. Most of these models feature hydraulic or magnetic resistance, but you can also find models up to $500 that feature air resistance. Most of these models focus on providing a light to medium intensity rowing training, while most of the ones in gyms can provide the training setting and workout tracking required by professional athletes.
Our Best Recommendations by Price
Now, the price of a fitness machine (not necessarily a rower) can be misleading. Price doesn't always indicate quality. There are actually many excellent rowing machines under $500 that can supply just about everything that you would expect from one. And on the other hand, you'll find expensive rowers, which feature a construction and array of features that doesn't stand up to their price.
Depending on price, rowing machines can be classified by three major categories:
under $500 – this category usually includes magnetic rowers, hydraulic rowers or even air rowers, but with a basic array of features;
between $500 and $1,000 – this category includes rowers with all types of resistance; most of them include a rich array of features, and some of them even have the construction required for gym use;
over $1,000 – rowers with a solid build, high user capacity, made to function 24/7 within the premises of a gym.
Therefore, here are a few quality rowers for each price interval.
Price: Under $500
Similar to Sunny Health & Fitness, Stamina offers several rowing machines under the mark of $300, such as the Stamina ATS air rower, or the Stamina Orbital 1215. Our recommendation here is the Body Trac Glider 1050 as it's a model that benefits from an impressive positive feedback. It costs less than $200, which makes it one of the most affordable rowers available at the moment.
The Stamina Glider 1050 is a hydraulic rowing machine offering 12 levels of resistance. Like most trainers of this sort, it has a small footprint which makes it ideal for use in a small room. On top of that, the frame is foldable. The frame combines steel and aluminum elements, its rail being rated for a user capacity of 250 lbs. As opposed to other hydraulic rowers, the seat is not fixed; it glides on the rail, in order to simulate the rowing motion better. The rower is equipped with a basic ergometer which… Read Full Review.
Sunny Health & Fitness SF-RW5515
If you're looking for a budget rowing machine, Sunny Health & Fitness should be a brand name to put on your list. They sell quite a few models which cost less than $300. We've chosen the Sunny SF-RW5515 for our recommendation here, as it seems to be the most popular. However, models such as the Sunny SF-RW5623, or Sunny SF-RW5639 great machines with an average user rating of 4 stars.
The Sunny SF-RW5515 is rowing machine designed for home use. It offers a long travel for the seat, and due to this fact it can accommodate users taller than 6'5″. However, its weight capacity is only 250 lbs. It has a folding design and is equipped with a manual magnetic resistance system with 8 levels, while its ergometer is a basic unit… Read Full Review.
The Marcy Turbine NS-6050RE is a rowing machine released in 2016. However, it's still available and so far has gathered a fairly decent amount of positive (4.5-stars+) on various fitness websites. It has a resistance system part air, part magnetic. It features a frame construction quite similar to various commercial rowers, such as Concept2 models. It has a durable frame, and even though it's specified maximum user capacity is 300 lbs (136 kg), various users have confirmed that it can support at least 20-30 lbs more.
The Marcy Turbine has a seat that is quite a bit wider than for other models. It's padded and contoured, offering excellent ergonomics, and reducing a bit of the stress on the lower back. Also, a fitness meter a bit more than basic is provided with the machine. This unit features a 7-panel display, so all the workout metrics can be viewed simultaneously. It tracks time, speed, distance, stroke count… Read Full Review.
Price: $500 – $1,000
First Degree Fitness Newport AR
The Newport AR is one of the oldest rowing machines from First Degree Fitness. However, since its one of the rowers that offer an exceptional price/value/quality ratio, it's still available in 2018 and continues to gather 5-star reviews from most users.
Like mode rowers from First Degree Fitness, this particular model not only that has water resistance, which offers a dynamic response during rowing depending on the force behind each stroke, the water level in the tank is adjustable, so you can actually change the levels of resistance. Many other rowers featuring a water resistance system, such as the WaterRower ones, don't have any resistance settings, so in order to change the overall resistance, you have to add or remove water from the tank.
The FDF Newport AR features a steel frame with an aluminum monorail for the seat. The water tank is made of solid polycarbonate material and has a capacity of 17 liters (4.5 gal)… Read Full Review.
The LifeCORE Fitness R90 is also an air rowing machine, but as opposed to the Concept2 models, it doesn't have a damper as adjustment system for its resistance. Instead, it uses a manual magnetic resistance system which offers 6 distinct levels.
The LifeCORE R90 has a steel/aluminum construction with a weight capacity of 300 lbs. The frame features a folding design, and with the rail folded up, its total length is reduced to approx. 41″. Its monorail is long enough to accommodate users up to 6'7″, allowing a complete leg extension and promoting a correct rowing form.
The machine is equipped with a mid-range fitness meter, featuring a multi-panel LCD display. Its readouts are 500m time, total time, total strokes, strokes per minute, watts, calories, speed, distance, and pulse. The distance and speed readings can only be displayed in metric units. Also, the unit can only read your pulse via a wireless HR chest strap, and this accessory is not included… Read Full Review.
The Concept2 Model D has been one of the best (if not the best) air rowing machines for the past several years. So far, it has a clean, 5-star rating on most websites, and therefore, it simply must be one of our recommendations. It's a commercial-grade machine, currently priced for less than $1,000.
The Concept 2 Model D features a heavy-duty steel frame with an aluminum monorail. It has an impressive weight capacity of 500 lbs. It's also a pretty long machine, the standard length of the gliding rail being able to accommodate tall users, with an inseam of 38″. Even more, there's the possibility to opt for a longer rail, in case you're a really tall person. The resistance system is air-based, but as opposed to other machines, the flywheel casing has a damper which allows you to change the airflow intensity and the overall resistance. The machine comes with the PM5 ergometer, which … Read Full Review.
Price: Over $1,000
WaterRower not only that offers top-quality rowing machines, but all of them feature a water resistance system, which is known to provide the most natural rowing feel and a dynamic response during each stroke. Also, most of their models feature a very stylish design, with a warm, wooden frame.
The WaterRower Natural is one of the oldest models, featuring classic design lines. The wooden frame (ash, cherry or walnut) is coated with Danish oil, which results in a very smooth finish, without being glossy or slippery, considerably increasing its liquid resistance. Since it's a wood frame, it absorbs shock and vibration much better than a metallic frame, also being lighter.
The water tank is made of durable polycarbonate material. The seat is padded but not cushioned, supplying the optimal comfort that any user should benefit from when using a rowing machine. The included S4 console offers several workout programs, also being PC interface capable… Read Full Review.
Just as the Model D, the Concept2 Model E is one of the highest rated air rowing machines available at the moment. It costs approx. $200 more than the Model E, though, as it offers several extra features. First of all, it has higher rear and front stabilizers; due to this fact, the seat is placed at approx. 20″ above floor level which makes entry and exit easier, especially for elderly users or users with disabilities. The chain housing is fully closed, offering a bit of extra safety. Plus, the frame has a double coating finish with a glossy aspect.
The Concept2 Model E comes with the same PM5 fitness meter as the model D. This unit tracks speed, pace, distance, time, calories and wats. There are five display options, such as all data, bar chart, large print, force curve and paceboat. You can set your own targets for values such as time, distance or interval. Plus, there are 5 preset workouts… Read Full Review.
The BodyCraft VR500 Pro is a commercial grade rower featuring a heavy-duty anodized aluminum frame but also integrates steel and hard plastic elements. To be more specific, the gliding beam is made of aluminum, while its support legs are steel-made, and the fan casing is ABS-made. It has a thick and solid monorail rated for a user capacity of 350 lbs. Its seat features a contoured surface and a layer of padding which is not extremely thick but provides the adequate comfort for prolonged rowing sessions.
The BodyCraft VR500 Pro features an air & magnetic resistance system. The fan element provides a dynamic response during rowing; in other words, the resistance increases if you pull harder. The magnetic brake, on the other hand, allows you to adjust the machine's overall resistance, offering 32 distinct levels. The ergometer unit included with this machine is quite an advanced one. It offers 12 preset workout programs and 4 user profiles… Read Full Review.
Our Final Pick: Best Rowing Machine For Home Use
As we've mentioned above, the Concept2 Model D has been one of the best (if not the best) air rowing machines for several years in a row. It's still available in 2018, and so far it has a clean 5-star rating sheet on most fitness and retailer websites. Even though it's a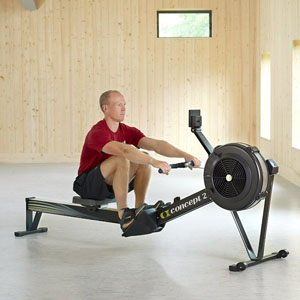 commercial grade trainer it's not an overpriced one. It currently costs less than $1,000 and offers an exceptional price/quality/value ratio.
The Concept2 Model D features a steel & aluminum construction, with a monorail rated for users up to 500 lbs. Although the frame is fairly large, especially lengthwise, the rail with the seat can fold up, offering better storage possibilities. Its seat is fairly large and contoured, designed to deliver optimal comfort. It's equipped with heavy-duty wheels which integrate sealed bearings for a smooth and quiet motion.
The machine features an air resistance system. The fan casing is also equipped with a damper which offers 10 adjustment settings. By adjusting the airflow inside the fan casing, you can adjust resistance. When used on the 8-10 settings, the resistance it provides is considerably high, supplying a high-intensity workout.
The machine comes with a performance monitor which not only can track the most important data, such as speed, distance, pace, watts, and calories, it also features several games, which can help you kill the boredom of a long rowing session… Read Full Review.
Final Word
Exercising daily is necessary, and when it comes to this, there are many machines that can supply you with an excellent training setting. But if you're looking for one that can offer a superior aerobic training, build stamina and strength, and tone multiple muscle groups, all with a minimal impact on the leg joints, a rower is the perfect choice. All the rowers mentioned here were minutiously analyzed, all of them featuring a solid price/quality ratio. Thus, this page should serve as a good starting point for choosing a model perfectly fit for your budget and home-gym.