Best Indoor Cycling Bikes Reviews 2018 and Comparison Chart
If you want to exercise within the comfort of your home, there are many choices that you can make when it comes to fitness machines. Elliptical trainers, treadmills, exercise bikes, or rowing machines, for example, can all give you the possibility to burn some calories or put your heart and muscles to work on a daily basis. But some of the most convenient fitness machines that you can choose from are the indoor cycling bikes.
When it comes to exercise bikes, there are several types: upright, indoor cycling (or spin bikes), and recumbent. Of them all, the indoor cycling types supply the most demanding workout. They're usually built for intense cardio training and stamina building, they regularly feature a heavy flywheel, sturdier frames and cranks, being able to support the user even in a standing position.
Now, since there's quite a plethora of models out there, choosing the right one may not be an easy task. That's why we dedicate this post to putting into view the some of the best indoor cycling exercise bikes on the market. So, to begin with here's a table comparison of the top 10 indoor cycles for 2018.
Top 10 Indoor Cycling Bikes
Unit
Size
Maximum
user
weight
Flywheel
weight
Resistance
Drive
Console
Warranty
Merax Red1


L:40"
W:23.6"
H:43"
330 lbs
22 lbs
Friction
Belt
Time,
Speed,
Distance,
Odometer,
Calories,
SCAN
1 year
Sunny SF-B1110


L:46.5"
W:20.5"
H:47.5"

265 lbs
44 lbs
Friction
Chain
No
Frame: 3 years
Parts: 90 days
Efitment IC031


L:50"
W:22"
H:50"
275 lbs
40 lbs
Magnetic
Belt
Time,
Speed,
Distance,
Odometer,
Calories,
Pulse,
SCAN
3 years
L-NOW LD-598


L:44"
W:2"
H:41"
400 lbs
40 lbs
Friction
Belt
Calories,
Distance,
Speed,
Time,
Pulse,
SCAN
1 year limited
Bladez Echelon GS


L: 48.8"
W: 19.8"
H: 43.3"
275 lbs
40 lbs
Friction
Belt
Time,
Speed,
Distance,
Calories,
Goals,
SCAN
Frame: Lifetime
Parts: 1 year
ASUNA Lancer



L:57.5"
W:25.2"
H:53"

285 lbs
33 lbs
Magnetic
Belt
Not
included
Frame: 5 years
Parts: 90 days
BodyCraft SPX Club


L:43"
W:24"
H:47"
300 lbs
46 lbs
Friction
Belt
No
Frame: lifetime
Parts: 5 years
SOLE SB700


L:40"
W:21"
H:42"
300 lbs
48 lbs
Friction,
kevlar pad
Belt
RPM,
distance,
speed,
calories,
time
Frame: lifetime
Parts: 3 years
Electronics: 3 years
Labor: 1 year
Keiser M3 Plus


L:57.25"
W:26"
H:50.76"

300 lbs
8 lbs
Magnetic
Belt
Time,
Distance,
Speed,
RPM,
Calories,
Pulse,
Bluetooh

Frame: 3 years
Parts: 3 years
Wear: 6 months
Labor: 6 months
BodyCraft SPT-Mag



L:42"
W:24"
H:47"
350 lbs
Not
specified
Magnetic
Belt
Not
included
Frame: Lifetime
Parts: 5 years
Wear: 1 year
Labor: 2 years
All models listed in the previous table share several common features. They all have a considerably solid frame, most of them feature superior micro adjustability, a heavy flywheel, they can pretty much accommodate a wide range of users, height and weight wise, and they all come with great price/quality ratio. However, the design might differ from a model to another, and each particular machine may include several features that other models do not offer. The main aspects such as resistance type, drive type, maximum supported user weight and others are reflected by the table, but more details regarding each model can be found in its review on this site.
Now, normally the next step in this post would be to make a few recommendations by price since price weighs heavily in anyone's decision to purchase anything, not just an exercise bike. But before we get to that, just to make sure you will get the right one, there are several other aspects regarding spin bikes or indoor cycling bikes, that you should be aware of. Therefore, we will proceed with explaining those aspects first.
Why Should You Buy an Indoor Cycling Bike?
Pretty much like outdoor cycling, using an exercise bike indoors offers the same health benefits. For example, pedaling supplies a great cardio training, an excellent method to build stamina, and evidently helps a lot with burning calories and losing weight. Depending on your weight, you can burn between 400-700 cal. per hour on a fitness machine of this type. On top of that, since many exercise bike models come with a console, you get the possibility to accurately track your progress. Some of the most advanced ones have consoles with online connectivity, giving you the possibility to compete or compare your progress with others, or download various training programs.
Even though cycling doesn't supply a full body workout, leg muscles and lower core muscles are focused during a cycling session. Also, cycling is much easier on the joints than running, even than running on a cushioned treadmill. In case you need to alternate cardio with other types of training, an exercise cycle next to a treadmill is always a great choice.
Evidently, by cycling indoors, comfort and safety are considerably increased. You can watch your favorite shows, your favorite online streams, or read your favorite book while on a spin bike. However, when cycling outdoors you have to pay attention constantly to everything that happens around you. And no matter how safely you ride an outdoor bicycle, there's always the danger of a reckless driver, or a nasty insect for example, which may lead to a more or less serious injury. Dangers of such manner are nonexistent when cycling in-doors.
What to Choose: Commercial Grade or Home-Use Bikes?
In case you haven't noticed, this category of fitness machines actually has two subcategories: those intended for 24/7 use, within the premises of a gym, and those which are meant for home use. There are differences between the two, and needless to say, the gym-grade trainers are more expensive. Evidently, you can invest in a gym-quality indoor cycle to use within your own home. But the question is, is it worth the financial effort? We're pretty sure you'll be able to form your own opinion regarding this issue, after finding out the differences between these two major categories of indoor cycle trainers.
Spin Bike For Home Use
Spin Bike for Club Use
Commercial grade spin bikes typically feature an extremely sturdy and heavy frame, made of thicker steel tubing. Frames and overall aspect in these models have a more appealing, professional look. Most of them have a maximum supported user weight of 350 lbs (159 kg), but there are also cycles which can support users up to 500 lbs.
Another aspect regarding the types intended for gym use is micro adjustability. This is quite important, as in a gym, there will be users of all sizes, and the bikes need to fulfill their needs. So, vertically and horizontally adjustable seats and handlebars are typically present in these models, and some models also offer angle adjustability for the handlebars, to maximize the workout posture spectrum.
When it comes to consoles, even though you would expect such an accessory to come with a gym-grade model, they're not always included. And most available gadgets of this sort are pretty basic for most indoor cycle trainers. In general, all of them track speed, distance, time, calories, and some of them can also track pulse. Only the ones with eddy current resistance feature automatic resistance settings and preloaded workout apps.
Finally, the price for spin bike models starts somewhere at $900 and can go beyond $2,000. However, warranty for fitness machines of this nature is also typically consistent.
Home-use models on the other hand, although pretty similar to the previous type, feature a lower supported weight, typically between 250-300 lbs (113 – 136 kg). They don't focus on offering an extra appealing design, and in most cases, they don't come with a performance monitor.
Their prices range between $200 and $500, and many models do not offer a very consistent warranty plan, usually up to 2-3 years for the frame, and several months for the wear parts. Most bikes in this category have a friction brake system and a typically simple drive mechanism. But nonetheless, many models that fall into this category are still pretty decent exercise bikes. And since in a home gym they won't be used 24/7, they can still last for many years, without even requiring any replacement on their parts.
Magnetic vs. Friction Resistance
You probably already have an idea about these two common types of resistance found in indoor cycling bikes. One uses magnets to apply force on the flywheel, the other uses one or multiple brake pads that directly touch the flywheel, generating friction, and creating resistance. But each type has its pluses and minuses. And those pluses and minuses are the aspects you ought to know when choosing a particular cycle.
Felt Pad on Schwinn IC2

To begin with, models with a magnetic or eddy current brake are in general, more expensive. But on the other hand, you don't have to worry about the wear and tear of the flywheel or magnetic brake pads. They don't come in contact; they don't wear out. Depending on the type of magnetic brake, these cycles may be automatic or manual. The automatic ones also come with a console, and the resistance is controlled via the console. These models also feature onboard training programs. On the manual models, the brake is adjusted via a knob, just as for the case of friction brakes.
Bikes with friction brakes are typically cheaper, but the brake pads require replacement after a while, as they wear out. That's why when purchasing a cycle with a friction brake, it's best to order 1-2 extra brake pads. Also, brake pads may require lubrication from time to time, while magnetic brakes don't require any maintenance whatsoever. The best part about friction brakes is that you can actually tighten the resistance up to the point you can barely pedal. This way, you can benefit from quite a tough workout. On the other hand, magnetic resistance may be more or less effective, depending on the exercise bike model.
Other Important Aspects to Consider Before Buying
Whether or not you opt for a gym-grade cycle or a more affordable model for home use, there still are some other aspects that you need to consider. But for this part, we'll be brief:
All indoor cycling bikes or spinning bikes are not made to supply extraordinary comfort. They offer the training setting and workout postures similar to the ones supplied by a racing cycle. In other words, they are no more comfortable than any race bike.
Almost any indoor cycle comes with a slim seat, with more or less cushioning. If you're not used cycling, expect your buttocks and lower back to hurt in the beginning. However, these inconveniences should disappear after several sessions.
Many indoor cycle trainers feature a Q Factor that's slightly higher than your average road or mountain bike. Therefore, in case you have any problems with your knees, it's best to opt for an exercise bike with a Q-Factor between 150 – 180 mm.
When choosing an indoor cycle, make sure it features a perimeter-weighted, balanced flywheel. This type of flywheel supplies a consistent momentum and reduces the stair climbing sensation when pedaling. Also, the heavier the flywheel, the better.
It's always a good idea to order a mat to place under your spin bike. Most are heavy and may damage your floor or carpet.
Don't forget to consider the bike's maximum user capacity and its adjustability. Not all models can offer the right pedaling stretch for a tall user. And if your weight exceeds the maximum user weight of the bike, warranty will not apply in case it brakes.
Now that you know for sure that an indoor cycle is exactly the fitness machine that would fit your needs, here are some options for you, by price.
Our Best Recommendations by Price
Before proceeding with the following recommendations, there's another aspect to be specified though. There are four distinctive price intervals for these bikes:
under $300 – which are pretty OK trainers for home use, but without too many bells and whistles, and with a simple design. Most of the models in this category have a weight capacity between 220-275 lbs;
between $300 and $500 – models close to the quality of light commercial bikes, but with a couple of features or functions less, and a weight capacity around 275-300 lbs. This price category includes quite many models as well;
between $500 and $,1000, a category interval that typically includes light commercial bikes. These are high-performance exercise bikes, which can also be used in the premises of a gym facility;
over $1,000, a category that refers mostly to commercial grade bikes, featuring a heavy-duty construction, being designed to withstand 24/7 usage in the premises of a gym club;
Price: Under $300
Merax Indoor Cycling Bike Red1
Although the Merax bike Red1 is one of the most affordable indoor cycling bikes, it also includes an exercise meter, an accessory that many other models do not have. It's a smaller model, though, not for users over 6'1″ – 6'2″, but on the other hand, it features quite a durable construction, being rated for a user weight capacity of 330 lbs.
The Merax indoor cycling trainer features a quiet belt drive system, a friction resistance system, and also comes with a much more comfortable seat than most spin bikes. Its seat has an extra-thick layer of cushioning and two springs which also absorb shock. It's a 4-way adjustable seat, its horizontal slider offering a few inches of front-back adjustment… Read Full Review.
Sunny Health & Fitness Pro SF-B901
The Sunny Pro SF-B901 is one of the oldest Sunny Health & Fitness indoor cycling bikes. However, it still is one of the best and highest rated in 2018. So far it has been praised by a large number of users of all levels. And that's because it offers simplicity, durability, and effectiveness, at quite an affordable price.
In terms of specs, it's a durable bike, offering a user capacity of 275 lbs. It features a standard chain drive and a friction resistance system which consists of a brake with two lateral pads, similar to a standard road bike brake. It uses rubber/felt pads which are easily replaceable. Its seat is 4-way adjustable and can accommodate users up to 6'5″. As an alternative model to this Sunny exercise bike, you can also consider the Sunny SF-B1110 model. This used to cost a bit over $300, but its price has been reduced by approx. $50 at the beginning of 2018, so at least for now, it costs less than $300… Read Full Review.
The ActionLine A84016 Pro indoor cycling trainer is pretty close to the $300 mark (its price may vary depending on site or seller). It was released in 2017 and so far it doesn't have too many reviews from users, but all the ones written so far are 4-5 stars.
This ActionLine exercise bike features a frame similar to the Sunny SF-B1110 but offers a slightly lighter weight capacity. It's rated for users only up to 275 lbs. Needless to say, it has a friction resistance system. But the best aspect about it is that it comes with two interchangeable seats. It's also equipped with a basic fitness meter which can track time, distance, speed, calories… Read Full Review.
Price:$300 – $500
The Efitment IC031 is quite a complete indoor cycling trainer for home use. It's one of the best (if not the best) exercise bikes in this price range for 2018. So far, it has an almost clean 5-star rating on most fitness and retailer websites.
The Efitment IC031 features a durable steel construction with a weight capacity of 275 lbs. As opposed to many other bike models in this price range, it has a magnetic resistance system, not a friction resistance system. This makes its operation very smooth and quiet. Its seat is 4-way adjustable, but it's much thicker than the average spin bike seat, delivering an excellent comfort. Plus, the bike comes with a fitness meter that also incorporates a tablet holder… Read Full Review.
You can't speak about exercise bikes without mentioning Exerpeutic at least once. There are several excellent indoor cycling bikes sold under this brand name, and one of them is the LX905. This cycle trainer features a solid construction and a fairly heavy frame, pretty close to the light commercial models.
As opposed to other models, the Exerpeutic LX905 has adjustable stabilizers on both its bases, offering better support. It's a bike with a durable chain drive system and friction resistance.
One of the elements that various other bike models in this price range don't have, is the fitness meter. The LX905 from Exerpeutic does include one. The meter unit is actually a bit superior to the average meter unit. It features a 6-panel display and can show 6 fitness parameters at once. It can indicate speed, distance, time, calories burned, RPMs and pulse. It offers goal setting functions for time, distance and calories, and also has a Recovery Test program which can evaluate your level of fitness… Read Full Review.
Like quite a few other spin bikes that we have reviewed on this website, the Bladez Fitness Echelon GS is a rather old model; it was released in 2014, but it still available in 2018, and still continues to benefit from 4-5 star reviews from most users.
The Echelon GS is a mid-range indoor cycling bike. It's not a commercial model but is pretty close to one. To begin with, it excels in micro-adjustability. Both its seat and handlebars are 4-way adjustable. It's equipped with heavy, 40 lbs flywheel, which generates a high-inertia and a consistent momentum. It doesn't have pulse sensors but does come with a fitness meter which can track your average calories burned, current speed, time, and distance traveled… Read Full Review.
Price: $500 – $1,000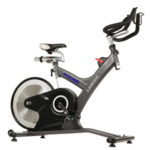 In 2017, Sunny Health & Fitness has released several ASUNA commercial bike models. The ASUNA Lancer 7130 is the model that stands out as it currently benefits mostly from 5-star reviews. It's a light commercial exercise bike, with a construction similar to the Keiser M3 model, but costs approx. $700 less.
This ASUNA exercise bike excels in micro-adjustability. It has 4-way adjustable seat and handlebars and can accommodate users up to 6'5″ with no problem. It's a rear-drive bike featuring a belt transmission and a mid-range flywheel of 33 lbs. The only downside with regards to this exercise bike is that it doesn't come with a fitness meter… Read Full Review.
Just as the Bladez Echelon GS exercise bike, the BodyCraft SPX is an older model; it's actually over 5 years old. However, since it's still available and still continues to benefit from 5-star reviews, it simply has to be one of our top recommendations for 2018.
The BodyCraft SPX is a classic friction indoor cycling bike. Its seat and handlebars are both 4-way adjustable and have hexagonal sliders for superior sturdiness and aesthetics. It's equipped with a heavy flywheel (46 lbs), an extremely sturdy crankset which can withstand users up to 300 lbs in a full standing up position. Its transmission is powered by a heavy-duty belt… Read Full Review.
Although it's not sold as a light commercial exercise bike, the Inspire Fitness IC1 does have all the "ingredients" of one. To begin with, it's a trainer with a heavy-duty construction, designed to support users up to 300 lbs. It's equipped with an extra heavy flywheel which weighs 45 lbs, being made to deliver a consistent momentum and a smooth pedaling motion. Despite the fact that the construction of the bike and flywheel may suggest it's a magnetic model, its resistance system is friction-based, using a classic felt pad, attached to the tension dial on the main tube of the frame.
The Inspire Fitness IC1 has excellent micro-adjustability. Its handlebar features a multi-grip design and also integrates pulse sensors. It also includes an exercise meter which offers a bit more than the standard basic models, as it can count RPMs and can track your heart rate… Read Full Review.
Price: Over $1,000
Appealing design, plenty of micro adjustabilities, performance monitor, and a heavy, 48 lbs flywheel, are some of the features that you will get with the SOLE SB700. A solid construction and quite a heavy frame promote durability and stability.
Even though it's listed for users up to 300 lbs, this bike can probably support even heavier users. One of the aspects different about this bike than other similar models is its brake pad. Although it's a friction resistance bike, the brake pad is kevlar-made, supplying superior durability and effectiveness… Read Full Review.
Although this is not exactly an affordable exercise bike, so far it has an almost completely clean 5-star rating on various fitness and retailer websites. It's heavy-duty club exercise bike, offering an impressive 350 lbs weight capacity, excellent micro-adjustability, and a multi-grip handlebar which also includes drop-down grips.
As its name suggests, the BodyCraft SPT-Mag trainer is equipped with a magnetic resistance system. It consists of a dual-sided magnetic brake which hugs the flywheel. Like most magnetic exercise bikes, it has a belt-drive, using a heavy-duty poly-v belt for a smooth and quiet pedaling motion. The bike doesn't include a fitness meter, but there are several models available, including a telemetric model from BodyCraft… Read Full Review.
The Star Trac Spinner Blade is not exactly an affordable exercise bike, but it definitely is a commercial spin bike, featuring a superior weight capacity and a frame built to endure 24/7 usage within the premises of a gym. It has an extremely heavy and sturdy frame, a flywheel of 38 lbs, chain transmission, and friction resistance. Its listed weight capacity is 350 lbs, but its crankset and seat assembly can definitely support more.
Like any commercial indoor cycle trainer, this Star Trac model features superior micro-adjustability, with 4-way adjustable seat and handlebars. It comes equipped with SPD pedals which also have toe cages in case you use it with normal shoes… Read Full Review.
Final Pick: Best Indoor Cycling Bike For Home Use
Our best pick for 2017 was the Bladez Fitness Fusion GS II, since it was (and still is) an exercise bike with a decent construction, 4-way adjustability for the seat and handlebars, and also comes with a fitness meter. However, up to the beginning of 2018, the customer reviews
for this model have decreased in quality, leaving it to an average of 3.5-4 stars. So, for 2018, our best pick is the Efitment IC031.
The Efitment IC031 is an indoor cycling trainer featuring quite a durable construction, being able to withstand riders up to 275 lbs. It's a fairly heavy trainer, weighing over 100 lbs, and this weight considerably improves its overall stability. Plus, both its bases feature adjustable, rubberized stabilizers.
The bike features a 40 lbs flywheel, perimeter-weighted and bi-directional. It's equipped with a belt drive system and a magnetic brake. However, it's magnetic resistance system is not motorized, so the bike doesn't require being connected to a power source. It's brake consists of a magnetic pad attached to the resistance dial on top of the main tube of the frame.
One of the main factors leading to this impressive amount of positive reviews is the bike's seat. As opposed to many spin bikes, the Efitment IC031 doesn't have a slim spin seat; its seat is consistently cushioned delivering excellent comfort. Both the seat and the handlebars are 4-way adjustable. Even though their horizontal sliders don't have a huge adjustment span, they still allow enough adjustment for the bike to accommodate users up to 6'5″.
Last but not least, the Efitment IC031 comes with a basic fitness meter, an accessory that many light or full commercial bikes don't have. And this meter unit not only that tracks your speed, distance, time, and calories burned, it also integrates a tablet holder… Read Full Review.
Final Thoughts
Indoor cycling bikes come in numerous shapes and sizes, but most of the models share the same features. Prices also differ from a model to another, but not just every bike does offer a great price/quality ratio. This page aims to help you make the right choice, regarding your indoor cycle. All models presented here come for an excellent price/quality ratio, and range from $250 to over $1,500. Therefore, you should be able to find a model that suits you best, here.