Best Home Gym Systems Reviews 2017 and Comparison Chart
The term "home gym" is quite broad, and many fitness machines can be included in this category. But in general, people refer to cable weight machines, multi-function power cages or other items of fitness equipment as home gym systems. Our "home gyms" category here covers 7 types of fitness machines that can be labelled as home gyms. These are: weight stack machines, smith machines, cable crossovers, power racks, power towers, flex-rod home gyms, and bodyweight fitness benches. In other words, most machines in this category offer the possibility to perform multiple exercises, which involve either the user's body weight, or a system of pulleys, cables and one or multiple weight stacks.
Evidently, since home gym systems come in various shapes and sizes, there are many aspects to know about them before committing to one. Within this post we'll put them all into view, along with a palette of some of the best home gyms that you can find on the market at the moment. In fact, to begin with, here's a table with 10 of the best home gym machines for 2017, featuring their core specs.
Unit
Size
Assembled
weight
Weight
capacity
Weight
resistance
Possible
exercises
Workout
stations
Warranty
Soozier B1-0110


L:54"
W:25"
H:82.5"
72 lbs
330 lbs
Bodyweight
20+
Pull-ups,
Dips,
Push-ups
1 year limited

Titan T3 Series HD


L:36"
W:53"
H:90"
282 lbs
1,000 lbs
Olympic
plates
30+
-
1 year limited
(repair, replace
or refund)
Gold's Gym XR 55


L:77"
W:43"
H:83"
320 lbs
300 lbs
Vinyl plate
stack,
125 lbs
36+
Fly press,
Chest press,
High pulley,
Low pulley,
Leg attachment,
Curl pad

Parts: 90 days
Labor: 90 days
Weider Ultimate Body Works


L:79"
W:28"
H:48"
79 lbs
250 lbs
55% user's
bodyweight
+ 50lbs
bungee
cords
70+
-
Parts: 90 days
Labor: 90 days
Valor Fitness BD-7


L:59"
W:63"
H:86"
135 lbs
500 lbs catchers,
800 lbs safety bars,
350 lbs pullup bar,
Standard
and
Olympic
weight plates
40+
High pulley,
Low pulley,
Pull-up bar,
Frame: 3 years
Cables: 2 years
Pulleys: 1 year
Other parts: 1 year
IRONMAN Triathlon X Class


L:63.4"
W:49"
H:83"
150 lbs
400 lbs
Bodyweight
30+
Pull-ups,
Dips,
Push-ups,
Adjustable
station,
Lifetime
Body-Solid EXM1500S


L:49"
W:36"
H:83"
297 lbs
300 lbs
Steel plate
stack,
Max. weight
resistance
160 lbs

30+
Chest press,
High pulley,
Mid pulley,
Low pulley,
Leg attachment,


Lifetime
Bowflex Blaze


L:82.5"
W:38"
H:84.5"
195 lbs
300 lbs
Flexible
rods,
210 lbs,
60+
Top pulley,
Mid pulley,
Low pulley,
Leg attachment,


Frame: 5 years
Parts: 5 years
Rods: Lifetime
Marcy Diamond Elite MD-9010G


L:95"
W:79"
H:86"
237 lbs
600 lbs
Olympic or
Standard
plates
100+
Fly press,
Smith cage,
Chest press,
High pulley
crossover,
Leg developer,
Low pulley,
Preacher pad,

Parts: 2 years

Body-Solid GDCC200


L:72.5"
W:42.3"
H:83.8"
514 lbs
300 lbs
(for pull-up bar)
Steel plate
stack,
2x 160 lbs

25+
Pull-up bar,
Crossover,
Lifetime
As you can see, the selection of home gyms presented in the table above, covers a range of models from the most basic, to some of the most inclusive. You should be able to find one in there that fits your needs and budget. Within the final part of this post though, you'll find more detailed recommendations by price.
In the next part of this page we'll cover the main advantages of home gyms. It is indeed important to know what exactly an item of fitness equipment of this sort has to offer before purchasing one.
Advantages of a Home Gym
First of all, a home gym machine, power tower, power cage or bodyweight cable bench, will help you train various muscle groups. Most of them offer the possibility to perform more than 20-30 exercises for the main muscle groups in the body. Therefore, a home gym system will considerably improve your training possibilities.
The average home cable weight machine offers approx. 200 lbs of weight resistance, except for the multifunction cable benches and power towers which actually use your own weight. This being said, they're perfect for beginners and intermediate users, and even advanced
users can find them useful for at least a few exercises. Differently put, a machine of this sort will help you get in shape, tone muscles, build muscle mass (at least up to a certain extent), and also build strength and muscle stamina. On the other hand, a Smith cage or power rack allows you to use heavy barbells, for squats, presses etc, in order to significantly improve your muscle mass.
Various home gym machines offer the possibility to perform aerobic exercises. For example, machines such as the Bowflex Blaze model feature a mobile bench, which can provide excellent aerobic rowing training, focusing on multiple muscle groups in your body. These exercises can surely replace the running on a treadmill, and also feature a much lower impact on the leg joints. Cable machines in general, allow you to perform all kinds of aerobic exercises, not just seated rows, thus helping you obtain a better muscle definition, or lose weight.
Speaking of weight loss, a home gym machine can definitely help you lose weight. But in case you need to lose a consistent amount of weight, a controlled diet and a regimen of cardio exercises are necessary. Otherwise, results will be minimal.
Using a cable weight machine at home offers a lot of convenience. It gives you the opportunity to train whenever you want, and also undergo 2-3 training sessions per day, without the hassle of driving to the gym. As opposed to training in a gym facility, you don't have to wait in line to use certain equipment, and on top of that, you can focus much better on your exercises, as the distractions won't be as many.
Last but not least, a gym membership can be expensive. The average U.S. gym monthly membership cost is $50. That's $600 per year, cost that doesn't include any other gym related expenses. This amount can definitely cover quite an inclusive home gym system, which can serve you well for years.
What to Look for in a Home Gym Machine
Depending on the type of machine, there are several main aspects to consider before actually purchasing one. These are:
Weight resistance system
Most cable machines use a weight stack, cables and a pulley system to generate resistance, and there are machines which involve mostly the user's weight. Evidently, a machine with one or multiple weight stacks offers higher versatility when it comes to weight adjustment increments, and with a machine of this sort, you can definitely train various groups of muscles on a superior level.
On the other hand, machines which involve your own body weight, such as the Weider multi-function benches or power towers, still can offer a wide array of exercises, and great possibilities to tone muscles, lose weight and keep yourself in great shape. But in general, for this type of fitness equipment the weight resistance that can be generated, can't exceed your own body-weight by a lot. Thus, the results that you can achieve are limited.
When it comes to weight resistance, one aspect that you must always consider, is the machine's weight ratios for its various training stations. And for this matter, you should know that most machines don't offer a clean 1:1 ratio for any of their stations. Weight ratios can go from 1:2 to 1:5. However, in most cases, if the machine has a leg press attachment, for this the resistance is usually increased, having a 2:1 ratio or even 4:1 weight ratio, as the pulleys involved add resistance.
Weight plates
When it comes to machines that involve weight plates, some of them come with their own stack, but others, such as Smith machines or power racks, do require Olympic or standard weight plates. So, for the machines that are supplied with a weight plate stack, made of rectangular plates, an important aspect to consider is the material the plates are made of. In general, there are two types: cast iron plates, or cement plates covered by a sheet of hard
plastic, or vinyl. The latter are commonly referred to as "vinyl plates".  Cast iron plates typically last longer and are more expensive. Cement plates, even though they're considered less durable, they can still last for many years of use, especially if only 1-2 persons use the machine. A home gym equipped with this type of weight plates is usually more affordable.
Another aspect to have in mind regarding a machine's weight plate stack, is upgradability. The standard weight of 160 lbs or 200 lbs which is supplied with it may not be enough after a while, so it's best to opt for one that can be upgraded.
Last but not least, if you opt for a Smith machine, or a power cage which also includes a barbell, it's important to know what weight plates it requires. Some are exclusively made for Olympic plates, the ones with 2″ holes, and those cannot be used with standard plates, which feature 1″ holes. Also, when it comes to power racks or Smith machines, it's also important to know their maximum weight load capacity. But as a general idea, most racks or Smith machines can support at least 5-600 lbs, without issues.
Number of workout stations
As a general idea, the more workout stations a machine has, the higher its versatility, or differently put, the higher the number of exercises that can be performed on it. However, a machine with multiple stations will definitely cost more. Now, you may not need all the stations in a machine, as you may already have the means to train certain groups of muscles. Therefore, always make sure that the model you opt for can supply the exact exercises that you need in your training. For example, if you already have a power rack, with a barbell, it's not the best idea to opt for a multifunction Smith machine, just to use its lat pulldown station.
Other Aspects to Consider
Available space
Most items of fitness training that can be labelled as home gyms usually take a lot of space. For example, if you're going to use an Olympic barbell with your power rack, you will need a space of at least 7'D x 10'W, since the bar itself is 7′ long. Also, when it comes to the machine's height, keep in mind that not all models will fit in a room with a 7′ ceiling.
Max. user weight
This isn't usually an issue for items of weight training, such as Smith machines or power racks. But a power tower for example, may not offer the proper stability if the user is heavier than a certain weight. Also, there are home gym systems that integrate a bench, and the bench itself has a weight capacity rating that you should be informed about before purchasing.
Price
Home gym systems come in a wide variety of models and prices. And for most models, prices can range between $200 and $2,000. But the most expensive may not always provide the best value for the price. Also, you may not need all the workout stations in an expensive machine. That's why even before looking at the price of a home gym system, it's best to evaluate if it offers the possibility to perform the exact exercises that you need in your training.
Our Best Recommendations by Price
For the final part of this page, we're going to put into view some recommendations by price. And when it comes to price, items of fitness equipment that can considered home gyms, can actually be divided into three major categories:
under $350 – this category typically refers to power towers, basic power racks, and bodyweight cable benches;
between $350 and $1000 – fitness machines and equipment with a mid-range of features, and several workout stations, but which can definitely cover a consistent array of exercises;
over $1000 – inclusive machines, with a solid construction, similar to the ones made for gym use.
Price: Under $350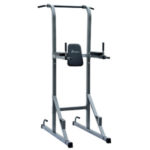 Power towers are items of fitness equipment designed for pull-ups, dips and push-ups. Of course, there are models that can support a wider array of exercises, but the Soozier B1-0110 is one of the basic models. Due to this fact, it costs less than $150. However, even though it's a basic model, it features a solid frame, with a user capacity up to 330 lbs (150 kg).
There aren't any additional attachments available for this particular power tower model, but even if it's a basic training setting, you can still obtain excellent results by executing a series of exercises on it daily… Read Full Review.
Weider offers quite a few models of bodyweight cable benches, fitness machines that actually cover a wide variety of exercises. The Weider Ultimate Body Works model is one of the most affordable models available, currently priced for less than $150. It has a maximum user weight capacity of 250 lbs (113.3 kg), and offers the possibility to perform more than 70 exercises.
This fitness bench can supply a maximum resistance of approx. 55% of the user's weight plus an additional 50 lbs, offered by the set of four bungee cords which can attach to the base of the bench in order to increase resistance… Read Full Review.
The Gold's Gym XR 55 is one of the most affordable cable weight machines that you can find at the moment. It's currently priced for less than $350, and the main reason for that is that it comes with a vinyl weight stack.
The weight stack consists of 10 plates, 12.5 lbs each, with a total weight of 125 lbs. (56.7 kg). The pulleys add resistance to them though, thus you can benefit from 145 lbs (65.7 kg) for the high pulley, 276 lbs (125 kg) for the arm press, and up to 330 lbs (150 kg) for the leg lever… Read Full Review.
Price: $350 – $1,000
Cable crossover machines are extremely versatile items of fitness training. Even the most basic ones offer the possibility to perform a wide array of exercises, with an exceptional focus on the core and arm muscles. One of the most affordable, yet well-constructed models that you can find at the moment is the PowerLine PCCO90X.
This particular cable crossover gym system does not include weight stacks, as it requires Olympic or standard weight plates. It has a weight capacity of 200 lbs (90.7 kg) for each pulley, but users have reported to have been loading it with up to 300 lbs (136 kg). So far, this cable crossover benefits mostly from 5-star reviews from users… Read Full Review.
Power racks are the core of weightlifting equipment, as they allow you to safely execute exercises involving heavy barbells. They're much less restrictive than Smith machines, and they're typically less expensive. The basic power rack consists of a steel frame, a set of stopper bars, a set of safety bars and several supports for the weight plates.
However, the Valor Fitness BD-7 offers a bit more than that, as it also integrates a lat pulldown station. Due to this fact, its versatility is considerably increased. It's a sturdy power cage, with a weight capacity of 500 lbs (226.7 kg) for the catch bars and up to 800 lbs (362.8 kg) for the safety bars… Read Full Review.
Bowflex offers several fitness machines with a specific weight resistance systems. Although they have a similar construction to the weight stack machines, their resistance is generated by a set of flexible rods.
One of the most inclusive models of home gyms of this sort is Bowflex Blaze. We've chosen it as our main recommendation over the other models as it features a gliding, adjustable bench which considerably increases its versatility. This particular home gym system actually covers more than 60 exercises. It comes with a set of rods which provide up to 210 lbs (95 kg) of weight resistance, but it can be upgraded to… Read Full Review.
Price: Over $1,000
Marcy Diamond Elite Smith Cage
Smith machines generally offer higher versatility than standard weight stack machines, as most of them work with Olympic and / or Standard weight plates, always leaving open the possibility to upgrade the weight capacity. They also offer the possibility to stabilize your weight and execute heavier lifts more safely. However, they do restrict movement, thus most would rather use a power rack over a Smith.
The Marcy Diamond is a multifunction Smith machine, offering quite several workout stations along with the Smith cage. It also integrates a cable crossover, and a bench, offering the possibility to execute more than 100 exercises… Read Full Review.
The HCI Fitness PTX is a cable crossover machine with a folding design, which also integrates an adjustable bench. It comes with two stacks of cement weight plates, encased in vinyl shells. Each stack has a total weight of 100 lbs (45.3 kg), however the weight ratio is 1:2, which means you will only benefit from 50 lbs (22.6 lbs) of functional weight per cable.
On the other hand, the machine is quite versatile due to the integrated bench. It's a perfect choice for beginner and intermediate users, great for core muscles training or cardio training. So far, it benefits mostly from 5-star reviews… Read Full Review.
The Body Solid EXM3000LPS is a double stack gym system, with actually allows up to 3 users to workout simultaneously on various workout stations. It's actually a commercial grade gym machine, offering 2x 210 lbs (2x 95 kg) of standard resistance, ratio which is doubled for the leg press station.
It integrates a pec fly station, multi-press station, lat pulldown and high pulley station, offering the possibility to perform a wide array of exercises… Read Full Review.
Final Thoughts
Home gym systems come in various shapes and sizes, but most of them offer the chance to exercise the same groups of muscles. Prices also differ from one model to another, however not just every running machine offers a great price/quality ratio. This page aims to help you make the right choice, regarding your home gym. All models presented here come for an excellent price/quality ratio, and cover quite an extensive range of prices, so that you should be able to find one that fits your needs and budget perfectly.